October 06, 2014 -
Dave Miller
After further review: Week 6
Week 6 of the 2014 college football season was, in a word, wild. Incredibly wild.
Eleven AP Top 25 teams fell, and the state of Mississippi made sure it took full advantage of being at the center of the college football universe for one week.
Plenty of storylines played out across the country by the end of Saturday evening. Here are my biggest takeways from the weekend's action.
• The Treon Harris era has arrived. Florida was horrendous on offense in its road test at Tennessee. Just plain awful. And while all of the blame should not be directed at Jeff Driskel, it was obvious that Will Muschamp needed to make a change at the quarterback position. Enter the freshman Harris, who helped the Gators erase a nine-point, fourth-quarter deficit and extend their winning streak to 10 games over the Vols. Harris led both of the Gators' scoring drives after coming in for Driskel, who was 11-of-23 passing for 59 yards with three interceptions. Harris, who had two touchdowns on the only throws of his career coming into the game, went 2-of-4 passing for 17 yards, and he had 24 yards on 4 rushes. But most importantly, the offense responded to his entrance into the game. Whatever the reason, UF responded to Harris, who must get the start for the Gators in their next game. The only question is why Muschamp waited so long to make a change. Again, the offensive ineptitude wasn't all because of Driskel. But the unit needed a jolt, and Muschamp waited too long to make a change.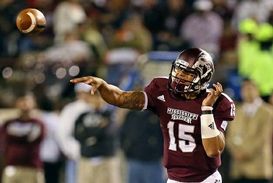 Dak Prescott threw two touchdown passes and added three more on the ground in the Bulldogs' win over A&M.
• Magnolia Magic. October 4, 2014, will go down as a day to remember for native Mississippians, as both Ole Miss and Mississippi State won their marquee games over Alabama and Texas A&M, respectively. For the Rebels, this was one of the biggest victories in program history (including the upset of Tim Tebow and Florida) because this is a team that can contend for a spot in the SEC title game — and perhaps more — after receiving an outstanding defensive effort and outscoring 'Bama 20-3 in the second half. The same can be said of the Bulldogs after quarterback Dak Prescott's Heisman Trophy-worthy performance against the Aggies. Prescott threw two touchdown passes and added three more on the ground, evoking memories of Tebow in the process. However, there is rarely ever a break in SEC play. Next week the Rebels will face a salty A&M squad in College Station, while the Bulldogs will host Auburn. ESPN's College GameDay will be making a return to the Magnolia State for that one. Fans of the Rebels and the Bulldogs should enjoy the fact that this is the first time they have been in the Top 5 of the AP poll together. But how long can it last?
• Don't dismiss the powers. Despite a slew of upsets on Saturday, many of the preseason favorites for the inaugural College Football Playoff are still alive and well with time to bounce back from their losses. Alabama, Oregon, Oklahoma and UCLA all remain viable candidates to be in the mix when the first CFP rankings are released on October 28. Each team has its issues, but every team has holes. The Crimson Tide are minus-4 in turnover margin and still have issues on special teams, but their SEC schedule isn't as difficult as some of the other West powers (though another loss looms if they can't protect the football). The Ducks cannot protect star quarterback Marcus Mariota because the offensive line has been decimated by injuries. The defense also has its issues, and the Pac-12 now is presenting difficult matchups almost each week. The Sooners didn't get Trevor Knight's 'A' game in the loss to TCU (he completed only 14 of 35 passes), but Bob Stoops and Co. get Kansas State and Baylor at home. Finally, the Bruins haven't protected quarterback Brett Hundley since he arrived in Westwood, though he also needs to have a quicker trigger. These preseason powers can still be in the CFP mix because the season will only continue to get wilder. But there is little margin for error. By the way, the Ducks travel to Pasadena to face the Bruins this week.
Other thoughts
• Roughly a year ago, USC fell to Arizona State and dropped to 3-2, prompting athletic director Pat Haden to pull the plug on the Lane Kiffin era. The Trojans suffered another loss to Arizona State on Saturday night and have the same record as last season after five games. But while Trojan fans have every right to be disappointed in the losses to Boston College and the Sun Devils, head coach Steve Sarkisian will be fine. I was stunned that some Trojan fans were already calling for his head, though college football brings out such passion. I will say this: I can't believe 'SC allowed ASU star receiver Jaelen Strong to have such an easy snag on the last-second Hail Mary. Check out the video below if you missed it:
Video courtesy of the FOX Sports YouTube page.
• Clemson may have had the most underappreciated performance from Week 6. The Tigers shut out an NC State team that came into the contest averaging 505 yards per game and had a 17-point lead in the first quarter against Florida State. Jacoby Brissett struggled mightily against the Brent Venables defense, going just 4-of-18 passing for 35 yards and no touchdowns. Venables will get a head gig soon.
• Ohio State would have to run the table, and I still think Michigan State has the talent to do so as well. But I think the College Football Playoff selection committee could cut the Buckeyes a little slack for their loss to Virginia Tech because of the young quarterback and offensive line issues Urban Meyer's squad was dealing with in Week 2 against Virginia Tech. J.T. Barrett looks very comfortable running that offense now. Don't dismiss the Buckeyes.
• Illinois quarterback Wes Lunt suffered a fractured fibula in Saturday's loss to Purdue and is expected to miss 4 to 6 weeks. The Fighting Illini dropped to 3-3 overall and 0-2 in the Big Ten, have a road test against an angry Wisconsin team this week and have allowed 83 points in their two league losses. Tim Beckman can't lose a game like that to the Boilermakers in his third season.
• Troy head coach Larry Blakeney is retiring at the end of this season. Two names to watch for that job: Cincinnati offensive coordinator Eddie Gran, who has a long coaching history in Alabama, and Kentucky offensive coordinator Neal Brown, who previously coached at Troy.
• What a year it's been for Sonny Dykes and Cal. The Golden Bears have lost on a Hail Mary at Arizona, won in double overtime against Colorado and on Saturday night emerged victorious after Washington State missed a 19-yard field goal attempt. Cal's defense has allowed 115 points over the past two games, yet the Bears won both contests. Cal currently sits atop the Pac-12 North standings. By the way, in Saturday's game Wazzu quarterback Connor Halliday set a new passing record with 734 yards, breaking the mark of 716 set by David Klingler of Houston in 1990. It broke the NCAA record for all levels. Insane number.
• South Carolina led Missouri 20-7 midway through the fourth quarter and lost. On Satu rday, the Gamecocks led Kentucky 38-24 with 11:45 left and lost. Steve Spurrier's squad has three SEC setbacks despite running back Mike Davis recording a career-high 183 rushing yards and three scores against the Wildcats. South Carolina has the SEC's worst defense.
• In its losses to Mississippi State and Auburn, LSU gave up 1,136 total yards. That is not a typical number that you'd see from a John Chavis defense.
Dave Miller, the college football editor for the National Football Post, is on Twitter @Miller_Dave