October 08, 2012 -
Dave Miller
After further review: Week 6
Let's take a look back at some of the highlights from the sixth weekend of the season. And, in case you missed it on Sunday, check out the latest edition of the NFP Top 25.
• Florida and South Carolina look championship-worthy. Who said the East division was the weak link of the SEC? While Alabama remains the best team in the nation, both Florida and South Carolina had statement victories this past weekend. The Gators outmuscled LSU at The Swamp, and a lot of the credit has to go to an offensive line that is one of the most improved units in the nation. Xavier Nixon, James Wilson, Jonotthan Harrison, Jon Halapio and Chaz Green paved the way for Mike Gillislee to run the ball effectively, especially in the second half. Gillislee had 146 yards and two scores, and it remains a mystery why the senior wasn't utilized more by the Gators before this season. While LSU did suffer a couple of key injuries to its linebacker corps, it was still an impressive effort by the Gators against the nation's ninth-ranked run defense. And safety Matt Elam and the UF defense likely gave LSU nightmare flashbacks to last season's BCS title game when it was unable to move the ball. Meanwhile, the Gamecocks overwhelmed Georgia for an entire four quarters and are unquestionably Steve Spurrier's best team in Columbia. The 'Dawgs were averaging 48 points per game and over 530 yards of total offense heading into their showdown in Columbia, yet they were nearly shut out for the first time in 17 years as Aaron Murray was held to just 11-of-31 passing for 109 yards. Alabama and LSU are the top two teams that come to our minds when we think of dominant defenses, but it's time that the Gamecocks get some love, as well. It's a unit that is more than just Jadeveon Clowney, too. Offensively, did we ever think we'd see a Spurrier-coached team throw the football just 10 times while keeping it on the ground for 51 plays? Credit to the Head Ball Coach for realizing his best bet is to make the team a run-first operation. He's smart enough to get out of his own way and not let his fascination with the aerial attack ruin a good thing.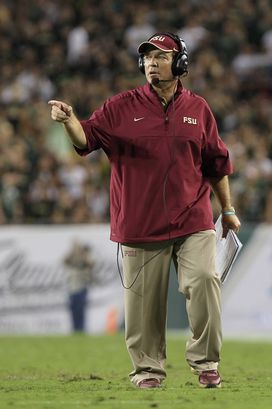 US PRESSWIREJimbo Fisher and the 'Noles are most likely out of the national championship picture.
• Maybe the 'Noles aren't back after all. Florida State, which passed a big early season test against Clemson and had a very manageable path to the BCS title game, slipped up on the road at N.C. State once again. The Wolfpack have now beaten Florida State five times in their last seven meetings. What was most incredible about the game is the fact that FSU's vaunted pass rush managed just one sack despite going up against a Wolfpack offensive line that was missing three starting linemen due to injuries. And unlike Tyler Bray last week in Tennessee's loss to Georgia, future NFL signal-caller Mike Glennon recorded a signature win because of his final drive and clutch play late in the contest. Meanwhile, the Seminoles are pretty much eliminated from the drive toward the BCS national championship, and head coach Jimbo Fisher will continue to get dogged for not yet bringing the program back to being a national powerhouse after his offense produced a season-low 343 yards of total offense.
• Take Me Home, Country Roads. Not a whole lot went wrong for West Virginia on Saturday night in its 48-45 win over Texas. The Mountaineers received a standout effort from Andrew Buie on the ground, survived two Geno Smith fumbles and was successful on all five of its fourth down tries. The defense, of course, remains an issue. But how many other teams would force their opponent to go for it on 4th and 13 with 8:15 to go in the game down only 3? I disagreed with Longhorns head coach Mack Brown for going for it on fourth down so soon, but that's what the Mountaineers' prolific offense forces teams to do: think outside of the box to try to keep up in a high-scoring game.
CONTINUE TO PAGE 2 FOR MORE AFTER FURTHER REVIEW: WEEK 6