October 10, 2011 -
Barry Dorey
After further review: Week 6
Let's take a look back at some of the highlights from the sixth weekend of the season. And, in case you missed it earlier today, check out the latest edition of the NFP Top 25.
• Has Oklahoma been even more impressive than LSU and Alabama? Oklahoma's win over Texas at the Cotton Bowl in Dallas on Saturday was quite a dominant performance. The Sooners' offense looked unstoppable, and the defense put up record-setting numbers. There's no reason for OU fans to worry about their team not being ranked No. 1 in any poll, because there's plenty of football left to be played. But with Bob Stoops' squad completing such a strong performance against the rival Longhorns, there's no question that OU should be in the conversation when discussing who the best team in the nation is as we enter the meat of the conference schedule. LSU and Alabama will clash in Tuscaloosa on Nov. 5, and the Sooners will travel to Stillwater to play Oklahoma State in what is looking like a de facto Big 12 championship game. We'll see how Wisconsin, Stanford, Clemson and other unbeatens navigate their schedules as well. And I still firmly believe, because of its defense, that Boise State can line up with any team in the country. But it's hard to see anything other than the OU-OSU victor playing the winner of the LSU-'Bama showdown in the BCS title game — assuming those teams run the table the rest of the way.
• The dislocated elbow suffered by LaMichael James in Thursday's 43-15 win over Cal will keep the Oregon running back out at least a few weeks. James, who rushed for 239 yards on 30 carries against the Golden Bears, unquestionably was setting himself up for another Heisman Trophy run with his third consecutive performance of at least 200 yards. The good news for the Ducks is that they have very good backfield depth, highlighted by Kenjon Barner and De'Anthony Thomas. However, quarterback Darron Thomas must play an even bigger role in the run game as well. Plus, he'll need Josh Huff, Lavasier Tuinei and his receivers to step up in the passing game. The one downfall of getting De'Anthony Thomas more carries is that it takes him out of the slot — a spot he's been so effective in this season. Now the question remains whether James will be ready to play against Stanford on Nov. 12 in Palo Alto.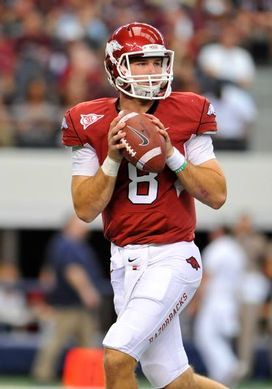 ICONTyler Wilson and the Hogs have been on a roll.
• Don't forget about the Hogs. We know that the LSU-Alabama game on Nov. 5 will be the best game of the SEC season, but Arkansas has put together back-to-back impressive efforts after getting blown out of Tuscaloosa by the Crimson Tide. The Razorbacks fought back from a big deficit last week against Texas A&M, and Bobby Petrino's squad put up a dominant second half against Auburn this past Saturday. The defense hasn't been as stout as many had thought, but they have dealt with some key injuries. Still, any team with a tough quarterback such as Tyler Wilson will have a chance any Saturday. They'll get a much-needed bye to heal up, and they could be on the verge of a serious run of wins until the regular-season finale at LSU. Could a second BCS bid in a row be possible? They struggled against 'Bama, but could things be different against the Tigers in late November?
• Arizona State all but wrapped up the Pac-12 South division with its win at Utah. The most impressive aspect of Dennis Erickson's 5-1 start is that the Sun Devils have battled the injury bug all fall — with health woes starting in the offseason — but they still were able to notch wins over Missouri, USC and Utah. They visit Oregon this coming week, which will arguably be their toughest test of the year. Even if they fall to the Ducks, they can leave Eugene with their heads held high if they can compete for 60 minutes.
• Meanwhile, Arizona could be looking for a new head coach this offseason. Mike Stoops' squad lost its fifth straight overall and eighth straight in Pac-12 play, falling behind 27-6 to Oregon State before its rally fell short. There's no question that the Wildcats have played a brutal schedule — Oklahoma State, Stanford, Oregon and USC have been on the slate — but this team is literally defenseless. And Stoops hasn't struck me as a program-builder, which is even more vital in an expanded conference. Quarterback Nick Foles isn't getting much help, but he's certainly showing that he is primed for a high selection in next year's NFL Draft.
• Kudos to UCLA head coach Rick Neuheisel, who is finding a way to win games at UCLA this fall — though it's not pretty. The Bruins rallied to beat Washington State behind backup quarterback Kevin Prince, who came in for the injured Richard Brehaut. Brehaut's broken leg will keep him out 3-6 weeks, so Prince must stay healthy. Neuheisel also could turn to the athletic Brett Hundley, who is better-suited for the Pistol offense. Either way, steady play at the quarterback position and better play from the defense would get UCLA to a much-needed bowl game.
• Speaking of quarterback play, Connor Shaw was given the green light to throw the football on Saturday from Steve Spurrier, and the South Carolina signal-caller delivered in place of the benched Stephen Garcia. The Gamecocks piled up 639 yards of total offense in their 54-3 rout of Kentucky, and Shaw tossed four touchdowns. Most importantly, he wasn't a turnover machine and he was able to find Alshon Jeffery. Unfortunately for Garcia, he wasn't able to do that this fall for the Head Ball Coach. It doesn't appear that Shaw will be losing his grip on the starting job anytime soon. Although you never know with Spurrier.
• As bad as Florida has looked the last two weeks, the Gators still can win the SEC East in Will Muschamp's first season. The Gators will play Georgia in two weeks down in Jacksonville and visit South Carolina on the second Saturday in November. The problem for the Gators is the youth at quarterback right now. Jacoby Brissett and Jeff Driskel are talented, but John Brantley's experience is sorely missed right now.
• Notre Dame thoroughly handled Air Force in South Bend, and it's looking like Brian Kelly's Fighting Irish will be a serious player in the race for an at-large BCS berth. The Irish still have USC and Stanford on the schedule, but they are playing as well as any team in the country now, and it's because they've been turnover-free. Theo Riddick had a strong game against the Falcons, hauling in eight passes for 83 yards and a touchdown as well as ripping off a 14-yard run on his lone carry. Even third-string quarterback Andrew Hendrix became involved in the offense, rushing for 111 yards on six carries and completing all four passes for 33 yards. The Irish scored 42 points in the first half and are proving that they are a legit national player once again.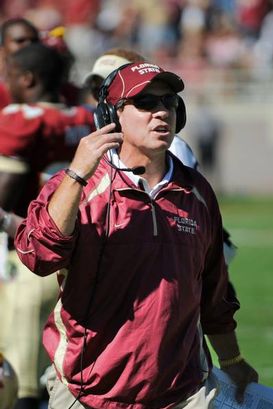 ICONJimbo Fisher and the 'Noles are the nation's biggest disappointment.
• Clemson and Georgia Tech remain great stories for the ACC, which is huge for John Swofford's league because Florida State and Miami ha ve been extremely disappointing this fall. The Seminoles and the Hurricanes are 0-2 in league play, and the 'Noles are coming off of a loss to Wake Forest. Yes, Wake Forest. This collapse occurred after the 'Noles went toe to toe with Oklahoma in Tallahassee on Sept. 17. Meanwhile, the 'Canes fell in a shootout to Virginia Tech in Blacksburg, so first-year head coach Al Golden must keep his locker room focused despite these early-season setbacks. On the plus side, sophomore running back Lamar Miller is the truth.
Note: I have to throw some love to the Demon Deacons. Jim Grobe has his team contending for the Atlantic division crown at 3-0 in league play for the first time in school history.
Note II: Grobe has done a great job in Winston-Salem, but how about the effort of Bill Snyder at Kansas State? That Wildcats defense is legit in Manhattan.
• It's always great to see a player bounce back from a rough performance, and that's exactly what Nebraska quarterback Taylor Martinez did against Ohio State. After his three-interception effort at Wisconsin the previous week, "T-Magic" helped the Cornhuskers rally from a 21-point deficit — the biggest comeback in school history — against Ohio State in the Huskers' first Big Ten home game. He recorded nearly 300 yards of total offense and three second-half touchdowns, completing 16 of 22 passes for 191 yards while running for 102 yards. The Big Ten's offensive player of the week needs to be a consistent passing threat in Tim Beck's offense, and Beck needs to continue to put him in situations where he can succeed.
• How long can Penn State lean on its very stout defense? Joe Paterno's Nittany Lions continue to have issues at quarterback, but Tom Bradley's defensive unit makes it very difficult for any offense to move the football. The latest victim was Iowa over the weekend. Is the Leaders division champion residing in Happy Valley?
• Illinois is a legitimate Big Ten contender under head coach Ron Zook. With Paul Petrino running a high-powered offense led by quarterback Nathan Scheelhaase and receiver A.J. Jenkins as well as Vic Koenning's defense getting better with more time in the system, the Illini are one of the more fun teams to watch on Saturday afternoons.
• Greg Schiano is doing a wonderful job this fall at Rutgers. The Scarlet Knights head coach has bounced back nicely from a disastrous 2010 season behind the strength of his team's defense. In the team's 34-10 win over Pitt, the aggressive unit had six sacks, six quarterback hurries and four forced turnovers in helping the Scarlet Knights match their win total from last season.
Email dave.miller@nationalfootballpost.com or follow me on Twitter at Miller_Dave