October 13, 2014 -
Dave Miller
After further review: Week 7
Week 7 of the 2014 college football season is in the books, and the state of Mississippi remains the King of the Mountain for a second straight week.
Mississippi State and Ole Miss notched two more signature wins, letting the Magnolia State continue to enjoy the spotlight a week after recording marquee victories over SEC foes.
Plenty of storylines played out across the country by the end of Saturday evening. Here are my biggest takeways from the weekend's action.
• The best team in the country? Mississippi State continued its magical start to the season with a 38-23 beatdown of Auburn in Starkville, and the Bulldogs now occupy the No. 1 spot in the country in the latest NFP Top 25. The most impressive aspect of Dan Mullen's team is the way it jumps out on opponents so quickly — the Bulldogs took quick and big leads at LSU and in home contests against Texas A&M and Auburn the last three weeks. MSU may have shut down a bit offensively after jumping out to a 21-0 lead, but it was impressive the way the team handled the big stage and dealt with the multiple momentum shifts on Saturday afternoon, especially when the weather turned ugly for a bit at Davis Wade Stadium. The Tigers closed to within 28-20 after playing better in the second and third quarters, but Heisman Trophy-contending quarterback Dak Prescott and that Geoff Collins-coordinated defense made enough key plays to thwart Auburn's comeback bid. The Bulldogs did have five fumbles, but they only lost one of them. Talent and luck is a winning combination. And it's working thus far for Mullen's squad.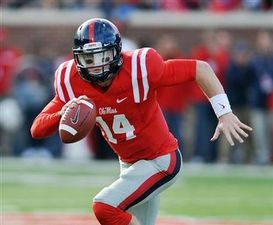 Ole Miss QB Bo Wallace did not throw an interception in the team's win at A&M.
• That other team in Mississippi. Perhaps even more impressive than Mississippi State jumping out to the big lead against Auburn was the performance of Ole Miss in College Station. The Rebels raced out to a 21-0 lead on consecutive touchdown runs by Bo Wallace and a Cody Prewitt 75-yard interception return for a score and held on for a 35-20 win over Texas A&M. Wallace did not throw an interception, and the Ole Miss defense forced three turnovers and held the Aggies to 1.5 yards per carry. It was a statement game for the Rebels, as Hugh Freeze's squad backed up its big win over Alabama last week. That Egg Bowl at the end of the season is shaping up to be quite special.
• Waco wackiness. TCU had the win in hand at McLane Stadium. The Horned Frogs were up 58-37 after linebacker Marcus Mallet intercepted Baylor quarterback Bryce Petty and ran it back for a touchdown. Time was ticking, and it appeared Art Briles' squad was headed for a sure loss. But the Bears staged an incredible fourth-quarter comeback, scoring 24 unanswered points in the final 10:39 for a 61-58 win. All of Baylor's final four scoring drives lasted less than 1:25, and the defense did enough late to prevent TCU from tacking on more points in the wild shootout. Petty didn't look great in the team's win over Texas last week, and he only completed 28 of 55 passes on Saturday. But he threw for a career-high 510 yards with six touchdowns, and he managed to put his second interception behind him and lead the four straight scoring drives late. The win kept him in the Heisman Trophy conversation, and it kept the Bears in the College Football Playoff race. The two toughest remaining contests for the Bears are the two Oklahoma schools. By the way, Baylor and TCU combined for 119 points, 62 first downs and 1,267 yards of total offense in Saturday's game.
• The Ducks are quacking. Oregon, coming off of a home loss to Arizona, was in a tough spot at the Rose Bowl against UCLA, which was coming off of its own home setback against Utah. The Ducks won handily, though, leading 42-10 early in the fourth quarter and ultimately winning 42-30 after the defense played sloppy late. Ducks quarterback Marcus Mariota went 17-of-27 passing for 210 yards and two touchdowns against no interceptions, and he added 75 yards and two scores on the ground. Jim L. Mora's squad was a popular pick for the CFP, but the Bruins now have two Pac-12 losses. Meanwhile, the Ducks are getting healthier along the O-Line and remain one of the more dangerous teams in the country. It's funny how Mark Helfrich goes from a bad head coach to a great head coach and Mariota goes from Heisman after-thought to back in the race in the matter of a week.
Other thoughts
• No Todd Gurley, no problem for Georgia. The Bulldogs shut out Missouri 34-0 in Columbia despite the absence of the team's suspended Heisman Trophy-contending running back. The Bulldogs fed the ball to freshman Nick Chubb 38 times, which helped nagate Tigers pass rushers Markus Golden and Shane Ray, who combined for zero sacks on the day. UGA's defense forced five turnovers, including four picks off Tigers signal-caller Maty Mauk, and held Mizzou to 2.3 yards per carry. It was a dominant performance from coordinator Jeremy Pruitt's bunch. The 'Dawgs are in the driver's seat in the SEC East, no offense to Kentucky, which is 5-1 for the first time since 2007. Before that, the last time UK was 5-1 was in 1985.
• Is there a better out-of-nowhere star in college football than West Virginia's Kevin White? The wide receiver had 123 receiving yards on 13 catches in the Mountaineers' wild win over Texas Tech, and he continues to rise on NFL Draft boards. He has 61 catches for 888 yards and five touchdowns on the year, and he has recorded at least 100 receiving yards in each contest. And how about the play of quarterback Clint Trickett? The former Florida State transfer has thrown for at least 300 yards in every game this season as Dana Holgorsen's offense is enjoying a very nice bounceback year after a rough 2013.
• Alabama was not crisp at all in its 14-13 win over Arkansas, as special teams woes and turnovers continued to plague the Crimson Tide. The offense only recorded 227 yards of offense and converted only four of 15 third downs. It was the second straight week that coordinator Lane Kiffin's unit didn't show that explosiveness we saw earlier in the season. On the positive side, the defense may have grown up a bit against the Hogs. The Crimson Tide held Arkansas to five rushing yards on 13 carries in the second half. This is a defense that is talented but is lacking some leadership, so this could have been a coming-together type of game.
• Clemson suffered a brutal blow in its win over Louisville, as true freshman quarterback Deshaun Watson was knocked out of the game with a finger injury to his right, throwing hand. He is expected to miss a month after surgery. Watson had started the past three games after taking over for senior Cole Stoudt. He could be back for the Georgia Tech game on November 15, but it's a big blow for a team that has been noticeably more efficient with Watson running the offense.
• Matt Rhule has Temple at 4-1 overall (with a win at Vanderbilt and just a 7-point loss to Navy) and 2-0 in the AAC. The Owls play at Houston on Friday in a huge conference test. Rhule is one of the best young head coaches in the country.
• Four more touchdowns for Wisconsin star running ba ck Melvin Gordon in the win over Illinois. He has rushed for 1,046 yards and 13 scores on 132 carries. Just ridiculous.
• Wyoming suffered a very disappointing loss early Sunday morning at Hawaii, as the Cowboys played poorly in the second half in a 38-28 loss. The Rainbow Warriors rolled up 513 yards of total offense and rallied from a 21-10 halftime deficit. It was Hawaii's first win over Wyoming since 1992. The loss dropped the Cowboys to 3-3 and could prevent them from reaching the 6-win mark for bowl eligibility.
• Tremendous 28-26 road victory for USC over Arizona, as the Trojans were led by a monster performance from running back Buck Allen, who had 26 rushes for 205 yards and three scores. The Trojans held the Wildcats to 2.7 yards per rush and 5.5 yards per pass, which are fantastic numbers even with Rich Rod's team missing Nick Wilson and Terris Jones-Grigsby getting banged up. Trojans defensive coordinator Justin Wilcox didn't forget how to coach, he's just playing with limited depth. But his players stepped up in a big way on Saturday night.
• LSU has outscored its opponents 126-44 in the second half this season. Of course, the Tigers have had to endure some really bad first-half performances, as well, in games against Wisconsin, Mississippi State and Auburn. But the Bayou Bengals' fifth win in seven games this season ensured that the SEC West remains unbeaten against every team outside of its division.
• That was some Red River Rivalry game. Oklahoma came out of it with a 31-26 win despite displaying an anemic offense and a subpar defense. An Alex Ross 91-yard kickoff return for a touchdown and a Zack Sanchez interception return for a score helped the Sooners escape with a win over the Longhorns. Five straight defensive stops to start the second half were huge for OU, but I wonder what an eligible Baker Mayfield would look like in this Sooners offense.
• As improved as Notre Dame quarterback Everett Golson is mechanically as a passer this season, protecting the football has been a major issue as of late. The Fighting Irish signal-caller has nine turnovers in his last three games after committing none in his first three contests. He needs to play error-free this week at Florida State. By the way, wide receiver Will Fuller has at least one touchdown catch in every game except the contest against Stanford. He's having a huge breakout season.
• Because of the MAC and Sun Belt, we are going to be enjoying a lot more weeknight football starting this week. Between now and December 1, there are only five nights without either an FBS or an NFL game. That's a beautiful thing.
Dave Miller, the college football editor for the National Football Post, is on Twitter @Miller_Dave