October 14, 2013 -
Dave Miller
After further review: Week 7
Week 7 of the 2013 college football season is in the books, so let's take a look back at some of the highlights from the seventh weekend of the season.
• Texas was a completely different football team in its 36-20 thrashing of Oklahoma in Dallas on Saturday. The Longhorns put together one of their best performances since the wheels started to come off of the program following their loss to Alabama in the BCS national championship game a few seasons ago. Mack Brown's squad jumped out to a 23-10 halftime lead in the Red River Rivalry, playing very physical on offense due to a strong run game. And because the 'Horns were dedicated to the physical ground attack (Johnathan Gray and Malcolm Brown both finished with more than 120 rushing yards) they were able to put quarterback Case McCoy in manageable third-down situations. McCoy, who was 10 of 15 passing for 143 yards and a touchdown in the first half, was not sacked by what was up until this game a very speedy and active Sooners front. The Longhorns were 13 of 20 on third-down conversions, while the Sooners were just 2 of 13. And Blake Bell, in the process, was exposed a bit as a one-dimensional quarterback. Overall, Texas looked like a different team on both sides of the ball, recording 443 yards of offense and holding the Oklahoma offense to only 276 yards. Defensively, Greg Robinson's defense looked different schematically with exotic pressures, including on the Pick Six by Chris Whaley. The 'Horns stopped the run and tackled well, especially in space. Running the football and stopping the run -- exactly what Texas needed to do to have a chance on Saturday. And with the exception of Oklahoma defensive end Geneo Grissom's interception of a McCoy screen pass that was returned 54 yards for a score to make things a bit interesting with 10:07 left to play, McCoy played surprisingly well. Did Texas do some soul-searching? It sure looked like it in Dallas. Brown is the toast of Austin right now, as the 'Horns are unbeaten in Big 12 play. Will it last?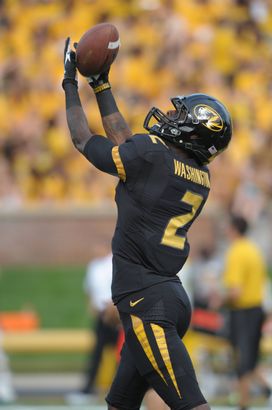 US PRESSWIRL'Damian Washington is a big part of the Mizzou offense.
• Missouri notched a signature win in its second season of play in the SEC, led by quarterback James Franklin's continued strong play, which has resembled what he was able to do in 2011. The Tigers recorded a 41-26 win at Georgia, but it came at a major cost. Franklin has once again been bitten by the injury bug, as he was knocked out of the win with a shoulder injury. There are varying reports as to how long he will be out, but Franklin could miss at least six weeks, and that's a brutal blow especially with the Tigers hosting Florida and South Carolina the next two weeks. Against the 'Dawgs, the Tigers were prolific offensively with Marcus Murphy, L'Damian Washington and a variety of weapons, but how will they look with Maty Mauk as the new starting QB? Meanwhile, Bulldogs quarterback Aaron Murray was playing without a lot of his best weapons, but coordinator Mike Bobo had no choice but to lean on Murray with Todd Gurley and Keith Marshall out. Murray didn't get much help from his offensive line, which had problems with Mizzou's aggressive front. Murray was harassed all day and wasn't as accurate as usual. Defensively, though, the Bulldogs gave this game away, and the offense could never overcome an 18-point first-half deficit. Missed tackles by Georgia's young, inexperienced defense were critical, as were the team's four turnovers. Meanwhile, Mizzou didn't give the ball away even once.
• Marcus Mariota will remain the Heisman Trophy frontrunner when my Heisman Watch is posted this week. The Ducks' dual-threat signal-caller is playing near-flawless football, once again leading his team in a 45-24 victory at Washington despite missing star athlete De'Anthony Thomas (ankle). The Ducks recorded 631 total yards of offense against Justin Wilcox's defense, including 454 total from Mariota. The QB continually led the Oregon offense down the field whenever Washington was close to stealing the momentum. Perhaps what was as impressive as Mariota and the offense, though, was the play of Nick Aliotti's defense. Despite another very good performance from Huskies tailback Bishop Sankey (167 rushing yards and two touchdowns), the Ducks pressured Keith Price into looking like the 2012 version of Keith Price.
• Johnny Manziel did it again in Oxford. One year after he led a Texas A&M rally from a 10-point fourth-quarter deficit against Ole Miss on the road, Manziel threw for 346 yards and rushed for 124 more to lead the Aggies to a 41-38 victory against the Rebels. The highlight was Johnny Football's 4th-and-7 conversion in which he scrambled for the first down and ultimately had the game-tying scoring run late in the fourth quarter on the same drive. Manziel arguably is having another Heisman-worthy season, and he will be right behind Mariota in my new Heisman rankings.
Other thoughts
• What happened to Northwestern? The Wildcats didn't show up in Madison one week after nearly knocking off Ohio State under the lights at Ryan Field. It was obviously a tough spot for Pat Fitzgerald's squad, as he was leading a team that was fighting the hangover effect following a crushing loss. But it didn't help that the Badgers had a bye the previous week after themselves losing to Ohio State. The 'Cats were never in the game, falling 35-6. And it could have been worse had Wisconsin not had three turnovers. NU had just 242 total yards compared to 529 for Wisconsin, which received 272 combined yards on the ground from Melvin Gordon and James White. Moving forward, the Wildcats have to hope tailback Venric Mark and Kain Colter are not too banged-up.
• LSU essentially eliminated Florida from BCS national title consideration with a 17-6 win in Baton Rouge, and once again the Gators did not get any help from their offense. Just as it did in its loss to Miami (FL), Will Muschamp's defense stifled another high-powered offense, holding the Tigers to 17 points (one week after LSU put up 59 points) and just 10 first downs. While Jeremy Hill was able to rush for 121 yards, UF had a chance to steal a road win if it received even an average offensive performance. But it didn't get one.
• Why don't we ever hear "Bill O'Brien" and "USC" in the same sentence? The Penn State head coach is working wonders in State College, as his Nittany Lions knocked off Michigan 43-40 in four overtimes. It was stunning to see the game even get to overtime, but Wolverines head coach Brady Hoke elected to punt late in the fourth quarter instead of trying a long field goal while up seven points in the final minutes of the fourth quarter. The Nittany Lions would go on a touchdown drive to force overtime. Missed field goals made for ugly football in the extra frames, but O'Brien took a chance when his team was down 40-37 in the fourth OT. Facing a fourth and one at the Michigan 16, O'Brien went for it instead of attempting a game-tying field goal. Bill Belton converted the first down and scored a few plays later for the win. It was a great bounceback effort for Penn State after losing to Indiana the previous game.
• Baylor survived its trip to the Little Apple with a 35-25 win over Kansas State. And while many will raise eyebrows over the fact that the Bears' incredible offense had to punt six times and were outgained by the Wildcats, it's a big step for this program to notch a 10-point road win over a team that reached the Fiesta Bowl last year. Sure, this isn't the same K-State team as last season. But this is a different Baylor squad as well, as the Bears notched their first Big 12 road win since 2011.
Dave Miller, the college football editor and writer for the National Football Post, is on Twitter @Miller_Dave.