October 20, 2014 -
Dave Miller
After further review: Week 8
Week 8 of the 2014 college football season is in the books, and we learned a lot about the preseason favorites for the inaugural College Football Playoff.
Florida State passed its very difficult test against Notre Dame, which showed that it is one of the better teams in the country. Meanwhile, Baylor and Oklahoma took major steps back as they tripped up in key conference tests.
Plenty of storylines played out across the country by the end of Saturday evening. Here are my biggest takeways from the weekend's action.
• That Big 12 though. All is not lost in Bob Bowlsby's league in relation to the College Football Playoff despite Baylor falling at West Virginia, which left the league without an undefeated team. A lot of national analysts posit that the Big 12 is now likely to get shut out of the playoff, increasing the chances of a Big Ten team getting in. There is plenty of wackiness that can occur before the end of the year, but it is possible for both the Big 12 and Big Ten to get into the four-team dance. In terms of the Big 12, Kansas State can be a factor if it runs the table. The Wildcats beat Oklahoma after the Sooners had an extra-point blocked and missed a chip-shot field goal in Bill Snyder's squad's 31-30 win. K-State, which won in Norman in 2012, is the first Big 12 opponent to notch back-to-back road wins against Bob Stoops since he arrived at OU. K-State still has tough road games left at TCU, West Virginia and Baylor, but it is a difficult matchup when it plays a clean game. A one-loss K-State team, with its lone defeat coming in a close game against Auburn, will be looked upon very favorably by the committee. TCU, meanwhile, is coming off of an impressive 42-9 win over Oklahoma State. The Horned Frogs have a solid nonconference win over Minnesota, two wins over ranked teams and a loss by three points at Baylor. That heartbreaker was a tough pill to swallow, but Trevone Boykin (410 yards and three touchdowns against the Pokes) and Co. cannot be dismissed. K-State and TCU as two of the nation's best teams? So far, that has been the case. Baylor, meanwhile, has a tough mountain to climb in comparison to other one-loss teams because of its nonconference schedule — SMU, Northwestern State and Buffalo. The selection committee will weigh that heavily.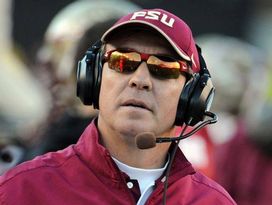 US PRESSWIREJimbo Fisher and the 'Noles survived a tough Notre Dame squad.
They did it big. Florida State was getting handled fairly easily up front by Notre Dame on both sides of the football, which was a bit surprising even though the Seminoles coming into the high-profile contest had not been as stellar in those areas as they were last season. The 'Noles struggled to protect Jameis Winston, were unable to run the football and struggling to stop the Irish from successfully rushing the ball. But when FSU began to click on both sides of the football, we saw a team that showed a tremendous amount of resiliency. The Notre Dame-FSU contest was a back-and-forth display of quality football, particularly in the second half. Winston put himself back in the Heisman Trophy race just in terms of pure on-the-field play as the Seminoles remained unbeaten. And looking at the rest of the schedule, perhaps a Thursday night game at Louisville is the team's toughest remaining test. Jimbo Fisher's team still has issues with the run game and surprisingly along the offensive line, but the overall talent level should be enough to get the 'Noles into the four-team dance. Meanwhile, Notre Dame showed a ton of grit and poise on the road. Brian Kelly is a hell of a football coach, as he had his team ready for a real tough test in Tallahassee. The Irish managed to extinguish the ghost of the team's bad loss to Alabama in the BCS title game a few years back, and an 11-1 ND team is still in play for a CFP berth. Everett Golson showed a lot of NFL scouts that he may not need to return to South Bend in 2015. He still needs to better protect the football, but he didn't lose too much ground in the Heisman race with his performance on Saturday night. The ending to the 31-27 'Noles win was heartbreak city for the Irish because they outplayed the Seminoles, and that defensive front proved to be nasty.
• The Buckeyes are still B1G. There's no question that Virginia Tech's Week 2 win at Ohio State has been one of the oddest results of the 2014 season up to this point. The Hokies suffered their third loss of the season on Thursday night against a Pitt team that boasts one of the best defenses in the nation. VT caught Ohio State at the right time. The Buckeyes were still breaking in J.T. Barrett at quarterback behind an offensive line that had yet to gel. Now? Ohio State could be one of the more dangerous teams in the country, and the matchup with Michigan State on November 8 remains a big game with huge national implications. Barrett is a different quarterback right now, as he ranks second in the FBS since the start of Week 3 with a 75.3% completion percentage, and the Buckeyes are averaging a Big Ten-high 6.5 yards after the catch per reception. It's an explosive Urban Meyer offense that can give the Spartans issues, as Mark Dantonio doesn't have quite the defense he had last season.
Other thoughts
• As I wrote on Sunday morning, the end of the road could be near for Florida head coach Will Muschamp. That was not a good look for the Gators on Saturday night in a wretched home loss to Missouri.
• Alabama absolutely destroyed Texas A&M, jumping on the Aggies from the start and never letting up in a 59-0 win in Tuscaloosa two weeks after falling at Ole Miss and one week after hanging on for a one-point victory over Arkansas. It was as complete of a performance as we will see from the Crimson Tide, and Nick Saban's squad is still very much in the CFP race. But where does A&M go from here? The Aggies look lost in the brutal SEC West division, suffering three consecutive bad losses with a road trip to Auburn still looming in early November. A&M fell behind 45-0 against the Tide, and Kevin Sumlin's squad appeared at times to not be playing as hard as it could. You always want to err on the side of caution and not question 'will' or 'heart,' but the Aggies have some soul-searching to do.
• David Cutcliffe is incredible. Duke is now 14-3 in its last 17 games after its 20-13 win over Virginia, clinching bowl eligibility for the third season in a row and netting the head-to-head tiebreaker over a tough Cavaliers team in a wild ACC Coastal division race. If you look at the team's remaining schedule, the Blue Devils have a chance to go 10-2 — and possibly even 11-1 — before a possible date with FSU in the ACC title game.
• No Todd Gurley, no problem for Georgia. One week after being the team's workhorse in a shutout win at Missouri, powerful true freshman tailback Nick Chubb had 212 yards on 33 carries to help propel Georgia to a 45-32 win against Arkansas in a game that wasn't that close until late in the contest.
• Houston is an interesting squad. Entering the season I thought the Cougars had a chance to compete for a 'New Year's Six' bowl game as the highest-rated Group of Five team. But Tony Levine's squad opened with a dud against UTSA, fell at BYU and dropped a home game to UCF. But the Cougars were a much different team in that loss to the Knights and had a chance at a winning touchdown before fumbling through the end zone. Since that defeat, Houston recorded a nice road win at Memphis and beat what was a 1-loss Temple squad this past Friday night. In the win over the Owls, Greg Ward Jr. went 29 of 33 passing for 268 yards without an interception against one of the best defenses in the country. Keep in mind that he entered the season playing receiver but took over the quarterback job after John O'Korn was struggling with his accuracy as well as protecting the football. And the Houston defense is a takeaway machine. In the 20 games he has led the defense, coordinator David Gibbs' unit has recorded 66 takeaways after forcing four versus Temple. That's the best in the country in that span. The Cougars' schedule is very manageable the rest of the way. It's just a shame that Houston does not play East Carolina this fall.
• First-year West Virginia defensive coordinator Tony Gibson is the Mountaineers' fourth DC that head coach Dana Holgorsen has had in his four seasons in Morgantown. The former Rich Rodriguez assistant picked up a lot of tendencies from former 'Neers DC Jeff Casteel, and he put those to work in the team's huge home win over Baylor and its high-powered offense. Former Gardner-Webb star Shaq Riddick had a huge game against the Bears, recording four tackles for loss and three sacks. WVU is 5-2, and its two losses by 10 points each came against Alabama and Oklahoma.
• Stanford is out of the AP Top 25 for the first time in over four years. The Cardinal fell at Arizona State after another sluggish offensive performance. David Shaw's squad has lost three times to ranked opponents and has scored a combined 34 points in those games.
• My College Football Playoff projections as of today: No. 1 Florida State vs. No. 4 Michigan State in the Sugar Bowl and No. 2 Alabama vs. No. 3 Oregon in the Rose Bowl. I could also see Notre Dame in that No. 4 slot as well. Remember, these are projections -- how I think things will play out.
• Here is the new NFP Top 25 for the week.
Dave Miller, the college football editor for the National Football Post, is on Twitter @Miller_Dave