October 27, 2014 -
Dave Miller
After further review: Week 9
Week 9 of the 2014 college football season is in the books, and another unbeaten fell just days before the College Football Playoff selection committee releases its initial Top 25 rankings.
Ole Miss could not take advantage of an LSU team that turned the football over four times, as Bo Wallace threw an interception in the final minute — the Rebels' lone turnover of the game — to preserve a Tigers victory. Meanwhile, Mississippi State survived a tough road fight against a much-improved Kentucky squad.
Plenty of storylines played out across the country by the end of Saturday evening. Here are my biggest takeways from the weekend's action.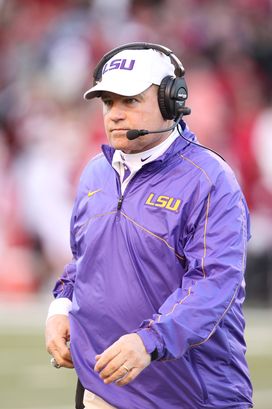 US PRESSWIRELSU remains a dangerous team under Les Miles.
• The Ole Miss stumble. There's never a dull week in the SEC, as Ole Miss suffered its first loss of the year in excruciating fashion. Despite LSU losing the turnover battle 4 to 1, the Bayou Bengals forced Rebels quarterback Bo Wallace into an interception right after a delay of game penalty with :09 left prompted head coach Hugh Freeze to run another play instead of trying for a potential game-tying 47-yard field goal with a freshman kicker. Wallace threw into coverage and was picked off — just a brutal ending for the Rebels. The biggest error in that entire sequence was the unforgivable delay of game penalty even if the Ole Miss coaching staff was contemplating whether to go for it or not. The penalty prevented a more manageable 42-yard field goal attempt by a young kicker. We can debate whether or not the Rebels should have attempted a 47-yarder at that point, but the Wallace decision was tough to swallow. The SEC is never easy, and a Les Miles squad that struggled in losses to Mississippi State and Auburn was able to knock off an upper-echelon SEC team and muddy up the West division a bit. Ole Miss cannot afford any lingering emotions from the loss, however, as the Rebels get Auburn at home this week. Never a dull moment in this league.
• The new Big 12. Dana Holgorsen is making a serious case for Big 12 coach of the year honors. The West Virginia head man oversaw a complete effort from his team in a 24-point win at Oklahoma State, as the Mountaineers jumped out to a 14-0 lead, received a season-high 136-yard effort from receiver Mario Alford and leaned on running back Wendell Smallwood, who ran for a career-high 132 yards as WVU will enter November with four straight wins and a chance for the Big 12 title. Holgorsen relying on the run and a sound defense? Not the WVU team we expected in 2014. The 'Neers get TCU and Kansas State at home and have road games at Iowa State and Texas. It's still going to be difficult to pull off, but the schedule at least is in the Mountaineers' favor. Meanwhile, one week after TCU co-offensive coordinator Doug Meacham helped lead an offensive onslaught against alma mater Oklahoma State, fellow co-OC Sonny Cumbie did the same at alma mater Texas Tech on Saturday. The Horned Frogs' offense has been almost unstoppable since transforming into a Mike Leach-like outfit, as the unit destroyed Texas Tech 82-27 in Fort Worth this past week. Trevone Boykin threw for 433 yards and seven touchdowns against no interceptions, while the Frogs averaged 7.4 yards per carry. TCU outscored Tech 58-10 over the final three quarters. And, finally, Kansas State shut out Texas and firmly remains in the College Football Playoff discussion, with its lone loss coming against Auburn in a very close game back in September. The K-State defense held Texas to just 196 total yards and handed the Longhorns their first shutout since 2004. It is just the second time the Wildcats have defeated Oklahoma and Texas in the same season. Of course, Bill Snyder's squad has to pass road tests at TCU, West Virginia and Baylor, but this is a very balanced and very good K-State team. Certainly, it's setting up to be a real fun race down the stretch in the Big 12.
Other thoughts
• It was another painful day for Michigan at the hands of "Little Brother" Michigan State. The Spartans beat the Wolverines 35-11 in East Lansing, moving the Brady Hoke era one game closer to extinction. Michigan turned the football over three times, ran for a little over 2.0 yards per carry and fell behind 28-3. The Spartans have now won six of the last seven in the series. All eyes remain on the November 8 Big Ten showdown between the Spartans and Ohio State, which overcome some adversity and escaped Beaver Stadium with a 31-24 double-overtime win over Penn State. Looking past the poor officiating (and perhaps more specifically, a breakdown in the replay system), the Buckeyes' win over the Nittany Lions should not be downplayed just because they blew a big halftime lead. Head coach Urban Meyer said that quarterback J.T. Barrett sprained his knee late in the first half, and PSU entered the game with one of the nation's best defenses. A road conference win with a young quarterback who was a bit banged-up? You take it, move on and see if your team is good enough against a Spartans squad that will be a lot more difficult to defeat if offensive woes, mistakes and penalties get in the way. We'll find out just how good Ohio State is when it travels to East Lansing.
• Kentucky is becoming a really fun team to watch under the leadership of head coach Mark Stoops. The Wildcats gave a valiant effort against top-ranked Mississippi State at home, and it was really refreshing to see a very good gameday atmosphere in Lexington. The 'Cats showed great fight, and here's hoping that Stoops stays in UK for awhile — because he's going to get calls from big-name schools sooner rather than later. Speaking of Mississippi State, quarterback Dak Prescott gets most of the attention — and it's well deserved. But running back Josh Robinson is a stud, and he helped carry the Bulldogs in the second half when they were being tested by UK. Robinson ran for 198 yards and two touchdowns, and the Wildcats found out the hard way just how difficult he is to tackle.
• Lane Kiffin had a successful return to Neyland Stadium, as Alabama beat Tennessee 34-20. The first-year Crimson Tide offensive coordinator saw Amari Cooper catch an 80-yard touchdown pass from Blake Sims on the first play from scrimmage, and the Crimson Tide racked up nearly 250 yards on their first three drives, all of which went for touchdowns. Cooper had nine catches for 224 yards and two scores, as the Tide remain firmly in the mix to be ranked in the top four of the College Football Playoff selection committee's initial standings despite slipping up at Ole Miss.
• Marcus Mariota has only been sacked two times in the last three games after being taken down 16 times in Oregon's first five contests. If the dual-threat Heisman Trophy contender is protected, the Ducks have a chance to win every game and be in the CFP mix — no matter how much the defense struggles.
• It was a rough ending to Saturday's game for Virginia in its 28-27 loss to North Carolina. When UNC scored what would become the game-winning touchdown with 4:05 remaining, it came on a third-and-long 16-yard pass from backup quarterback Mitch Trubisky, who w as in the game because Marquise Williams had lost his helmet on the previous play. Larry Fedora's squad then attempted and recovered a surprising onside kick. UNC drove to the Virginia 20 and faced a critical fourth-and-1 with 1:17 left. The Cavaliers ended up having 12 players on the field, giving UNC a game-clinching first down. The penalty had come after a timeout. The Hoos, losers of two straight, now travel to face a Georgia Tech team that has scored 99 points and rushed for over 800 yards in its last two games. Not a great final frame for Mike London, who had led his team to a strong start to the season.
• Stanford continues to struggle in the red zone. The Cardinal have not been able to put together consistent offensive efforts this season against their toughest opponents like Notre Dame, USC and Arizona State, as the run game has been inconsistent and quarterback Kevin Hogan just hasn't progressed as many college football observers had projected. But the red zone issues have been mind-boggling. David Shaw's team looked solid on offense this past week in a 38-14 win over Oregon State, but Hogan did have two interceptions. And the 'O' scored only one touchdown in four red-zone trips, which has the team's red-zone TD percentage for the season at just 44 percent. Oregon and Utah are next on the schedule, which means the Cardinal are in trouble if they can't find better rhythm on offense and more success in the red zone.
• The offensive future is bright in Coral Gables with true freshman quarterback Brad Kaaya showing glimpses of real stardom, and there is some hope that running back Duke Johnson could actually be back in 2015. Johnson, who had a career-best 249-yard effort and a few nifty catches at Virginia Tech last Thursday night, has said that his NFL future will primarily be decided by his mother. But he is on track to graduate in December 2015, which could prompt him to stay. There could be a lot of talented backs in the 2015 draft — Todd Gurley, Melvin Gordon and Ameer Abdullah come to mind — and Johnson could possibly be a second-rounder despite his smaller stature. The main concern is Johnson suffering a significant injury, but it would not be shocking if the 'Canes had him in the backfield next fall.
• Auburn survived a scare from a desperate South Carolina squad, as Steve Spurrier and the Gamecocks went for it on fourth down six times (converting five) and attempting (and recovering) an onside kick. But despite racking up 535 total yards, the Gamecocks lost the turnover battle and the Tigers survived. The schedule only gets tougher from here for Gus Malzahn's squad, with road games ahead versus Ole Miss, Georgia and Alabama.
• It's been a hell of a coaching job thus far by Utah's Kyle Whittingham. We'll continue to find out more about the Utes, though, in their next four games: at Arizona State, vs. Oregon, at Stanford and vs. Arizona.
• Just three undefeated FBS teams remain: Marshall (8-0), Florida State (7-0) and Mississippi State (7-0).
• Here is the new NFP Top 25 for the week.
• My College Football Playoff projections as of today: No. 1 Florida State vs. No. 4 Michigan State in the Sugar Bowl and No. 2 Alabama vs. No. 3 Oregon in the Rose Bowl. I have not yet dismissed Notre Dame either for that No. 4 slot. Remember, these are projections — how I think things will play out. Here are the rest of my bowl projections.