October 31, 2011 -
Barry Dorey
After further review: Week 9
Let's take a look back at some of the highlights from the ninth weekend of the season. And, in case you missed it earlier today, check out the latest edition of the NFP Top 25.
• Stanford passes its first major test. We all wanted to see how Stanford would respond when faced with adversity for the first time this fall. Up until the game against USC, the Cardinal were on cruise control but were not getting as much national respect because many questioned their opposition. But Saturday night at the Coliseum, Andrew Luck and Co. proved that they have the personnel, poise and resiliency to win a close, pressure-filled game against a talented foe. As my colleague Wes Bunting pointed out earlier this morning, Luck proved his worth — as if he had to at this point — by playing a gritty game in leading his team to a triple-overtime victory over Lane Kiffin's squad. He overcame his pick-six, used his legs when he needed to and rallied his team back from a 10-point deficit. It was a definite Heisman Trophy-worthy performance. He has the weapons at receiver, a three-headed monster at tight end and a strong rushing attack. And Stanford's red-zone offense is unstoppable. My only concern with the Cardinal is how they will fare against Oregon's high-octane offensive attack. Trojans running back Curtis McNeal had his way on the ground, so the Cardinal will have to be sound in their tackling against the Ducks. They weren't against the Trojans and last week against Chris Polk and Washington. But this past weekend in Los Angeles, they proved that they remain stellar in the post-Jim Harbaugh era — and Luck is the central figure in this year's success.
• Don't sleep on the Buckeyes. Ohio State may be down this year, but the Buckeyes are not out. They beat their second straight ranked opponent, and Luke Fickell's squad should have won in Lincoln a few weeks ago against Nebraska. Quarterback Braxton Miller accounted for three touchdowns in the win over Wisconsin this past week, including the game-winning 40-yard touchdown pass to Devin Smith with 20 seconds to play and a 44-yard sprint earlier in the quarter to earn Big Ten freshman of the week honors. The dual-threat signal-caller rushed for a career-high 99 yards and was 7 of 12 through the air for 89 yards in the victory. He has lots of room to grow as a passer, but the Buckeyes have their quarterback for the present and future. Perhaps even more impressive was the OSU defense, which held the Wisconsin rushing attack in check. This is the same Buckeyes defense that kept the team in the 10-7 loss to Michigan State as well. With Boom Herron producing like one of the better running backs in the nation, Ohio State has emerged as a legit Big Ten title contender. An amazing comeback from where this team was just a few weeks ago.
• The Georgia defense. What a transformation for this unit since last season. In the second year in Todd Grantham's 3-4 scheme, the Bulldogs are enjoying quite a revival as they seek the SEC East division crown. After giving up three plays of 20 yards or more in the first quarter as well as a 31-yard touchdown play on fourth-and-19 to fall behind 17-3 against Florida, the 'Dawgs buckled down and allowed the Gators just 32 yards and one first down in the second half. Outside linebacker Jarvis Jones led the defensive effort, recording four sacks and a forced fumble that led to a Georgia touchdown. He helped his case in SEC defensive player of the year voting, and this is a unit that continues to get healthier. They need South Carolina to lose one more conference game, which is very possible considering the Gamecocks will be without stud running back Marcus Lattimore the rest of the season.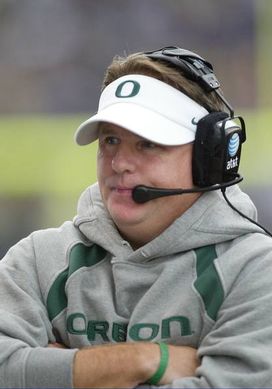 ICONWill Chip Kelly stick with Darron Thomas as his starting QB?
• Oregon's quarterback situation. Ducks head coach Chip Kelly surprisingly pulled starting quarterback Darron Thomas after he threw two interceptions in the first half against Washington State, his first game back since injuring his knee. Backup Bryan Bennett came in and gave the Ducks' offense the spark that it needed after Oregon led 15-10 at the break. The redshirt freshman Bennett played well last week against Colorado, so Kelly obviously was comfortable with him running the offense against the Cougars. While Thomas has had moments this season where he hasn't been quite as sharp as he was last season, I would expect to see Thomas start this week at Washington. But with the Huskies capable of scoring points, Kelly will not hesitate to pull him if the offense sputters early. With running back LaMichael James back after his elbow injury, Kelly wants this offense to be running as smooth as possible heading into that Nov. 12 showdown at Stanford. Thomas still gives the Ducks the best chance to win, but he will need to be more efficient — and 100 percent healthy.
• Did Clemson and Michigan State show their true colors? We heard all the talk this past weekend about Clemson and Michigan State reverting to their historic ways by losing games when the stakes were high. In terms of the Tigers, Georgia Tech just seems to have their number when they are 8-0 (see the 2000 season). What the Yellow Jackets were able to do in Atlanta on Saturday night was run the football against a run defense that has been susceptible. GT quarterback Tevin Washington ran for 176 yards — the most ever by a quarterback in school history. Meanwhile, Tigers signal-caller Tajh Boyd had his worst game of the season. Despite the loss, Clemson is still having a terrific year. The key is to bounce back quickly because a trip to a BCS game is still within reach. Meanwhile, the Spartans were dealing with the euphoria of the last-second win over Wisconsin, the pressure of being the class of the Big Ten and the fact that Nebraska played its best game of the season. Still, thinking back to the poor play in big games against Iowa and Alabama last season, it's a recurring theme for the Spartans to trip up in big spots in recent years.
• Will Ole Miss win an SEC game? Houston Nutt's squad has lost 11 straight SEC games — the longest streak in school history — after falling to Auburn. The Rebels are 2-6 overall and 0-5 in league play, but to Nutt's credit the team has played hard the last two weeks when they could have mailed it in. Most troubling for the Rebels is the fact that they really struggle in the second half. In their five conference defeats, they have been outscored 93-20 after halftime. The future doesn't look bright for Nutt, though he does have a big buyout number. Working in his favor, again, is the fact that his team has played hard. Could he buy another year if he shakes up the staff? Keep in mind that the Rebels have also been decimated by injuries.
• Case Keenum. I mean, the guy has to get an invite to New York for the Heisman Trophy ceremony doesn't he? The sixth-year senior tossed nine touchdowns in Houston's 73-34 win over Rice to pass former Texas Tech quarterback Graham Harrell for the most career touchdown passes in FBS history. He now has 139, five more than Harrell had from 2005-08 with the Red Raiders. He is also close to setting the career passing yards record, needing only 268 yards to pass former Hawaii signal-caller Timmy Chang, who holds the mark of 17,072 ya rds set from 2000-04. The Heisman is supposed to be awarded to the "most outstanding college football player." I'm not saying he should win it, but he's one of the five best players in America this season — no matter the competition.
Other thoughts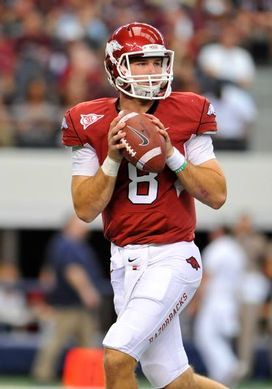 ICONTyler Wilson and the Razorbacks are prone to getting off to slow starts.
• It's amazing that Arkansas is sitting at No. 7 in the BCS standings. The Razorbacks cannot seem to wake up in time for their games, falling behind early and often in their games this season. They fell behind 21-7 to Vanderbilt — the third time in their last four games that the Hogs have come back to win after looking very sluggish early. If Bobby Petrino can't get that fixed, the Hogs are bound to go down soon.
• Kansas was held to 46 total yards in its loss to Texas. Yes, 46. Head coach Turner Gill's team fell to the Longhorns 43-0 as the Jayhawks recorded -2 rushing yards. Gill deserves to get a third year, but it's ugly in Lawrence.
• It's certainly been a rough debut season for Minnesota's Jerry Kill, but the Gophers head coach was able to lead his Gophers to their first Big Ten win over Iowa. Kill went for an onside kick with 8:22 left after his team just scored to cut the lead to 21-16, and the Gophers recovered. They subsequently went in for the winning score and captured the Floyd of Rosedale. Really bad loss for Iowa, but a big win for Kill and the Gophers.
Email dave.miller@nationalfootballpost.com or follow me on Twitter at Miller_Dave