January 05, 2011 -
Dave Miller
Alabama fans support Oregon with 'Roll Ducks Roll' t-shirt
We know all about the bitter rivalry between Alabama and Auburn. The Tigers' rally from 24 points down in this year's Iron Bowl just added another crusty layer to the simmering in-state feud.
And for college football fans, it's fantastic. After all, the sport lives off of rivalries and passion (and money).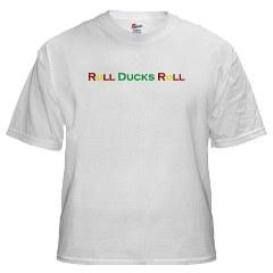 Alabama fans have one message for Auburn: Roll Ducks Roll.
However, when a team is playing a squad from a rival conference, league pride usually takes over and in-season conference rivalries are set aside. Big Ten fans typically root for opposing Big Ten teams against squads from rival leagues, Pac-10 fans do the same and so on.
Apparently, though, that won't be the case for Alabama fans this postseason.
Check out the merchandise being offered on the CafePress shop's website. These are quite the gems.
I actually am a big fan of the CafePress shop. However, the last purchase I made from the company was a "MySpace ruined my relationship" shirt. Based on the way that social networking site has tanked, I probably should not have made the buy.
Email dave.miller@nationalfootballpost.com or follow me on Twitter at Miller_Dave