October 04, 2010 -
Dave Miller
Alabama still the SEC's best
Another week of SEC football is in the books. Let's take a look back at Week 5 and take a quick glance at what's ahead in Week 6.
The big stories
If the Crimson Tide of Alabama didn't quite prove that they were still the best in the SEC after beating Arkansas on the road, they certainly did so Saturday night with their dominating performance against Florida. Less than a year removed from their SEC championship showdown, 'Bama is still more physical and better prepared than the Gators — and that speaks directly to the type of program that head coach Nick Saban is running in Tuscaloosa. Saban, whose defense has owned Urban Meyer's offensive unit recently, has now led 'Bama to 19 straight victories — including 18 in a row in SEC regular-season play. The defense has yet to give up a second-half touchdown, and it's a unit that will only improve as the season continues. Who said that their inexperience would be too much to overcome?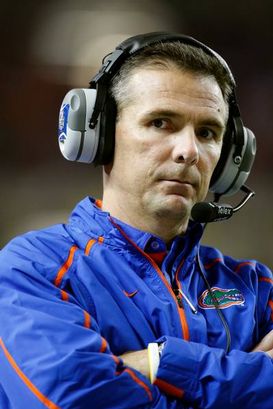 ICONUrban Meyer has been dealt some bad losses by Nick Saban and Alabama.
Meanwhile, the play of Florida's offensive line remains a concern after it was supposed to be the strength of the offense entering the season. The coaching staff obviously wants to use Trey Burton near the goal line, but it's a lot different when you're going up against Alabama instead of Kentucky. The Crimson Tide once again exposed the Gators at the line of scrimmage. The two worst losses of Meyer's career now have come at the hands of Alabama: 31-3 in 2005 and 31-6 on Saturday. Good thing for Florida that the team won't have to visit Tuscaloosa again until 2015. But does it even matter where the game is played at this point?
…I know Auburn was 5-0 last year, as well, but I think it's safe to say that the Tigers aren't in danger of losing five of their last six SEC games like they did last year. Cameron Newton is one of the most exciting players in the nation, and the Auburn offense will be even more potent if Newton can pick his spots to run while letting the talented running backs do their job. Coordinator Gus Malzahn must feel like a lucky guy to have an athlete like Newton running his offense. Can the Tigers stay unbeaten before their showdown on Nov. 26 with Alabama?
…At some point, LSU is going to suffer for not having an even average quarterback. It's a shame that neither Jordan Jefferson nor Jarrett Lee has been able to stabilize the position because the defense and special teams units are outstanding. How about this? In the last four games, Jefferson has averaged 74.5 passing yards while tossing five interceptions and no touchdowns. Regarding the late-game clock-management issues, I wrote this past summer that Les Miles often gets treated unfairly by fans and media for such perceived mismanagement. Well, just like my defense of the Big East in recent years, I may have to refrain from strongly supporting the LSU general. But, for now, the Tigers remain unscathed.
…Georgia is just plain bad, and the Bulldogs are staring at their first losing season in the Mark Richt era. A.J. Green returned this weekend, but it did nothing to prevent a 29-27 loss to a Colorado team that lost 52-7 to Cal earlier in the year. The Dawgs are 1-4, and they're just good enough to hang around for a whole contest but bad enough to find ways to fumble the game away every time.
Other notes
…Arkansas had a bye this past week following its second-half meltdown against Alabama. The Razorbacks will step out of conference this week to take on old Southwest Conference rival Texas A&M at Cowboys Stadium. Can the Hogs find a running game to go along with their aerial attack?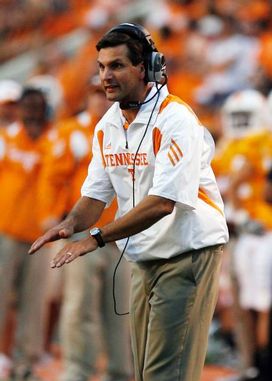 ICONDerek Dooley has Tennessee playing hard in his first season as head coach.
…No matter how down the Tennessee program may be in the eyes of some observers, first-year head coach Derek Dooley is getting every ounce of passion out of his players. The Vols played Oregon tough for nearly three quarters, had Florida scared until a fake punt changed the tide of the game, and survived a poorly played game to eventually best UAB in overtime. It was tough to see the Vols drop the contest against LSU this past week in that fashion.
…Kentucky lost a tough road contest at Mississippi one week after getting romped by Florida. It was especially inopportune considering the Wildcats now have to deal with Auburn and South Carolina in the next two weeks. Who would have thought that playing Georgia, which UK does the following week, would be a relief?
On tap for Week 6
• Tennessee (2-3, 0-2) at Georgia (1-4, 0-3)
• Alabama (5-0, 2-0) at South Carolina (3-1, 1-1)
• Arkansas (3-1) vs. Texas A&M (3-1)
• Eastern Michigan (0-5) at Vanderbilt (1-3)
• Auburn (5-0, 2-0) at Kentucky (3-2, 0-2)
• LSU (5-0, 3-0) at Florida (4-1, 2-1)
• Mississippi State (3-2) at Houston (3-1)
Follow me on Twitter at Miller_Dave or send your college football questions to dave.miller@nationalfootballpost.com
Click here to win cash today playing fantasy football with the NFP and FanDuel.