November 15, 2014 -
Dave Miller
Alabama will try to prevent a Heisman moment
If Mississippi State has any chance of beating Alabama in Tuscaloosa and maintaining its grip as the No. 1 team in the College Football Playoff Top 25, it will need quarterback Dak Prescott to put on one of his better performances of the 2014 season.
The Heisman Trophy contender, who poses the bigget threat to date to Alabama's playoff hopes, has often been compared (sometimes too often) to former Florida star quarterback Tim Tebow because of their similar style of play and the fact that Mississippi State head coach Dan Mullen was the Gators' offensive coordinator for a time when Tebow was in Gainesville.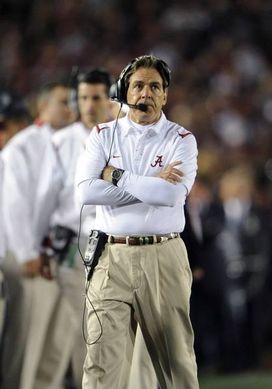 ICONNick Saban's defense must contain Dak Prescott if the Tide are going to remain in the College Football Playoff race.
Because Crimson Tide head coach Nick Saban and defensive coordinator Kirby Smart are quite familiar with Tebow's efforts with the Gators in their head-to-head matchups, their gameplan to contain the Bulldogs' dual-threat signal-caller on Saturday night may be similar to the one that thwarted Tebow in the SEC title game five seasons ago.
Prescott is an athletic quarterback with good size, a great arm and the ability to outrun defenders. Will the Tide be able to limit his overall effectiveness? Or will Prescott join Cam Newton and Johnny Manziel as prolific signal-callers that were able to go into Bryant-Denny Stadium and beat Saban and the Tide?
Alabama's primary focus will be to stop the dangerous Mississippi State ground game one week after it was able to shut down the LSU rushing attack. Sure, the Tigers ran for 183 yards last week against the Tide in Death Valley. But while that number looks solid, it took the Bayou Bengals 56 carries to get to that figure, which averaged out to just 3.3 yards per rush. The Tide knew that the Tigers had issues through the air coming into the contest, so stopping the run and making Cam Cameron's offense uncomfortable was the goal. And it was one that was accomplished, which may explain why the Tigers tried throwing on four consecutive downs in overtime. The run became a liability.
Mississippi State has a very dangerous ground game, even more lethal than the LSU attack. Junior running back Josh Robinson averages 6.7 yards per carry and is a load to bring down, while Prescott has 779 rushing yards and 11 touchdowns and is equally difficult to tackle. Robinson is a stud running between the tackles, and Prescott is lethal on designed QB runs. That effectiveness sets up a deadly play-action game. That's why the Tide want to make shutting down the Bulldogs' rushing attack the top priority, and it may happen because they are allowing only 2.8 yards per rush and have given up only two rushing touchdowns all season. And while 2014 has been a breakthrough year for Mississippi State, it needs to exorcise a big demon: the team has rushed for just 112 yards on 80 attempts in the last three games against the Tide -- a paltry 1.4 yards per carry.
Alabama linebackers Reggie Ragland and Trey DePriest get a lot of publicity for their strong play, but they are able to roam free and unblocked because the Tide have been getting very good efforts from their defensive linemen, who have been able to track down ball-carriers when facing one-on-one blocks from offensive linemen or draw double teams to allow the 'backers to make plays. Containing the Bulldogs' rushing attack will allow the Tide to force MSU into passing situations. And 'Bama already has more sacks through nine games this year than it had all of last season.
Certainly, Prescott has proven that he can move the football through the air. The junior has completed 61.1 percent of his passes for 2,231 yards and 18 touchdowns against seven interceptions. But he will be going up against the top-ranked defense in the SEC, a unit that allowed only eight completions against LSU last week. There is no doubt that Mississippi State has a more accomplished passer than LSU, but Prescott will face his biggest test yet if the run game is stifled. And he hasn't been quite as sharp lately as he was against LSU and Texas A&M earlier in the year. Before the win against Tennessee-Martin last week, Prescott had thrown five combined interceptions and completed less than 55 percent of his throws twice in the last three games. A one-dimensional offensive attack would severely limit Prescott's effectiveness unless Alabama has several breakdowns in its secondary.
Mullen is 0-5 against Saban in head-to-head meetings, and the Bulldogs haven't scored more than 10 points in any of those games. If Prescott doesn't have a Heisman moment in him, Mississippi State will be unable to notch a statement victory in a season that up to this point has been almost magical.
Dave Miller, the college football editor for the National Football Post, is on Twitter @Miller_Dave.