December 29, 2011 -
Dave Miller
Alamo Bowl preview: Baylor-Washington
The 2011-12 bowl season continues Thursday night with the Alamo Bowl between Baylor and Washington in San Antonio.
This will be the first meeting between the Bears and Huskies since 1965. Baylor is playing in just its third bowl game since 1994, when it lost 10-3 to Washington State in this same game. Washington, meanwhile, hasn't played in Texas since losing the Sun Bowl in 2002.
Let's take a look at this contest a little more closely…
Alamo Bowl preview: Baylor (9-3) vs. Washington (7-5) at 9 p.m. ET on ESPN
Will this be the final college game for Heisman Trophy winner Robert Griffin III? Matt Barkley decided to go back to USC, but RG3 has accomplished the highest individual honor in the sport and likely will take his game to the next level in April. This season, Griffin helped put Baylor on the national map, and a win over Washington would give the program its first 10-win season since 1980.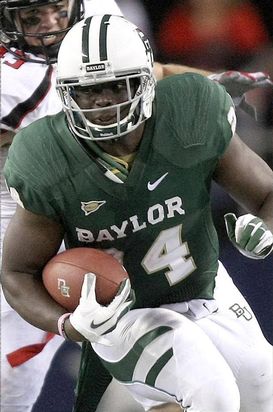 Terrance Ganaway was the Big 12's leading rusher with 1,347 yards and 16 touchdowns.
Washington, meanwhile, has dropped four of its last six contests. And coordinator Nick Holt's defense was the main culprit. The unit gave up an average of 33 points per game, and it now has to face the nation's most efficient passer who threw for nearly 4,000 yards this fall. His favorite target, receiver Kendall Wright, had 1,572 receiving yards and 13 TDs. And when Griffin isn't making plays through the air, running back Terrance Ganaway uses his big, 240-pound frame to pace the ground attack. He was the Big 12's leading rusher with 1,347 yards and 16 touchdowns.
The Huskies, who are making their first appearance in the Alamo Bowl in Steve Sarkisian's third season, are paced on offense by running back Chris Polk, who rushed for 1,341 yards and 11 scores, and sophomore quarterback Keith Price, who made many fans forget about Jake Locker with his strong play. He threw for over 2,600 yards and 29 touchdowns in his first season as the starter, and he tossed just one interception over his last three games. And he'll be going up against a Phil Bennett-led defense that ranks 109th in scoring. Utilizing Polk to control the ball and keep Griffin off the field is one way to combat the Baylor offense.
But the defense in Seattle was again below average, ranking 94th in the nation in total defense and 99th in scoring. Holt is one of the nation's highest-paid defensive coordinators, and a program looking to move its way into the upper-tier of a conference can't allow a squad to rush for 446 yards (as it did against Stanford) or lose on the road to a bad Oregon State team.
Keep an eye on: Red-zone efficiency. If the Huskies want to stay in this game with the high-scoring Bears, it needs to take advantage of their red-zone opportunities. They've been efficient this fall, finding the end zone 36 times in 45 visits to the red zone.
Email dave.miller@nationalfootballpost.com or follow me on Twitter at Miller_Dave