December 30, 2013 -
Dave Miller
Alamo Bowl preview: Texas vs. Oregon
Subscribe to the "Against the Grain with Dave Miller" podcast in iTunes
The 2013-14 college football bowl season continues on Monday evening, as the Alamo Bowl takes place between Texas and Oregon in San Antonio.
Here are some things to keep an eye on when you're tuned into the contest between the Longhorns and the Ducks.
Texas (8-4) vs. Oregon (10-2)
December 30, 6:45 p.m. ET on ESPN
The Longhorns will be saying farewell to longtime head coach Mack Brown, who will be on the Texas sideline for the final time. While he wanted to remain with the 'Horns, Brown understood better than anybody the politics that occur in Austin. And while Texas didn't win a Big 12 title, it at least played for one on the first Saturday of December. And no one saw that coming after the team started the season 1-2 following back-to-back losses to BYU and Ole Miss.
Meanwhile, the Ducks will be saying goodbye to longtime defensive coordinator Nick Aliotti, who has had two stints in Eugene, with the final one starting in 1999. Aliotti will retire after going largely under the radar while Chip Kelly's high-octane offense often took centerstage. But make no mistake: Aliotti's blitz-happy and substitution-heavy defense was a tremendous complement to the offense and was a major reason why the Ducks racked up so many BCS berths in recent years.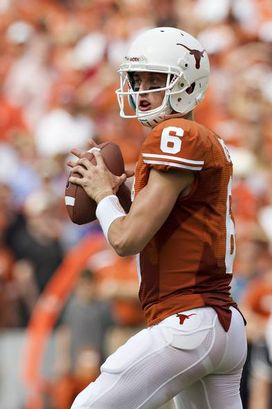 Case McCoy missed the Alamo Bowl last year because he was suspended for a violation of team rules.
Two versions of Texas: There's no doubt that the 'Horns want to send Brown out victorious, so we will see an inspired effort. But how much will that really mean once the opening kickoff takes place? We should see a much better version of Texas than the one we saw in losses to BYU and Ole Miss as well as in the one-point victory at Iowa State. But will Texas resemble the squad that pounded Oklahoma in the Red River Rivalry? After all, the Longhorns later suffered a 38-13 loss to Oklahoma State in Austin. While the defense is improved, it still isn't acceptable for a program that should field one of the most talented teams each and every year. And the offense is average with Case McCoy under center. Expect Texas to emphasize the run with Malcolm Brown, as the Ducks are susceptible to strong rushing attacks. But I would expect Aliotti to bring up an extra safety, because McCoy isn't a real threat through the air.
A healthy Mariota: Ducks offensive coordinator Scott Frost confirmed that Marcus Mariota suffered a partially torn MCL against UCLA, an injury that clearly affected the dual-threat signal-caller's mobility over the second half of the season. The redshirt sophomore is not expected to have a knee brace on in this game, so we should see the quarterback resemble more of the Heisman Trophy frontrunner that we are used to seeing. Mariota has passed for 3,412 yards and rushed for 582 more yards this year, and he has recorded 39 total touchdowns. He needs only two scores to break Joey Harrington's school record for total touchdowns. Keep an eye on Texas defensive ends Jackson Jeffcoat and Cedric Reed, two very good pass rushers. Jeffcoat leads the team with 21 tackles for loss and 12 sacks, while Reed has 18 tackles for loss, nine sacks and four forced fumbles. But will they be patient enough when defending Mariota on read-option plays? We have seen what mobile quarterbacks could do to this Texas defense, and this will be the best dual-threat Texas will see this year if Mariota is close to 100 percent.
Odds and ends: Oregon is favored by 10.5 points ... Texas leads the all-time series 4-1 ... Academic issues will keep receiver Daje Johnson, offensive lineman Kennedy Estelle and running back Jalen Overstreet out of this contest for the 'Horns ... The Ducks will be without starting tight end Pharaoh Brown, who was suspended for taking part in a snowball fight on campus earlier this month ... Texas won the Alamo Bowl last year without McCoy, who was suspended for a violation of team rules ... In 16 seasons at Texas, Brown is 10-4 in bowl games and hasn't lost one since the 2009 BCS national championship game to Alabama ... Although the Ducks failed to get to a fifth consecutive BCS bowl game, they can finish with an 11-win season.
Dave Miller, the college football editor and writer for the National Football Post, is on Twitter @Miller_Dave.