November 10, 2010 -
Dave Miller
All hell breaks loose in the Cam Newton investigation
The floodgates have opened in the Cam Newton investigation.
According to an ESPN.com report Tuesday night, two recruiters for Mississippi State said that Cecil Newton and his son admitted in separate phone conversations to a pay-for-play plan while the dual-threat signal caller was being recruited late last year at Blinn Junior College.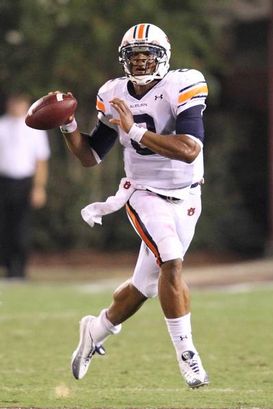 ICONQB Cam Newton and Auburn remain in the news for all the wrong reasons.
Two other sources close to the Bulldogs program told ESPN.com that officials at Mississippi State relayed the alleged conversations to SEC compliance officials in January.
Before the 6-6, 250-pounder committed to Auburn, one of the recruiters said Newton's father told him it would take "more than a scholarship" to bring the Heisman candidate to Mississippi State — a request the school would not meet. Cecil Newton also reportedly referred the recruiter to a third person that would provide more specifics.
Why did Newton ultimately choose Auburn?
According to the report, the Tigers quarterback phoned another recruiter to express regret about not going to Starkville, admitting that his father chose Auburn because "the money was too much."
The NCAA continues to investigate the recruiting process.
Cam Newton declined comment to ESPN.com, while his father did not respond to an e-mail request for comment. Auburn did not respond to a request to deny the report, either. The Newtons had repeatedly stressed their innocence while the school stood by its belief that Newton would remain eligible this season.
Last Thursday, ESPN.com reported that former Mississippi State quarterback John Bond claimed a man named Kenneth Rogers, who allegedly represented Newton, sought $180,000 for the quarterback to attend Mississippi State. Rogers allegedly told Bond that other schools had already offered $200,000.
On Monday, FOXSports.com reported that Newton had been involved in three different instances of academic cheating while attending Florida and faced potential expulsion from the university. While his past at Florida is not an aspect of the NCAA investigation, it only added more drama to an already fluid story.
To see how this all played out since last Thursday evening, check out my posts in the Against the Grain section of the NFP. And continue to stay tuned, because I am certain that this story will continue to get even messier and messier as the week progresses.
Email dave.miller@nationalfootballpost.com or follow me on Twitter at Miller_Dave