April 19, 2013 -
Dave Miller
Allen boosts Syracuse's offensive potential
When former Oklahoma quarterback Drew Allen made his decision to transfer to Syracuse, the overwhelming sentiment was that the ex-Sooners backup would be ready to walk into the starting lineup in the fall.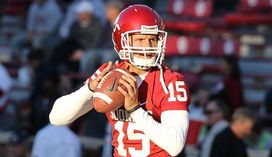 US PRESSWIREQB Drew Allen is transferring to Syracuse after he graduates from OU in May.
While Allen does have one final year of eligibility remaining, it is not set in stone that he will be under center for the Orange when Scott Shafer makes his debut as head coach.
However, the former San Antonio three-star recruit clearly has the credentials to step in and fill the void of Ryan Nassib, who has seen his draft stock rise and who will find out his NFL fate next week. And the competition for the starting gig at Syracuse is much less stiff than what Allen was facing in Norman, where Blake Bell will likely end up starting for the Sooners.
Taking a glance at the Orange depth at quarterback, Allen has the edge in talent over fifth-year senior Charley Loeb, senior John Kinder and junior Terrel Hunt. However, mastering the offense will be a tough challenge for Allen, especially with the trio of Orange signal-callers going through spring drills. But if he proves to be a quick learner and hard worker this summer, Allen could be positioned to steal that starting gig in the fall and play the role that former Duke basketball player Greg Paulus played in 2009 when he started in Doug Marrone's first year.
Hunt has reportedly been getting more first-team reps than Loeb during spring drills, but we'll see if either one can make a strong impression on Shafer this weekend when the Orange hold their spring game. But there's no question that Allen's impending arrival will significantly affect the depth chart if he can pick up the system and terminology rather quickly.
Allen will graduate from Oklahoma in May, and he said he will continue to train in either Norman or San Antonio before arriving at Syracuse over the summer.
The 6-5, 226-pound fromer prep All-American, who has completed 18 of his 30 pass attempts for 160 yards without a touchdown or an interception in 12 games spread out over four years at OU, has very good size for the position. And based off of his high school accolades, he has a resume that not a lot of past Syracuse signal-callers have boasted, which makes his arrival even more intriguing.
While a long road filled with hard work is ahead for Allen, there's no question that Shafer, quarterbacks coach Tim Lester and offensive coordinator George McDonald are ecstatic about the possibility of this offense being run by the former OU backup signal-caller.