December 26, 2011 -
Barry Dorey
Analyzing the 2011-12 FBS head coaching changes
Like most offseasons in the world of college football, the coaching carousel spins for many weeks. As we look toward the new year, only Penn State has yet to find a new face of the football program after dismissing longtime head coach Joe Paterno.
While I don't believe in ranking or grading a coaching hire until he gets time to implement his vision, I have listed the new hires in order of impact and what I project to be the best hires as of now.
With that said, let's take a look at the Football Bowl Subdivision schools changing head coaches for the 2012 season.
Urban Meyer, Ohio State (for Luke Fickell): The only question Meyer has to answer is whether he will be the same determined, focused head coach as he was when he led Florida to two national titles. If he's not, he at least better be comfortable leaning on a strong set of assistants while he works on balancing football, family and good health. Right now this is unquestionably the best hire because of OSU's potential to quickly turn around after a 6-6 2011 season. All Meyer has to do is realize his mistakes in his later years in Gainesville and the Buckeyes should return to the BCS race in 2013.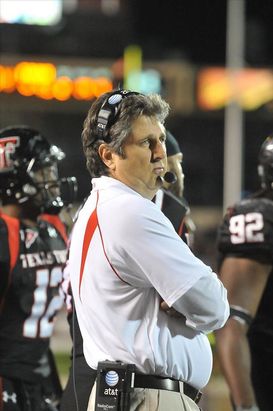 ICONMike Leach is back in the coaching game, taking over for Paul Wulff at Washington State.
Mike Leach, Washington State (for Paul Wulff): Leach never missed the postseason during his time in Lubbock. And he proved at Texas Tech that he is at his best in a low-key environment, so coaching in Pullman is a good fit. Don't forget that the Cougars went to two Rose Bowls under Mike Price. And Leach is a better coach who will have pieces to work with right away on offense.
Gus Malzahn, Arkansas State (for Hugh Freeze): The shine may be off of the armor a little bit for Malzahn after Auburn struggled offensively this fall, but the Tigers suffered extreme turnover on that side of the ball. There's a reason why the Tigers OC could have had the Maryland and Vanderbilt jobs last offseason. At Arkansas State, he returns to his native state to lead a talented Sun Belt squad and get the chance to show that he is more than a talented offensive mind. He'll recruit well and have a chance to get a bigger job very soon if the Red Wolves maintain strong play in their league.
Kevin Sumlin, Texas A&M (for Mike Sherman): The Aggies landed the one name that they wanted all along when the administration dismissed Sherman. Sumlin is a former A&M assistant who has been one of the rising coaching stars for many years. Losing Tim DeRuyter makes it imperative that he find a quality defensive coordinator to balance his productive offense, especially as the Aggies transition into the SEC — a league that will be able to slow down prolific offenses when push comes to shove.
Larry Fedora, North Carolina (for Everett Withers): Fedora is exactly the type of leader the Tar Heels need coming off of a two-tiered NCAA scandal (academic and agent-related). Like Sumlin, he was one of the fast-rising non-BCS coaches who knows how to run an effective, organized winning program. The sanctions the program faces will be difficult to sell to recruits, but he's too likeable for the impending penalties to be problematic.
Hugh Freeze, Ole Miss (for Houston Nutt): If Ole Miss fans realize that the program can't annually compete with Alabama and LSU, Freeze will have a much easier job. The problem is that the community has unrealistically high expectations. Still, he will help put an end to Dan Mullen's recruiting dominance, but a berth every so often in the Cotton Bowl is about the loftiest expectation any Rebels fan should have for their program.
Charlie Weis, Kansas (for Turner Gill): The Weis hire was mocked by most members of the national media, but who else were the Jayhawks going to land with their athletic director trying to make a statement? He already has his quarterback situation rectified for the next few years (with transfers Dayne Crist and Jake Heaps), but he will need to be more personable, understand recruiting is the lifeline of a program and hire a defensive coordinator with a proven track record.
Rich Rodriguez, Arizona (for Mike Stoops): Rodriguez arguably should never have been let go at Michigan, as his offense was finally taking shape with Denard Robinson at quarterback. Now, in Tucson, Rich Rod will have to make sure he hires a sound defensive staff to complement what should be yet another prolific Pac-12 offense.
Jim L. Mora, UCLA (for Rick Neuheisel): I likely have the Mora hire higher than most, but I've really started to buy into this move from athletic director Dan Guerrero — and it's not often that I agree with a Guerrero move. While his experience comes mostly at the NFL level, Mora can win on the recruiting trail with his personality, and he's already putting together a star staff. It's way too early to make the Pete Carroll comparison, but he was once considered one of the top young coaches in the NFL. With a strong supporting cast on his staff, he at least could make UCLA football relevant again.
Terry Bowden, Akron (for Rob Ianello): It's about time Bowden has returned to the FBS, and he'll be at a program that is dying to field a winner at a newer stadium. He brings instant credibility to the recruiting trail because of his last name, and he should be able to field a productive offense sooner rather than later. In time, the Zips will be back in the postseason because Bowden can flat-out coach.
Garrick McGee, UAB (for Neil Callaway): It's a shame that UAB has not been able to cultivate a winning culture, but McGee certainly is as worthy of a candidate to try to change things in Birmingham. It's a tough job, but he should command respect right away after serving as Bobby Petrino's top assistant at Arkansas. He could have probably received a better offer next offseason, but his stock will increase even more if he's able to turn the UAB program around.
Paul Chryst, Pittsburgh (for Todd Graham): Chryst fits in very well at Pitt because of his run-first, blue-collar mentality. In terms of X's and O's, you're not going to find anyone more qualified for a head job. The only concern is how he will fare as the face of a program — especially one that has endured so much turmoil over the last year or so.
Justin Fuente, Memphis (for Larry Porter): Like UAB and Tulane, Memphis is another school that has yet to find a longterm leader with the ability to elevate the football program. In Fuente, the Tigers get someone who has learned under Gary Patterson at TCU. Patterson put his stamp on the Horned Frogs, and the hope is that Fuente can do the same in Memphis.
CONTINUE TO PAGE 2 FOR MORE COACHING CHANGES