February 17, 2011 -
Dave Miller
Are you an Alabama fan? Get your 'Free Harvey Updyke' shirt
Only in the Alabama-Auburn rivalry.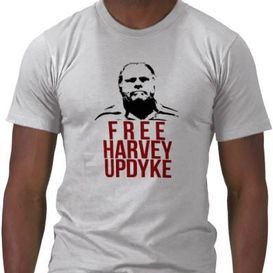 You can get a 'Free Harvey Updyke' t-shirt for the low price of $20.40.
Not even a full 24 hours have passed since 62-year-old Harvey Almorn Updyke was arrested in the poisoning of the Toomer's Corner oaks, and already there are 'Free Harvey Updyke' t-shirts available for purchase.
Auburn police arrested the Dadeville, Al., resident and charged him with criminal mischief for applying an herbicide at Toomer's Corner, a traditional gathering place for Tigers fans after major victories. Held on $50,000 bond, Updyke faces up to 10 years in prison if convicted.
On Wednesday, the university reported the 130-year-old oaks located on Toomer's Corner had been poisoned, and on Thursday Updyke, who is the infamous "Al from Dadeville" caller who bragged on The Paul Finebaum Show that he poisoned the trees, was taken into custody.
Experts believe the trees are not likely to survive.
Email dave.miller@nationalfootballpost.com or follow me on Twitter at Miller_Dave
Want to work in the NFL? Click here to sign up for the NFP's "Chalk Talk at the Combine" Seminar February 25 in Indianapolis.