July 18, 2012 -
Dave Miller
Arkansas fans would be wise to give Smith a chance
No one associated with the Arkansas football program could have seen its tumultous offseason on the horizon. But the Razorbacks were dealt a monstrous blow when the Bobby Petrino saga put a dent in the team's huge expectations for the 2012 season.
Razorbacks athletic director Jeff Long had no choice but to relieve Petrino of his duties, and he had little chance of making a popular hire because of the timing of Petrino's off-the-field incident. So when former Michigan State head coach John L. Smith was tabbed as the face of the program for the next year, there were many skeptics who wrote off the Razorbacks in the SEC West.
But fans of the program who were critical of the hire would be wise to reasses Smith's hiring as SEC Media Days kicked off at the Wynfrey Hotel in Hoover, Alabama on Tuesday.
Long selected a person who is familiar with the Razorbacks so he could essentially buy time before conducting a full-scale national search once the upcoming campaign is completed. While names such as Gus Malzahn, Butch Davis, Gary Patterson, Pete Carroll, Steve Mariucci and even Jimmy Johnson were tossed around by fans and media alike, they were never an option for Long. Neither was Garrick McGee, who had accepted his first head-coaching gig at UAB. And while McGee would have been a nice longterm option, Arkansas still was able to get a coach who fills two main criteria: familiarity with the program and a leader who will command the respect of the players.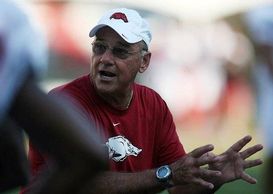 John L. Smith served as the Hogs' special teams coordinator/OLB coach before taking the head job at Weber State.
Smith, the former Louisville and Michigan State head coach, has been brought in as a short-term replacement for a veteran team that has Top 5 potential. Before he took the head-coaching job at his alma mater (Weber State) this offseason, Smith served as the Razorbacks' special teams coordinator/outside linebackers coach for two seasons, so he's been around the offensive and defensive schemes that the club runs. And bringing in a head coach with new ideas and new philosophies was not an option for the Hogs. The move also allows Paul Petrino and Paul Haynes to stay focused on running the offense and defense, respectively.
Immediately after the hiring of Smith was announced, many current and former Arkansas players described him as a coach players love to be around. Running back Knile Davis, wide receiver Julian Horton, kicker Zack Hocker and linebacker Matt Marshall all took to Twitter to express their excitement over the return of the former Hogs assistant.
Smith, who spent 18 years as a college head coach, has won everywhere he has served. With one exception: Michigan State. He had just one losing season in his first 15 years as a head coach before getting let go by the Spartans after three straight losing seasons from 2004-06. He was sent packing from East Lansing for not winning enough football games, but he did run a clean program that enjoyed improved academic standing. However, as important as those issues are, he was brought in to win in Fayetteville this fall with a veteran roster. And Long believes he can pull it off.
While Long said in a press release that he will evaluate the program and make a decision on Smith after the 2012 season, this is very likely a one-year deal unless the Hogs beat Alabama or LSU at home. A win over one of those SEC powers could make the AD hesitate to make a change up top, especially if a signature win helps lead to a BCS berth.
Smith certainly has had some memorable moments at the podium and on the sideline during his career, but his 110-59 mark before arriving in East Lansing proves that he's been a successful head football coach. The question is whether he can help orchestrate a standout victory over Nick Saban or Les Miles in a season that just became even more interesting for Hog and college football fans nationwide.
We don't know if the Smith hire will work out in 2012. But Long could have done a lot worse than bringing back a former Hogs assistant that just may be able to press the right buttons on a veteran team in the best conference in the country. Razorback fans can take solace in the fact that Smith is accustomed to being the face of a program. And, if anything, he has the personality to at least keep a veteran team loose in its quest to maintain its upper-tier status in the SEC.
Email dave.miller@nationalfootballpost.com or follow me on Twitter at Miller_Dave