December 30, 2010 -
Dave Miller
Armed Forces Bowl preview: Army-SMU
Army will make its first postseason appearance since the Independence Bowl in 1996 when it squares off against SMU in the Armed Forces Bowl on Thursday. The Black Knights won three of their first four games this year and finished 6-6 to qualify for the postseason showcase. SMU, which will be playing on its home field, played for the C-USA championship but lost to Central Florida. This is the first time the Mustangs have gone bowling in back-to-back seasons since 1983-84.
Here's a closer look at the Black Knights and Mustangs.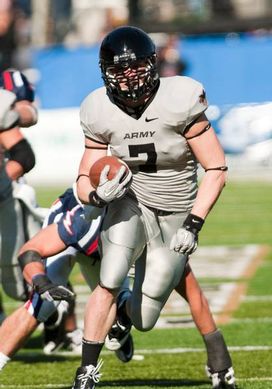 ICONArmy FB Jared Hassin is an efficient blocker and ball carrier.
Army (6-6): The Black Knights will move the ball primarily on the ground with its ball-control, triple-option offense. Rich Ellerson's squad surpassed 3,000 yards rushing for the first time since 1998 and have 33 touchdowns on the ground — 20 more than in 2009. Fullback Jared Hassin, who began his career at Air Force, has a team-high 931 rushing yards with nine touchdowns. While the Knights primarily run the ball, quarterback Trent Steelman can make plays through the air when necessary. While he gained 620 yards on the ground and rushed for 11 touchdowns, he threw for 837 yards and five scores — showing the capability to move the chains on manageable third downs. However, the Black Knights will not be able to keep up with the Run 'n' Shoot attack of SMU if it gets into a shootout.
SMU (7-6, 6-2 C-USA): With Jones reiterating his commitment to SMU, the focus shifts back to the field for the Mustangs. And when we think June Jones, we think Run 'n' Shoot. Quarterback Kyle Padron threw for over 3,500 yards and 29 touchdowns this season and wide receiver Aldrick Robinson has found the end zone in seven consecutive games. His 13 scores this season are a school record, and the senior is the only SMU player ever with two 1,000-yard receiving seasons. However, Padron still struggles to read defenses and pick up the blitz. As good as Robinson is, his numbers could have been even better with steadier play from Padron.
Army recorded just two sacks in its last four games, but an aggressive pass rush is going to be necessary to thwart the SMU passing game. While Army allows only 191 yards passing per game — No. 24 in the nation — the cornerbacks and safeties will have trouble containing both Robinson and Darius Johnson if the front four can't generate a rush.
What makes the SMU offense even more dangerous is running back Zach Line, who leads C-USA in rushing. Imagine a prolific rushing attack complementing the aerial assault of the Run 'n' Shoot. That's what Jones expects from this offense every game. But this is still a young team with only four senior starters.
Interesting tidbit: Ellerson and Jones have had a relationship that goes back nearly 40 years, as the two were teammates at Hawaii in 1974, and they later spent a season there together on the same coaching staff. They also coached against each other in Canada.
This game is usually played in Fort Worth, but renovations are taking place at TCU's home field. Thus, SMU gets home-field advantage in the postseason, playing at Gerald Ford Stadium.
Can Army continue to expose SMU's inability to stop the option? For two straight seasons, the Mustangs have had trouble stopping Navy's attack, losing to the Midshipmen in both contests. They have a very good group of linebackers, led by Taylor Reed, Ja'Gared Davis and Pete Fleps. All three were recognized on C-USA all-conference teams, but this unit will need to be even more disciplined than usual against this Army attack.
Did you know?
• Since 2005, Army has lost 22 games in a row against teams with a winning record.
Email dave.miller@nationalfootballpost.com or follow me on Twitter at Miller_Dave