December 06, 2010 -
Dave Miller
At least two Heisman voters not including Newton on their ballots
At least two writers with Heisman Trophy votes will not place Auburn quarterback Cam Newton anywhere on their ballots.
Longtime college football writer Michael Bradley and Mike Bianchi of the Orlando Sentinel both cited the "integrity" clause in the Heisman Trust's mission statement as the reason for Newton's omission.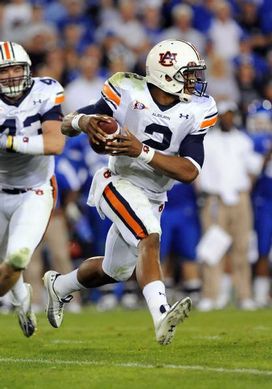 ICONCam Newton will likely claim the Heisman Trophy after his incredible 2010 campaign.
Newton, of course, was recently investigated by the NCAA after various reports stated that his father and middlemen representing Mississippi State discussed a pay-for-play plan to get Newton to play in Starkville for the Bulldogs.
Here is an excerpt from Bradley's latest blog on The Philly Post.
My vote this year is a vote for the trophy. It is designed to protect the Heisman and what it means. If doing that deprives Newton of a spot among the award's list of luminaries, so be it. I just can't allow the trophy, which has been sullied in the past year by revelations that 2005 winner Reggie Bush had received more than a half-million in cash and prizes from a prospective agent, absorb another body blow.
Meanwhile, Bianchi wrote the following in his blog on the Orlando Sentinel's website.
That's right, it says the pursuit of excellence with "INTEGRITY." And, yet, here we have Cam Newton, a player who left the University of Florida amid allegations of academic fraud and after he was found with a stolen laptop computer and threw it out the window when police arrived; a player whose recruitment is being investigated by the NCAA and the FBI; a player whose father Cecil, according to the NCAA, tried to sell his son's services to the highest bidder (but, um, Cam supposedly knew nothing about it.).
So, will these two non-votes be enough to keep Newton from claiming the Heisman hardware?
Very unlikely.
Email dave.miller@nationalfootballpost.com or follow me on Twitter at Miller_Dave