December 08, 2012 -
Dave Miller
Auburn makes the right call on Malzahn
Auburn has its new head coach, and it's a familiar name.
The Tigers brought back former offensive coordinator Gus Malzahn to be the new face of the program, and he'll replace Gene Chizik after a one-year stint as head coach at Arkansas State.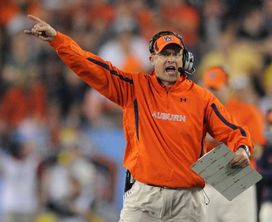 Gus Malzahn has returned to The Plains as head coach.
While many Auburn fans were hoping that the school would land Bobby Petrino, Malzahn was the right hire for a team coming off of a disastrous 2012 campaign. He is very familiar with the roster because he was only away for one year, and his offensive wizardry was apparent as the OC during the team's 2010 BCS National Championship run.
A lot of people wondered how Malzahn would do as a head coach. But this fall, all he did was lead Arkansas State to a 9-3 record and the Sun Belt title in his lone season with the Red Wolves. That experience should help ease some of the concerns about his candidacy for fans on The Plains.
Malzahn had an immediate impact on the Tigers when he arrived in 2009, as a subpar offense had its most prolific season in program history with similar personnel from the previous year. Of course, the next season the Tigers led the SEC with nearly 500 yards and over 40 points per game, with Cam Newton and Michael Dyer rushing for over 1,000 yards. We saw just how effective the up-tempo, no-huddle offense can be in SEC play when Malzahn was running the Tigers' offense. And we saw what Heisman Trophy finalist Johnny Manziel did to defending BCS national champion Alabama earlier this season. Simply put, the offense works even in the SEC. Tiger fans have to be ecstatic that the Iron Bowl matchup immediately became even more interesting — if that was even possible.
It was a head-scratching move by Chizik to scrap Malzahn's offense and bring in Scot Loeffler, who installed a pro-style scheme for 2012. Especially because the offensive players were brought in for Malzahn's system. Even with Malzahn leaving for the Arkansas State job, perhaps Chizik would still be employed if the offensive scheme hadn't changed. We knew the Tigers would have issues on defense because of youth, but Brian VanGorder's unit was only going to get better in time with the talent Chizik was able to net on the recruiting trail. Now, Malzahn will get the chance to make the offense immediately more efficient.
Keeping the current crop of commits and bringing in other high-quality talent in this current recruiting cycle will be one of Malzahn's top priorities, as well as assembling a strong staff. According to the various recruiting services, Auburn has brought in Top 20 classes the last three seasons, and Malzahn should be able to do the same on National Signing Day in February. And we already know who the new coordinators will be, as Ellis Johnson will run the defense after being let go as head coach of Southern Miss and Rhett Lashlee will run the offense. Johnson has been considered one of the best defensive minds in college football for the past several years, while Lashlee served as OC at Arkansas State this past season. He has spent six of the last nine seasons working with Malzahn and his offense in a variety of capacities.
While Auburn fans may have wanted a bigger name, Malzahn is the right guy at the right time for this program. The Tigers need stability, and bringing in a familiar name with a proven track record will offer just that for a team looking to put behind a dreadful 2012.
Email dave.miller@nationalfootballpost.com or follow me on Twitter at Miller_Dave