October 24, 2010 -
Dave Miller
Auburn sits atop the new BCS Standings
The new BCS Standings were released Sunday night, and Auburn was sitting atop the rankings after its win over rival LSU Saturday. Last week, the top spot belonged to Oklahoma, which fell to No. 9 this week after its loss to Missouri.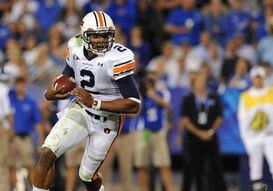 ICONThe QB of the BCS No. 1, Cam Newton.
Oregon, which remained the No. 1 team in both the AP and USA Today polls, checked in at No. 2. The BCS national championship game pits the top two in the final BCS Standings.
Boise State, which was off this past week, remained at No. 3. The Broncos battle Louisiana Tech Tuesday evening.
Here is the BCS formula — how these rankings came about: Harris Interactive Poll (1/3) + USA Today Coaches' Poll (1/3) + Computer rankings (1/3)
Here is the top 10.
The BCS Standings
1. Auburn .937
2. Oregon .907
3. Boise State .885
4. TCU .883
5. Michigan State .839
6. Missouri .801
7. Alabama .710
8. Utah .705
9. Oklahoma .669
10. Wisconsin .658
A few thoughts:
*Auburn is a solid No. 1 because the Tigers have room to move up in the human polls. They're ranked No. 3 in both the AP and USA Today polls. However, the Tigers will take a hit in the computers with their nonconference game against Chattanooga in two weeks.
*Oregon has room to move up in the computers, as the Ducks still have some tough Pac-10 competition to deal with the rest of the way.
*TCU has to love the fact that Utah is ranked No. 8 right now. If the Horned Frogs can beat the Utes when they meet in two weeks, their computer ranking gets a boost. The Frogs may even be able to pass Boise because they have room to move in the human polls, and only .002 separates the two teams currently.
*Alabama continues to lurk, and they moved up one spot this week to No. 7. They still have LSU and Auburn on the schedule, two potential big-time computer boosters.
*I just don't see how Boise State could end up being in the top two at the end of the year. I still contend that a one-loss Alabama team would finish ahead. For me, the Broncos pass the eye test as one of the nation's best, but they face an uphill battle. Their computer ranking won't be able to get much stronger, unless teams like Oregon State and Virginia Tech essentially run the table. The other concern is whether pollsters ultimately refuse to place the Broncos No. 1 at the end of the year if there are BCS-conference teams with one loss deemed more worthy in their minds of that top spot.
Email dave.miller@nationalfootballpost.com or follow me on Twitter at Miller_Dave