January 10, 2011 -
Dave Miller
Auburn-Oregon preview
Thirty-seven days after their last contests, Auburn and Oregon will finally take the field once again for Monday night's BCS National Championship Game in Glendale, Ariz. The Tigers and Ducks seek to finish the season undefeated and claim the title as the best team in college football.
Let's start breaking down this battle of unbeatens.
But first, if you're having a bad day and/or haven't seen the following video during Oregon's unbeaten run through the regular season, check this out. Special cameo appearance by former Duck Joey Harrington.
How can Oregon's defense stop Auburn quarterback Cam Newton?
This is the million-dollar question, because 13 opponents tried to stop the Tigers dual-threat signal caller this season already — and all 13 teams failed. This is a smaller defense than Auburn is used to seeing in the SEC. But don't misinterpret smaller for being weaker. While it may be undersized, it is one of the fastest units in the nation. And it had the luxury of practicing against the Ducks' fast-paced, up-tempo offensive attack every day in practice. Auburn runs a similar scheme, but it doesn't run it as frenetic as Darron Thomas and Co. do each and every play.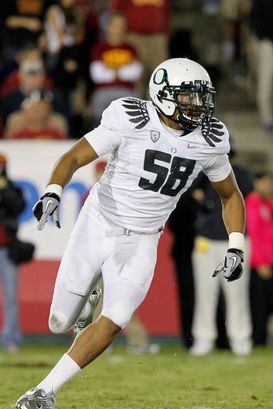 ICONKenny Rowe sacked Terrelle Pryor three times in last year's Rose Bowl. Can he repeat the feat against Cam Newton?
But Newton, who is bigger than eight of Oregon's starting defensive players, remains the "X-factor." How do you stop a 6-6, 250-pounder with a linebacker's body and a running back's speed and elusiveness? The Ducks at least have the experience of facing Ohio State's Terrelle Pryor to fall back on. Pryor, who is big and mobile like Newton, led the Buckeyes to a Rose Bowl victory over the Ducks last season. And while the game served as Pryor's coming-out party, defensive end Kenny Rowe didn't have too much of a problem stopping him. Rowe recorded three sacks in that contest, and it will be of utmost importance for the Ducks to stay disciplined in their pass-rushing lanes tonight.
Mr. Heisman excels against the blitz: Newton hasn't flinched when defensive coordinators have sent pressure his way this season. Not only has he been evasive and been able to tuck the ball and run at times, but he's completed 72.4 percent of his passes with 10 touchdowns and no interceptions against the blitz. Of course, Ducks defensive coordinator Nick Aliotti loves to blitz — a lot — and they are used to confusing the opposing offense.
Ducks linebacker Spencer Paysinger said, based on the film he's watched, that he doesn't think teams have been blitzing the right way against Newton, and that Oregon's defensive schemes match up well with what Auburn does on offense.
Cornerback Talmadge Jackson said the defense will have all sorts of different looks — changing coverages, disguising where the blitz is coming from, etc. — in store for Newton after having more than a month to prepare for this game.
Auburn offensive coordinator Gus Malzahn likely isn't worried, however, as he noted that he's seen it all from defenses this season. At the end of the day he still has Newton, the guy who can seemingly do it all when the play breaks down.
Are Oregon's defensive numbers deceiving?: The perception is that Oregon is an offensive machine and nothing else. Well, the Ducks definitely bring it on offense, but their defense cannot be overlooked. Oregon ranks 12th in the nation in scoring defense, 16th in run defense and 25th in total defense. Those stats can't lie even if their defenders don't get much publicity. The Ducks also have given up just 4.53 yards per play, ranking No. 7 in the nation. That is better than any team Auburn has faced this season — including Alabama.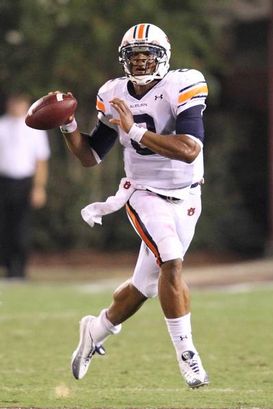 ICONCam Newton poses a threat to the Ducks on the ground and through the air.
Critics will point to the fact that there was an FCS team on the schedule as well as seven FBS teams whose offenses ranked 58th in the nation or worse in scoring, including four ranked 96th or worse. Was Stanford the only legitimate offense force the team has faced this season? Absolutely, and the Cardinal managed to score 31 points and amass 518 yards. However, Andrew Luck and Co. were shut out in the second half. I'm a fan of the eye test, and every time Oregon needed to clamp down defensively, the unit seemed to do so.
Auburn is No. 1 in the nation in passing efficiency. Oregon is No. 6 in pass efficiency defense. The Tigers have thrown just six interceptions. The Ducks' 20 picks rank fourth in the nation. See how tight this game could be?
Oregon's defense can handle any team in the nation, including Auburn. But the Tigers have Newton, the Heisman Trophy winner who has yet to be contained this season.
One player to keep an eye on is first-team All-Pac 10 cornerback Talmadge Jackson, who is often overshadowed by fellow corner Cliff Harris because of Harris' big-play ability on special teams. Jackson has gone a bit unnoticed because teams were more reluctant to throw his way this year. That won't be the case in this game because of Auburn's depth at receiver. I think Jackson, Harris and safeties John Boyett and Eddie Pleasant will have some opportunities to make plays when Newton goes to the air. The question is how much the Tigers will need to throw if their running game is effective behind their powerful line.
Auburn will give up yards through the air, but…: Oregon quarterback Darron Thomas will be able to make some plays in the passing game against this Auburn defense. Thomas has thrown for 2,518 yards with 28 touchdowns against just seven interceptions while completing 60.7 percent of his passes this season. In addition to averaging 209.8 yards per game through the air, he averages 5.8 yards per carry and is always a threat to break off a long run in Oregon's zone-read option attack. However, his opportunities to make plays in the passing game will be diminished if the Ducks become a one-dimensional offense. That can't happen, right? Not with Heisman Trophy finalist LaMichael James and Kenjon Barner, right? While James has rushed for nearly 1,700 yards and Barner over 500 yards in a limited role, their effectiveness could be limited by the play of the Auburn front four.
Auburn front four: Nick Fairley is obviously the lineman everyone talks about, but keep an eye on the Tigers defensive ends. With Oregon running so many read-options, Auburn's ends will need to stay disciplined in their assignments because the Ducks' backs like to kick it outside. If Antoine Carter and Nosa Eguae can funnel James back inside to the tackles and linebackers or force Thomas to keep the ball on the read-option, Aubu rn will consider that a victory. The Tigers want to keep the Ducks' backs off the perimeter. I think eventually Oregon busts off a few big plays in the running game, but can the offense avoid enough third-and-longs? The susceptible Tigers secondary — 75th nationally in passing efficiency defense — will only get better with a front four pinning its ears back and rushing Thomas in obvious passing situations. Auburn has been stout against the run, ranking 10th in the nation, but this is too dynamic of a Ducks offense to not be able to move the ball on the ground. The fast-paced tempo is the biggest factor working against the Auburn defense.
Last season, Ohio State's defense limited the Ducks' offense in the Rose Bowl, holding them 20 points and nearly 200 yards below their season averages. That Buckeyes team had a better defense than this year's Auburn team, and this Oregon offense is more explosive than last year's version? Does that mean anything? Not really, because the Tigers still have Newton. However, that Rose Bowl game served as a good motivating factor for this year's team because Oregon players admitted that they weren't as mentally prepared for that game as they should have been.
Since I included the video of the Oregon fans at the top of the post, I wanted to be equal opportunity and give Tigers fans their due. Here's a clip of some enthusiastic Auburn fans before the SEC championship game against South Carolina.
There's no question that Auburn's size advantage on both sides of the ball will be an issue for Oregon on Monday night. If the Tigers control the line of scrimmage and milk the clock to keep the Oregon offense off the field, the Ducks could be in trouble. Plus, will the smaller defense of the Ducks get worn down, thus becoming susceptible to big plays? I expect a full dose of Newton, Michael Dyer and Onterio McCalebb to set up Newton-to-Darvin Adams off play action. Again, I think Newton's passing ability will surprise the Ducks.
I'm lucky in that I don't have to make predictions for a living, and I haven't all season long. I merely set the table. But I've done radio spots in Oregon and in SEC country leading up to this game, and when asked for a prediction I have rolled the dice on the Ducks: 31-30 in a lower-scoring game than many have predicted.
Could it be the Heisman curse or a Cliff Harris punt return that makes the difference? Maybe neither, but I think a big part of Auburn's success this season was its ability to ride the emotional roller coaster all year without tumbling down. I just get the feeling that Chip Kelly's rigid preparations for this game win out at the end, and the Pac-10 ends the BCS title game dominance of the SEC.
Whatever happens, it sure was one hell of a season. And for those in favor of a playoff, just sit back and enjoy this one with a cold beverage. Your time will come. Well, maybe not.
Email dave.miller@nationalfootballpost.com or follow me on Twitter at Miller_Dave