October 01, 2010 -
Dave Miller
Barry Sanders, Jr. cuts college list down to four
Barry Sanders, Jr., the son of former Detroit Lions great and Hall of Famer Barry Sanders, has narrowed his list of potential colleges to four: Alabama, UCLA, Florida State and Oklahoma State.
OSU is the alma mater of his Heisman Trophy-wining father, but Sanders has said that he is not being pushed to follow the same road to Stillwater.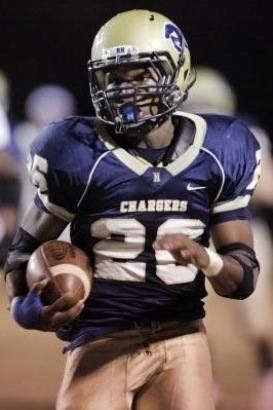 Barry Sanders, Jr.
The 5-9, 185-pound junior is one of the top running back prospects in the nation for 2012.
Sanders' college decision is one of the more highly anticipated across the country not just because of his name but because of his YouTube-worthy talent, as well. He has already received several scholarship offers, including from UCLA head coach Rick Neuheisel on Saturday. Sanders has also spoken to Alabama head coach Nick Saban.
Sanders said one of Saban's main selling points was the recent success of running backs Mark Ingram and Trent Richardson.
"He told me they get a lot of television exposure, and how Ingram winning the Heisman has a lot to do with it, and how their last four freshmen running backs have gotten some solid playing time," Sanders told okblitz.com. "That's very good to hear when you want to play early and make a contribution to the team. He said Tuscaloosa is a great place, and I look forward to going down there to visit."
Sanders has not set a timetable for when he will make his decision.
Follow me on Twitter at Miller_Dave or send your college football questions to dave.miller@nationalfootballpost.com
Click here to win cash today playing fantasy football with the NFP and FanDuel.