October 28, 2013 -
Dave Miller
BCS analysis: Seminoles stuck at No. 3
If the 2013 college football regular season ended today, Alabama and Oregon would meet in Pasadena for the final BCS national title, according to the second set of BCS standings released on Sunday evening.
The USA Today and Harris polls each count toward one-third of the BCS calculations. A composite ranking of six computers make up the final third.
Below is the full set of rankings:
1. Alabama .9937
2. Oregon .9517
3. Florida State .9211
4. Ohio State .8840
5. Stanford .7918
6. Baylor .7645
7. Miami (FL) .7560
8. Clemson .6687
9. Missouri .6096
10. Oklahoma .6064
11. Auburn .6025
12. Texas A&M .4812
13. LSU .4630
14. South Carolina .4486
15. Texas Tech .3749
16. Fresno State .3669
17. Northern Illinois .3335
18. Oklahoma State .3113
19. Louisville .2599
20. UCLA .2338
21. Michigan .1875
22. Michigan State .1811
23. UCF .1789
24. Wisconsin .0993
25. Notre Dame .0928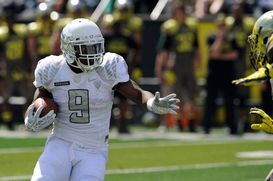 US PRESSWIREByron Marshall and the Ducks sit at No. 2 in the BCS standings.
As noted last week, there is still plenty of football to be played. So these standings should not rile up too many fan bases quite yet. However, Oregon fans certainly are happy that the Ducks checked in at No. 2 this week after being No. 3 in the initial set last week.
Mark Helfrich's squad notched a 42-14 win over UCLA at Autzen Stadium on Saturday night, giving the Ducks a boost in the computer rankings, which erased Florida State's lead on the Ducks last week. Despite the Seminoles coming out and dominating NC State from the opening kickoff en route to a 49-17 win, Oregon still held the advantage in both the Coaches and the Harris polls. And taking a look at the big picture, Oregon is in a better spot than Florida State. While this final BCS race could turn into a beauty contest if these top three teams remain unbeaten, it's hard not to see the Ducks maintaining an advantage in the human polls. In addition to the fact that the Ducks have stronger remaining opponents, it's hard to see a scenario in which a lot of voters move FSU above Oregon. Perhaps if the Ducks struggle in some of their games while FSU blows out its competition, but it doesn't appear that Oregon will find itself in such a scenario. Oregon actually has a bigger lead on the third spot than FSU enjoyed last week. So if both Alabama and Oregon win out, the Crimson Tide and the Ducks should play for the crystal football. The Crimson Tide actually slightly increased their hold on the top spot after their win over Tennessee. Nick Saban's team is ranked first by both polls and it is also listed first by four of the six computers. The Ducks and Seminoles each lead one computer.
Of course, we can speculate forever about possible BCS scenarios. But as we saw this past Saturday, nothing is certain in college football. Not even a 17-point fourth-quarter lead, as Missouri found out in its two-overtime loss to South Carolina at home. Texas Tech also suffered its first defeat, falling to Oklahoma in Norman. And Miami (FL) looked awful in its warmup for its showdown with Florida State. So it's better to just enjoy the games each week and let the chips fall where they may by the end of the year.
However, if you're a fan of Ohio State, you probably wish the Buckeyes were able to put together a stronger nonconference slate to make up for a bit of an underwhelming Big Ten schedule. The Buckeyes could go undefeated for the second straight year, but the weak overall schedule may be too much for OSU to overcome — if we have more than two undefeated teams, of course. Because plenty of football remains, perhaps the Buckeyes could still move up from the No. 4 spot.
Stanford, meanwhile, moved up one spot to enter the Top 5. David Shaw's squad is the highest-ranked one-loss team, and a win over Oregon in Palo Alto would keep the Cardinal alive for a spot in Pasadena — and not to play a Big Ten team in the Rose Bowl game, either. The team's loss to Utah does not have the Cardinal out of the national championship picture quite yet.
Meanwhile, Baylor has to avoid losing to a traditional Big 12 power, something that Texas Tech was unable to do this past week. The Bears sit at No. 6, but would they be able to pass Ohio State in the human polls? Maybe. But it will be basically impossible for the Bears to pass an undefeated Alabama, Oregon or Florida State.
Dave Miller, the college football editor and writer for the National Football Post, is on Twitter @Miller_Dave.