November 18, 2012 -
Dave Miller
BCS Bowl projections
As we put a bow on the third weekend of November — after two undefeateds fell Saturday night — let's take a look at some hypothetical BCS matchups for the 2012-13 bowl season.
I will revisit these projections throughout the rest of the season as I try to determine where your team may or may not be headed for the holidays. But for now, let's have some fun and look at some possible matchups in January.
Projections subject to change
Notes
The champions of specific conferences are contractually committed to certain bowls — unless they are No. 1 or No. 2 in the final BCS standings…
ACC = Orange; Big Ten = Rose; Big 12 = Fiesta; Pac-12 = Rose; SEC = Sugar
If a bowl loses a host team to the title game, then the bowl gets first choice at a replacement team. The rest of the selection order for 2012-13 is: Fiesta, Sugar and Orange.
BCS bowls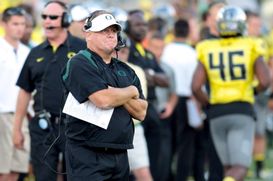 US PRESSWIREChip Kelly and the Ducks likely saw their BCS title game hopes die in a loss to Stanford.
Jan. 1 Rose: Nebraska (Big Ten) vs. Oregon (Pac-12)
Jan. 1 Orange: Florida State (ACC) vs. Louisville (at-large)
Jan. 2 Sugar: LSU (SEC) vs. Oklahoma (at-large)
Jan. 3 Fiesta: Kansas State (Big 12) vs. Clemson (at-large)
Jan. 7 BCS national championship (Miami): Notre Dame (BCS No. 1) vs. Alabama (BCS No. 2)
There's still a lot of football to be played, but Saturday night certainly put the BCS picture into a little more focus. If Notre Dame beats USC next week, Brian Kelly's squad will play for the national championship. And the Alabama-Georgia winner of the SEC title game will be the likely opponent. However, it will be interesting to see where Oregon winds up if the Ducks run the table. How does Oregon's overtime loss to a strong Stanford squad compare to Alabama's home loss to Texas A&M in which the Crimson Tide were outplayed?
Also of note, Texas A&M is the one team I had difficulty leaving out of the BCS mix just because the Aggies could be a very attractive at-large option. For now, though, I have LSU snagging that Sugar Bowl spot.
One other thing to keep in mind is if Clemson loses to South Carolina, which team could replace the Tigers as an at-large selection?
Email dave.miller@nationalfootballpost.com or follow me on Twitter at Miller_Dave