December 05, 2010 -
Dave Miller
BCS Bowl Projections
With the regular season coming to an end on Saturday, there really shouldn't be too much BCS intrigue when the final standings are announced this evening.
Or is there drama to be worked out after all?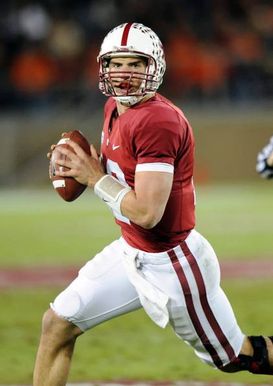 ICONWill Andrew Luck and the Cardinal be headed to Miami or Glendale?
I was convinced that if West Virginia won the Big East, the Mountaineers would be going to the Orange Bowl to face the ACC champion, which of course is Virginia Tech. But with UConn taking care of business and earning the automatic BCS bid, you have to believe that the Huskies will fall to the Fiesta Bowl.
Stanford in the Orange Bowl? It seems strange, but we'll be seeing TCU in the Rose Bowl. So this season will give us some unique matchups.
Could the Cardinal fall to the Fiesta?
Orange Bowl officials traditionally have been a bit unpredictable, and they still could select the Huskies based on them bringing more fans and being able to sell more tickets. I'm sure the Big East and reps from UConn have been trying to persuade Orange officials all week, as well.
Stanford, of course, possesses the better record, higher ranking and would likely offer better TV ratings.
At the end of the day, I see the Huskies in Miami and the Cardinal in Glendale. But it's a tossup right now.
BCS Bowls
Jan. 1 Rose: Wisconsin vs. TCU
Jan. 1 Fiesta: Oklahoma vs. Stanford
Jan. 3 Orange: Virginia Tech vs. Connecticut
Jan. 4 Sugar: Arkansas vs. Ohio State
Jan. 10 BCS Championship: Auburn vs. Oregon
Email dave.miller@nationalfootballpost.com or follow me on Twitter at Miller_Dave