January 17, 2011 -
Dave Miller
BCS conference bowl breakdown
Before we start to focus on recruiting, spring game preparations and very early glances at the 2011 season, let's take a look back at the 2010-11 bowl season for the six BCS conferences.
Big East (4-2)
After compiling a 4-13 mark against the five other BCS conferences, along with the Mountain West and WAC, in the nonconference season, the Big East went 4-2 this postseason for the third straight year. However, for the third straight season, the two losses came in the BCS game and the league's No. 2 bowl game.
The victories for the league this postseason came over the following juggernauts: Kentucky, Clemson, Kansas State and Southern Miss. The combined record of those squads was 27-25.
There is some hope for the league, however. Charlie Strong turned around the Louisville program faster than anyone could have imagined, and he's making his presence felt on the recruiting trail, as well. Skip Holtz also finished the year strong in his first season at South Florida, while Todd Graham will bring an exciting brand of offense to Pittsburgh. And then there's the odd coaching situation at West Virginia. No matter what happens in 2011, expect fireworks from the Mountaineers' offense under Dana Holgorsen.
Pac-10 (2-2)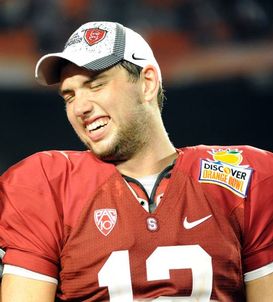 ICONAndrew Luck and Stanford had an easy time in the second half against Virginia Tech in the Orange Bowl.
Despite having just four teams in the postseason, the Pac-10 certainly held its own with a 2-2 mark.
Not only did Stanford and Washington pick up impressive wins, but Oregon still held its own against Auburn despite the offense never looking in sync against a fierce front four of the Tigers. Arizona, however, never really showed up against Oklahoma State in a 36-10 loss in the Alamo Bowl.
The future of the Stanford program remains bright, but there certainly will be a drop-off. While quarterback Andrew Luck returns to an offense that will remain prolific, there's a reason why Jim Harbaugh was the hottest name on the coaching market. New head coach David Shaw should be able to hold things together in 2011, including on the recruiting front, but Harbaugh was a special college coach. Not just with X's and O's, either. He was a motivator and inspired confidence in his players. Palo Alto is losing a real gem.
Washington, meanwhile, was able to put its disastrous loss to Nebraska earlier in the season behind and deliver an inspired effort with a defense decimated by injuries. Steve Sarkisian is building a winner in Seattle, but he'll need a consistent effort from coordinator Nick Holt's defense in 2011.
For Mike Stoops and the Wildcats, it's put up or shut up time in 2011. With Nick Foles and Juron Criner returning next season, the expectations will be sky high to put behind a wretched late-season slide this season. The Wildcats ended the season with a five-game losing streak, and there is now doubt as to whether they can be a consistent Top-25 program. Next year is huge for Stoops' future in Tucson.
And all eyes will be on the Ducks when they open the 2011 season against LSU next year — an LSU squad that will undoubtedly lean on its defensive line much as Auburn did in the BCS title game. Oregon failed to win its first national title because its up-tempo offense never really was a factor in the game. Nick Fairley and Co. had a lot to do with it, as a lack of a running game put Darron Thomas in too many third-and-long situations. However, the Ducks put on a solid defensive effort of their own, and they proved that they can stay in games even when the offense isn't clicking.
With the league expanding to 12 teams, where does Colorado and Utah fit into the equation? Well, the Utes will remain solid even if they'll be playing stiffer competition. The Buffaloes will have a tougher adjustment period as they continue to rebuild.
What the Pac-12 needs is for teams like UCLA, Cal and Arizona State to develop some consistency from year-to-year. Getting six teams to bowl games out of a 12-team BCS league should not be difficult to do.
SEC (5-5)
All the league does is produce national champions. With Auburn's 22-19 win over Oregon last Monday night in the BCS National Championship Game, the SEC won its fifth title in a row — with four different programs claiming a national championship. It remains the toughest and best league in the country.
Even when doubt crept in about its defense, Nick Fairley and the Tigers' line disrupted the Ducks' up-tempo attack, shut down the running game and made the game about defense.
Still, the conference finished the postseason with just a 5-5 mark.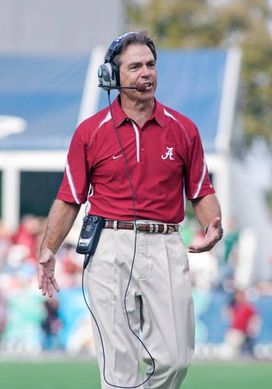 ICONNick Saban had Alabama ready to play from the get-go against Michigan State in the Capital One Bowl.
Alabama certainly did its part to carry the SEC mantle by absolutely embarrassing a Michigan State squad that showed that it clearly wasn't worthy of the BCS bid that many of its fans clamored for at the end of the regular season.
LSU showed that it could be primed to move to the top of the class in the league, as several of its younger players stepped up in the 41-24 victory over Texas A&M in the Cotton Bowl. If only the offense could become consistent from week to week. It will be interesting to see who Les Miles brings in to replace offensive coordinator Gary Crowton.
And while Arkansas did lose to Ohio State in the Sugar Bowl, Bobby Petrino's program should be a force in the SEC West as long as he stays in Fayetteville. The Razorbacks couldn't overcome a rough and sloppy start against the Buckeyes, but they never quit — and they easily could have done so.
The losses by Georgia, South Carolina and Tennessee put the league in an 0-3 hole to begin the postseason. But Steve Spurrier's Gamecocks could be primed for a big 2011 with Stephen Garcia, Marcus Lattimore and Alshon Jeffery returning on offense. And Derek Dooley's Vols could be scary offensively next year, as well. For Mark Richt and the Bulldogs, there's really no excuse for subpar seasons when you possess that kind of talent in Athens. It will be very interesting to see how they fare in the 2011 opener against Boise State.
ACC (4-5)
Georgia Tech looked like it didn't want to be on the same field as Air Force.
Miami (FL) played as if it didn't have a head coach on the sideline. Well, technically, the Hurricanes didn't.
Clemson gave South Florida its first bowl win over a team from a BCS conference.
And Boston College's postseason success finally came to an end at the hands of Nevada.
Yep, the ACC's postseason was lackluster at best.
Sure, Florida State notched a nice win over SEC East champion South Carolina. And NC State beat a West Virginia team t hat was actually the only ranked Big East team entering the postseason. But the supposed strongest teams in the league really struggled, and that unfortunately resonates the most nationally.
The conference fell to 2-11 in BCS games, and Virginia Tech dropped to 1-27 against AP Top 5 teams as Stanford imposed its will on the Hokies in the second half of the Orange Bowl. Andrew Luck and Co. looked like a machine offensively this season, with the lone exception coming in the second half against Oregon, but giving up 27 unanswered points to the Cardinal can't happen if you're Frank Beamer's squad.
However, the Hokies did run off 11 straight to claim the league title. What about the rest of the Coastal division?
Georgia Tech really struggled in Al Groh's first year leading the defense, and not having Joshua Nesbitt down the stretch really hampered the offense. And Miami's situation was disastrous. Interim coaches usually end up looking really good or really bad in bowl games. For Jeff Stoutland, his players made him look really bad.
The league displayed some depth this postseason in that North Carolina found a way to beat Tennessee and Maryland crushed East Carolina. And as mentioned, the Seminoles and Wolfpack did their part. But there wasn't a lot of consistency this year. Just look at how the ACC's top two teams last season — Georgia Tech and Clemson — finished this season.
Florida State is primed to do big things under Jimbo Fisher. But will the Seminoles have any stiff competition during conference play in 2011?
Big 12 (3-5)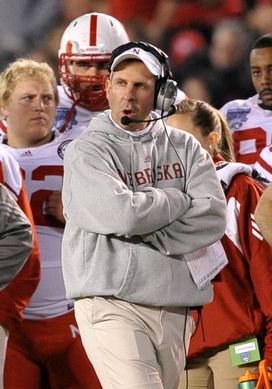 ICONI would not want to meet up with Nebraska's Bo Pelini in a dark alley.
With a 3-5 mark, the Big 12 fared better than only one other league this postseason: Conference USA. Stunning, considering that seven teams were favored to win their bowl games. But only Oklahoma and Oklahoma State could carry the flag for their league, with Texas Tech barely holding on against a Northwestern squad missing its best player, quarterback Dan Persa.
Nebraska, a two-touchdown favorite against Washington, put up the biggest head-scratching effort. Despite the Huskies' late-season resurgence, putting up 7 points against a defense that was susceptible all season was inexcusable. Missouri looked to be in control against Iowa before Blaine Gabbert threw a late interception. Still, giving up 219 yards to true freshman Marcus Coker was the biggest reason the Hawkeyes were able to stick around.
The failure to successfully defend the run was the biggest reason why the league was outclassed this postseason. Texas A&M was run over by LSU in the Cotton Bowl, and Baylor, Nebraska, and Kansas State also allowed over 250 yards on the ground in losing efforts.
Now, the Cornhuskers are off to the Big Ten and the Big 12 will try to ride the success of Oklahoma and Oklahoma State in 2011. Could Texas be ready to emerge from its one-year plunge?
Big Ten (3-5)
Disastrous. There's no other way to describe the Big Ten's bowl season.
After breaking its sub-.500 streak last season with a 4-3 mark (the league posted four consecutive losing postseasons from 2005-08), the conference took another step back this year with a 3-5 mark — including a winless New Year's Day.
Now, it should be noted that because the Big Ten is able to send multiple teams to BCS bowl games each year (weaker schedules anyone?), it moves schools up in the bowl pecking order (i.e. a Big Ten No. 2 and No. 3 essentially becomes a Big Ten No. 1 and No. 2). Thus, bowl matchups become a little more unbalanced. Still, the general public makes judgments on wins and losses — and the Big Ten has been on the wrong side of the ledger more times than not, especially against the SEC and the Pete Carroll-led USC teams.
Ohio State salvaged a poor postseason for the league with an inspired performance over a very good Arkansas team. Of course, the Razorbacks did everything they could to dig themselves a huge hole early. But still, the Buckeyes were able to break their hex against the SEC.
The Big Ten's other matchups with the SEC didn't go quite as well as Michigan State was embarrassed by Alabama and Michigan's defense showed that it truly is woeful — in case you didn't notice throughout the entire season — in a lopsided loss to Mississippi State.
Wisconsin's loss to TCU in the Rose Bowl may be looked down upon by many across the country because the Horned Frogs come from a non-AQ league, but Gary Patterson's squad is the second-best team in the country. The Badgers proved that they were BCS worthy in a losing effort.
Iowa and Illinois scored nice wins over Big 12 foes, Missouri and Baylor, respectively. And that's exactly what the league needs. The conference lacks good depth, and hopefully that will be helped by new hires at Michigan, Minnesota and Indiana.
Email dave.miller@nationalfootballpost.com or follow me on Twitter at Miller_Dave
Want to work in the NFL? Click here to sign up for the NFP's "Chalk Talk at the Combine" Seminar February 25 in Indianapolis.