January 10, 2011 -
Dave Miller
BCS executive director: Playoff 'not even in the spectrum'
As we get closer to crowning a BCS national champion this evening, I wanted to pass along some comments from BCS executive director Bill Hancock this morning at a Football Writers Association of America event.
Hancock told reporters on Monday morning that he expects conference commissioners in 2012 to start discussing potential changes to the BCS beyond the 2014 postseason after getting input from university presidents. However, a playoff is likely not on the horizon.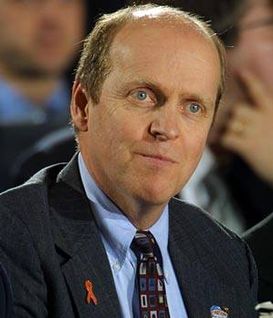 BCS executive director Bill Hancock
He hinted that major college football's postseason is more likely to return to the old bowl system, one which didn't guarantee a matchup of the country's top two teams, than to start using a playoff in the next eight years.
The BCS is in the first year of a TV contract with ESPN that runs through the 2013 season, so any changes to the system would go into effect for the 2014 season.
"There is no groundswell among the presidents for any kind of...seismic change," Hancock said.
He also noted that the old postseason system, which relied on conference tie-ins and organizers to make bowl matchups, isn't likely but will be in the "spectrum of options."
"It always has been, it always will be," he said. "I don't think it will carry the day."
However, an 8- or 16-team playoff is "not even in the spectrum" despite the constant criticism of the current system from playoff supporters.
Now I must admit that my eyes widened after reading the comment about the old postseason system. I am in the minority in that I am actually a supporter of the old bowl coalition. Further, I don't mind the current BCS. Rather than open that can of worms, though, I will save those opinions for another post. Until then, enjoy the game tonight and be sure to check back with the NFP later today for my Auburn-Oregon preview.
Email dave.miller@nationalfootballpost.com or follow me on Twitter at Miller_Dave