January 05, 2011 -
Dave Miller
BCS National Championship Game preview, part 1
With the 2010-11 bowl season nearing its completion, it's about time we started talking about the BCS National Championship Game, right? With all of the other bowl action capturing our attention the last few weeks, it was easy to overlook the fact that the top two teams in the nation, Auburn and Oregon, were going about their business on campus. However, Chip Kelly and Gene Chizik have landed with their teams in Arizona — Oregon on Sunday afternoon and Auburn on Monday evening. And we are now just five days away from the matchup that will decide who ends the season at No. 1.
So up until kickoff in Glendale, Ariz., I will keep you tuned into all of the happenings taking place out West as the Ducks and Tigers prepare for the biggest game of the season.
Will it really be 37 days since these teams last played a game? Ah, college football's scheduling at its finest.
Oregon: an offensive machine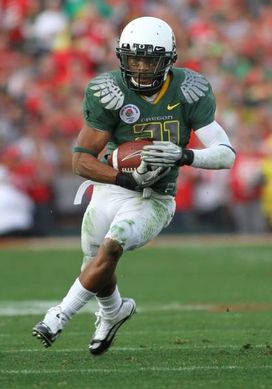 ICONLaMichael James needs just 41 yards to set a new Oregon single-season rushing record.
Led by Heisman Trophy finalist and unanimous All-American LaMichael James, the Ducks are averaging 49.3 points per game and have been a well-oiled machine offensively this season. The lone exception was a road tilt against Cal, but championship teams are always faced with adversity during the season. And the Ducks passed their test. James, a redshirt sophomore who rushed for 1,682 yards this season, needs just 41 yards against the Tigers to set a new team single-season rushing record, breaking Jonathan Stewart's 2007 total of 1,722. With 69 yards on the ground, he would become the Ducks all-time leading rusher (Derek Loville had 3,296 from 1986-89). Again, James is just a redshirt sophomore and he plans to be back in Eugene in 2011.
As amazing as James has been, quarterback Darron Thomas has been nothing short of stellar in his first year under center. Based on wins and touchdowns, Thomas is having the best season of any quarterback in Ducks history, surpassing Joey Harrington's 11 wins in 2001 and currently ranking second all time in touchdown passes for a season with 28 and overall with 33. Thomas has really shined in Kelly's up-tempo system, thinking fast and playing fast, and it's really remarkable when you remember that he was in a tight battle for the starting job in fall practice.
Playing it close to the vest
Kelly is definitely doing everything he can to keep his team focused on the task at hand this week. In terms of curfew, Oregon players must be back in the hotel by 10 p.m. and in bed by midnight. Besides the obligatory official news conferences that he has to take part in, he's providing very little to no media access. Reporters received a 15-minute viewing window for practice on Tuesday, and at the end of that short time frame reporters were ushered off the field by team media service members and three off-duty New Hampshire police officers who are functioning as Kelly's private security force.
Officials for the game did provide the media with some post-practice quotes, however, on Tuesday. Here are some highlights:
On the pace of the Oregon offense:
"It always is a work in progress. Obviously, I think playing fast is a fundamental and, if you don't practice it every day and you don't continue to pay attention to it every day, you can kind of lose that edge. And, we really spend a lot of time in practice of trying to emphasize that. That's not all we do; that's just one facet of what we do."
On first-year starter Thomas: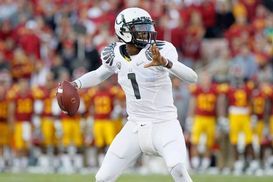 ICONDarron Thomas has surpassed all expectations in his first year as a starter.
"Darron's been outstanding. He's gotten better and better as the season's progressed. For him to be a first-year starter and accomplish what he's accomplished so far is really a credit to him. He works extremely hard in the film room studying the game of football, putting himself in position to make plays and actually putting this team in position to make plays. I can't say enough things about how he's performed as a first-year starter. He's been tremendous for us."
On similarities between Auburn and a Pac-10 opponent the Ducks have played:
"Not to say that there is or isn't, we never look at it that way. When we break down film — and we broke down all 13 of their games — we look at everything situationally. They're not, 'They're like this team or they're like that team.' What do they do in red zone? What do they do in third-down situations? What are they doing coming out? How do they play in these situations, whether it's offensively, defensively or special teams. But we've never compared any teams we've played to another team."
On Wednesday, both squads took part in their first news conferences. Offensive coordinator Gus Malzahn and Cam Newton highlighted Auburn's presser, while the Oregon presser featured defensive coordinator Nick Aliotti and some of his players.
Auburn: the emotional rollercoaster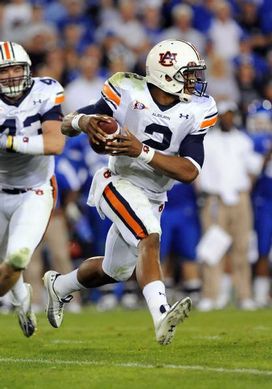 ICONCam Newton, Mr. Heisman Trophy.
You want adversity? Check in with Tigers quarterback Cam Newton and he will tell you all about it. The Heisman Trophy winner and the nation's most efficient passer, Newton was embroiled in an NCAA investigation that looked into his recruitment out of junior college before finally being cleared to continue playing late in the season. Of course, we haven't heard the last of this NCAA probe. However, we haven't seen the last of Newton on the field, either.
The 6-6, 250-pounder used his linebacker's body and running back's speed and elusiveness to navigate Auburn through a perfect season. He rushed for an SEC-best 1,409 yards and 21 touchdowns, and he raised his game as a passer throughout the season with 2,589 yards and 28 scores through the air. He became the first SEC player to run for at least 1,000 yards and pass for at least 2,000 in the same season, and even when the Tigers faced big deficits the dual-threat signal caller never flinched. He also was phenomenal in the season's final five games, tossing 15 touchdowns and only one interception — and perhaps saving his best performance for the SEC championship game. In a 56-17 victory over South Carolina, Newton threw for 335 yards and four touchdowns and ran for 73 yards and two scores.
But the way Newton rallied the team back from big deficits is the thing that stands out the most. And boy, did the Tigers face some deficits. The Tigers were down by double digits in four contests this season, and they rallied back to win all of them. The momentum the team generated throughout the season was unreal, and it will be interesting to see how the squad comes out emotionally for the opening kickoff. There's no question that every player will be ramped up, but Auburn rode such an emotional high this season and used a sort of "us against the world" mentality. Meanwhile, the Ducks have been even keel under Kelly. T his game may be less about X's and O's than pure emotion and other such intangibles.
Check out the video below, courtesy of Alabama Live, of Newton discussing Auburn's journey and the matchup with Oregon.
Tigers notes
Chizik has been asked repeatedly if all of his players will be eligible for the game. One Tiger who says he is going to play is wide receiver Terrell Zachery, who says that he has been eligible the whole time. Zachery is Auburn's second-leading receiver with 37 catches for 557 yards and four touchdowns. He's also fifth on the team in rushing with 89 yards, as he is a frequent contributor on end-arounds.
Stud defensive lineman Nick Fairley was asked how conditioned the Tigers were and if the defense would be able to stand up to the fast-paced attack of the Ducks. The All-American says that the unit is in "tip-top shape."
Over the next five days I will have continuing coverage leading up to the BCS National Championship Game. So be sure to stay with the NFP.
Email dave.miller@nationalfootballpost.com or follow me on Twitter at Miller_Dave