April 25, 2012 -
Dave Miller
BCS playoff format slowly starting to come into focus
The 11 FBS conference commissioners and Notre Dame athletic director Jack Swarbrick are in Hollywood, Fla., discussing how college football's postseason will look beginning in 2014, and the group has narrowed down the format to a select number of options.
In addition to the commissioners and Swarbrick, the BCS' lawyers and television consultants are also in attendance discussing the future of the sport's postseason once the current BCS contract ends in 2013. The group will decide between some sort of one-game final, similar to the current structure, or a four-team playoff, which has been termed a "four-team event" by BCS officials.
A final decision will not be made at these meetings, but an outline of possible final scenarios will be drawn up so commissioners can go back to campuses to present to athletic directors and coaches before a new postseason format is completed this summer.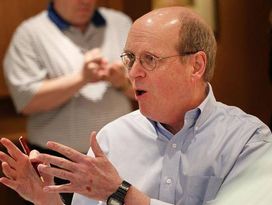 Change is coming to college football's postseason under BCS executive director Bill Hancock.
Playing semifinal games on campus reportedly doesn't appear to be an option, so fans in Northern and Midwestern cities will certainly be disappointed. BCS executive director Bill Hancock told the Associated Press that there are questions about whether some campuses/towns could accommodate the fans and media expected to attend a potential semifinal.
"The infrastructure needed on campus is significant," Hancock said. "That's a factor. That's just one example of the intricacies that are part of this."
Though some wonder about fan bases traveling back-to-back weeks to a semifinal and a final if the games are played at one of the existing BCS bowl sites (New Orleans, Pasadena, Miami or Glendale) or a neutral site (Indianapolis, Dallas, Tampa or San Diego), it's hard to envision stadiums in those cities not being sold out.
It also doesn't appear that a team would need to be a conference champion to make the playoffs, a scenario that would have left out BCS national champion Alabama last year if this proposed system was in place. Obviously we all saw what happened in the title game last season in New Orleans, so not going through with the conference champion proposal is a good move for these decision-makers.
This panel of commissioners and Swarbrick still must decide how major bowl games will be affected by a potential four-team playoff, and there are also timing/scheduling and location issues as well. The future of the Rose Bowl is also posing to be problematic.
The Plus-One model, which would entail one final game being played after all of the bowl games are completed, still seems to be the most logical and favored format.
Email dave.miller@nationalfootballpost.com or follow me on Twitter at Miller_Dave