June 26, 2012 -
Dave Miller
BCS presidents' meeting preview
The all-important BCS Presidential Oversight Committee gathers on Tuesday afternoon in Washington D.C. to discuss the future of major college football's postseason.
The 12 presidents in the group will be presented multiple playoff models by FBS commissioners after the conference leaders endorsed a seeded four-team playoff to begin in 2014. The commissioners have stressed that the final say, however, lies with the presidents.
Last week in Chicago the commissioners agreed on a system that would feature the semifinals at bowl sites and a national championship game that would be bid out much like the Super Bowl.
The meeting is set to begin at roughly 3 p.m. ET, and it is expected to take at least four hours.
Here's what we already know, what we may know on Tuesday night and what lies ahead...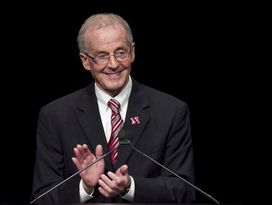 Don't expect Harvey Perlman's wish for a Plus-One to be granted.
• The playoff will be a four-team, seeded model. The No. 1 team will play No. 4 in one semifinal, while No. 2 will play No. 3 in the other semifinal. The winners will meet in a national championship game. While it's likely that the presidents will approve the four-team model at this meeting, the Plus-One model will also be discussed. However, that may be out of courtesy to Nebraska chancellor Harvey Perlman, who maintains that the Plus-One is best for the sport. He has also stressed that a lot of Big Ten and Pac-12 presidents feel the same way. But there is just too much traction toward a four-team model to go back now.
• It looks as if six bowl games will be used on a rotational basis for the national semifinals over a 12-year agreement. It's expected that more than the four major BCS bowl games will be used. The number will be at least five and likely six. Thus, each bowl would host a semifinal four times. Semifinals will take place inside the bowl structure, which was something that was non-negotiable in the eyes of the Big Ten and Pac-12 leaders. It would appear that the games would take place around Dec. 31 or Jan. 1. The championship game could take place roughly 10 days later. One thing is clear, though: the Rose Bowl would assume its traditional date and time. Look for bowls such as the Capital One Bowl, Champions Bowl and Cotton Bowl to fight for access in this equation.
• There will be a selection committee. However, we don't know who will comprise it or how many individuals will be involved. I have heard the number of people range from 8 to 15. I don't believe a committee will actually begin to assess, rank, etc. teams until around midseason, perhaps around the time the first BCS standings typically are revealed. Expect former coaches and conference administrators to be a part of the group, but nothing is certain right now. One thing that is certain: the committee must be transparent. We need to know how these four playoff teams are chosen, whether it is via a half-hour television special, an article in USA Today or a post on a major website. Conflicts of interest and bias are major concerns with a committee and could be just as controversial as the current BCS formula. Based on last week's meeting, strength of schedule and conference championships will be highly valued by the committee.
The major areas of work for presidents and commissoners will be how teams earn their way into the playoff and how the revenue will be distributed. That won't be finalized on Tuesday. However, a stamp of approval on this four-team model could get done. And that's a big step in the right direction for the sport.
Email dave.miller@nationalfootballpost.com or follow me on Twitter at Miller_Dave