October 23, 2011 -
Dave Miller
BCS shakeup: Oklahoma and Wisconsin fall
No playoff system in major college football?
No problem.
While the Bowl Championship Series doesn't exactly solve everything that ails the postseason for FBS members, last night certainly showed that major college football has the greatest regular season in any sport.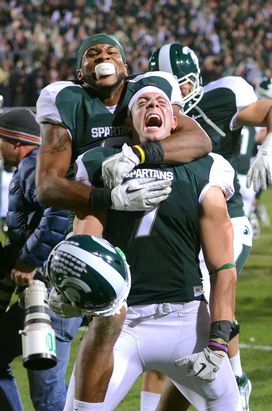 Keith Nichol and the Spartans shocked the Badgers in East Lansing.
As soon as the nation completed watching the thrilling ending between Wisconsin and Michigan State in East Lansing, many fans flipped over to watch Texas Tech deliver a beating to Oklahoma in Norman. The final score in that Big 12 contest made the game seem close, but Seth Doege and the Red Raiders were in control the entire game. And OU's continued red zone struggles and poor special teams play (missed 28- and 39-yard field goals) ultimately cost it a smooth path to the BCS title game in the 41-38 loss.

In East Lansing, Badgers quarterback Russell Wilson was unable to deliver his team a comeback win, but he certainly did everything he could and offered the nation another Heisman-like performance. He led the Badgers from 14 points down in the fourth quarter to tie the game with 1:26 left, but he also threw two interceptions. His counterpart Kirk Cousins, meanwhile, has now beaten Ohio State, Michigan and Wisconsin in his past three games. The senior completed 22 of 31 passes for 290 yards and three touchdowns Saturday night, including the 44-yard Hail Mary that pretty much dashed the Big Ten's only hope of having a representative in the BCS title game.
Of course, no team is officially out of the national championship race yet. We have to let the rest of the season play out.
That's the beauty of FBS football in the BCS era.
It may not be perfect, but it's damn enjoyable week in and week out.
Email dave.miller@nationalfootballpost.com or follow me on Twitter at Miller_Dave