November 14, 2011 -
Dave Miller
BCS standings
The fifth official BCS standings for the 2011 season were released on Sunday evening, and Oregon jumped up three spots with its win over Stanford.
The Ducks handed the Cardinal their first loss of the season on Saturday night, so Chip Kelly's squad vaulted up to No. 4 in the standings. LSU and Oklahoma State remained unbeaten and Nos. 1 and 2, respectively, with Alabama remaining No. 3. Oklahoma checked in at No. 5.
Boise State's dream of playing for a national championship died when the Broncos fell at home to TCU.
Here is the BCS formula — how these rankings came about: Harris Interactive Poll (1/3) + USA Today Coaches' Poll (1/3) + Computer rankings (1/3). The BCS national championship game at the Louisiana Superdome in New Orleans on Jan. 9 will pit the top two teams in the final BCS standings, which will be released on Dec. 4
The BCS standings — Top 15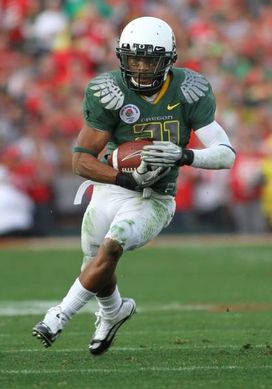 ICONLaMichael James and the Ducks check in at No. 4 in the latest BCS standings.
1. LSU .993
2. Oklahoma State .964
3. Alabama .910
4. Oregon .876
5. Oklahoma .840
6. Arkansas .797
7. Clemson .694
8. Virginia Tech .676
9. Stanford .675
10. Boise State .596
11. Houston .567
12. South Carolina .528
13. Kansas State .497
14. Georgia .453
15. Michigan State .439
A few thoughts:
• If LSU and Oklahoma State can remain unbeaten, the two teams will meet in the BCS title game. If one of them falter, Alabama will be right there to move up because Nick Saban's team is strong in the computers. LSU is No. 1 in both polls (Harris and coaches') and tied for first with Oklahoma State in the computer ratings. The Pokes are second in the Harris and coaches' polls.
• Oklahoma benefitted again from a couple of losses, as the Sooners jumped up to No. 5 after Stanford and Boise State fell this past weekend. OU can move up with a win over Oklahoma State in the Bedlam game, likely being able to jump Oregon, but the Sooners may need Alabama to lose. That could be a problem. Oregon and Oklahoma are currently tied for fourth in the computer ratings.
• Undefeated Houston checks in at No. 11, which is good position to be this year's BCS buster after Boise State fell to TCU. One champion from a league without an automatic BCS bid can earn an automatic berth by finishing in the top 12 of the final standings. The C-USA's Cougars can be that team if they keep winning.
• I don't think Arkansas can beat LSU, but the Razorbacks check in at No. 6 in the standings and remain in contention for a spot in the BCS national title game. The Razorbacks, as inconsistent as they have been, can still win the SEC West by winning out, including beating the top-ranked Tigers.
If LSU remains unbeaten and we have a plethora of one-loss teams, what would be your ideal BCS national championship game?
Email dave.miller@nationalfootballpost.com or follow me on Twitter at Miller_Dave