October 17, 2011 -
Dave Miller
BCS standings
The first official BCS standings for the 2011 season were released on Sunday evening, and LSU not surprisingly occupied the top spot.
Fellow SEC member Alabama came in at No. 2 while Oklahoma, Oklahoma State and Boise State rounded out the top five. Wisconsin checked in at No. 6.
Here is the BCS formula — how these rankings came about: Harris Interactive Poll (1/3) + USA Today Coaches' Poll (1/3) + Computer rankings (1/3). The BCS national championship game pits the top two in the final BCS standings.
The BCS standings — Top 20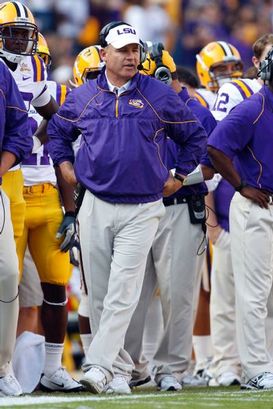 ICONLes Miles and LSU sit atop the first BCS standings.
1. LSU: .9891
2. Alabama: .9519
3. Oklahoma: .9301
4. Oklahoma State: .8568
5. Boise State: .8027
6. Wisconsin: .7708
7. Clemson: .7582
8. Stanford: .7484
9. Arkansas: .6263
10. Oregon: .6190
11. Kansas State: .5688
12. Virginia Tech: .5048
13. Nebraska: .4972
14. South Carolina: .4914
15. West Virginia: .3730
16. Michigan State: .3288
17. Texas A&M: .3074
18. Michigan: .2995
19. Houston: .2863
20. Auburn: .2645
A few thoughts:
- Obviously, the winner of the LSU-Alabama and Oklahoma-Oklahoma State showdowns are positioned to meet in the BCS title game, assuming they take care of business in their other games. However, these initial standings don't really matter right now. The only one that counts is the final one.
- Oklahoma State, Clemson and Arkansas would be considered the "winners" in the first batch of standings. Meanwhile, fans of Wisconsin, Stanford and Kansas State probably are upset. There's plenty of football left, though, so we have to see how the rest of the season plays out.
- Oklahoma State sits at No. 1 in the computer ratings, but Stanford and Wisconsin could supplant the Cowboys as they get into the tougher parts of their schedules. Wisconsin will probably play at least two more games against ranked opponents, Michigan State and Illinois. Stanford, meanwhile, still has to play Oregon and Notre Dame. The two teams also could play ranked opponents in the Big Ten and Pac-12 title games.
Email dave.miller@nationalfootballpost.com or follow me on Twitter at Miller_Dave