November 05, 2012 -
Dave Miller
BCS standings: Oregon makes a move
The fourth set of Bowl Championship Series standings were released on Sunday night, and fans of Oregon have to be excited that the Ducks have moved up from No. 4 in the rankings.
Chip Kelly's squad passed Notre Dame following its shootout win over USC on the road. Meanwhile, Alabama remained atop the rankings after stealing a win in Death Valley over LSU, while Kansas State stayed at No. 2. With the Ducks at No. 3, the Fighting Irish slipped to No. 4 after struggling to win over Pittsburgh in South Bend.
Here is the BCS formula — how these rankings came about: Harris Interactive Poll (1/3) + USA Today Coaches' Poll (1/3) + Computer rankings (1/3). The BCS national championship game in Miami will pit the top two teams in the final BCS standings, which will be released the Sunday after the regular season ends.
The BCS standings — Top 16
1. Alabama .9957
2. Kansas State .9318
3. Oregon .9166
4. Notre Dame .9050
5. Georgia .8171
6. Florida .7863
7. LSU .7054
8. South Carolina .6206
9. Louisville .6040
10. Florida State .5969
11. Oregon State .5965
12. Oklahoma .5812
13. Clemson .5772
14. Stanford .5086
15. Texas A&M .5060
16. Nebraska .3976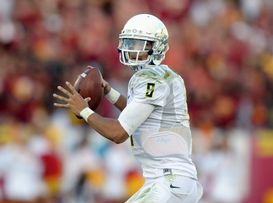 US PRESSWIREAre Marcus Mariota and the Ducks on a path to Miami?
With a four-team playoff still two seasons away, we almost saw a large amount of clarity in the BCS race this past weekend, as Notre Dame and Alabama were very close to suffering their first losses, which would have left Kansas State and Oregon on a path toward the title game. Now, we will continue to wait and see if two clear-cut teams can emerge and be participants in the title game in Miami in January.
If each of the top four teams remain unbeaten, it's hard to see defending BCS national champion Alabama being left out, and it's also hard to see Oregon not eventually securing the No. 2 spot because of its computer rating becoming stronger and voters being on their side.
On the flip side, Kansas State could have the Heisman Trophy winner, so it would be a tough pill to swallow for fans in the Little Apple to see their team shut out of the title game. And it would seem difficult to fathom an unbeaten Notre Dame team not being in the title game either. But the Wildcats may not see their computer average rise too much, however, because of their remaining schedule. Plus, keep in mind that the Big 12 doesn't have a conference championship game. That could hurt Bill Snyder and Co. And the computer numbers for the Irish will take a hit because of their weaker contests coming up.
If it remains unbeaten, only the voters can seemingly stop Oregon at this point. The Ducks have high-profile games remaining against Stanford and Oregon State and possibly a Pac-12 title game rematch against USC. That bodes very well for them.
As always, keep in mind that this current system has largely been a success each season with two exceptions: in 2004 when Auburn was left out of the title game and in 2009 when Cincinnati was passed over. Those have been the only two undefeated teams from BCS conferences that have been left out of the title game under this system (Utah played in the Mountain West when it failed to get in eight years ago). So while most everyone detests the BCS, things typically fall into place by the end of the year. We'll see if that holds true this season as well.
Email dave.miller@nationalfootballpost.com or follow me on Twitter at Miller_Dave