November 07, 2010 -
Dave Miller
BCS Standings to be released at 8:15 p.m. ET on ESPN
Oregon and Auburn took care of business on Saturday, with the Ducks pulling away from Washington in Eugene and the Tigers easily defeating Chattanooga at home. The two teams, which remained unbeaten, are expected to stay in the top two spots of the latest BCS standings when they are announced tonight on ESPN.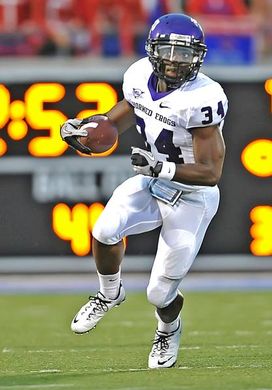 ICONTCU RB Ed Wesley
The most intriguing storyline as we await the newest standings is the fate of TCU and Boise State after the Horned Frogs and Broncos remained undefeated as well following their contests this weekend. TCU whipped Utah on the road while Boise State dismantled Hawaii at home.
Will the Horned Frogs increase their lead in the No. 3 spot?
ESPN will once again provide extensive and in-depth coverage leading up to the standings being released. Coverage will begin at 8:15 p.m. ET and continue on ESPNU at 9 p.m. ET.
These were the standings entering this weekend's games: 1. Oregon 2. Auburn 3. TCU 4. Boise State 5. Utah 6. Alabama 7. Nebraska 8. Oklahoma 9. Wisconsin 10. LSU
It'll be interesting to see how high LSU rises after its win over Alabama.
Check back with the National Football Post as we will publish the official BCS standings when they are announced.
Email dave.miller@nationalfootballpost.com or follow me on Twitter at Miller_Dave