January 06, 2014 -
Dave Miller
BCS title game preview: Florida State vs. Auburn
Subscribe to the "Against the Grain with Dave Miller" podcast in iTunes
The 2013-14 college football bowl season concludes on Monday evening with the final contest of the Bowl Championship Series era as the BCS national championship game takes place between Florida State and Auburn in Pasadena.
Here are some things to keep an eye on when you're tuned into the contest between the Seminoles and the Tigers.
Florida State (13-0) vs. Auburn (12-1)
January 6, 8:30 p.m. ET on ESPN
The Seminoles have breezed through the 2013 season relatively untested, delivering a Heisman Trophy to Tallahassee in the form of redshirt freshman quarterback Jameis Winston in the process. While the schedule has not been very difficult, there is no doubting the collection of elite talent that head coach Jimbo Fisher has put together. And there's no doubting that Fisher, with six new assistants this year, is one of the best coaches in the country.
Meanwhile, the Tigers have used the nation's top-ranked run game (335.7 yards per game) to help first-year head coach Gus Malzahn lead an incredible turnaround behind an electric up-tempo, spread offense. The Tigers have had some incredible last-minute finishes this year. But can they complete the dream season and give the SEC its eighth (and final) BCS title in a row?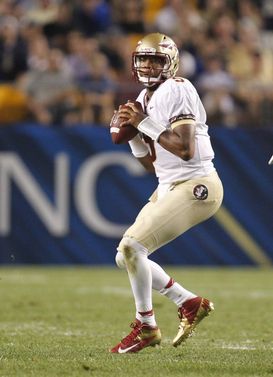 US PRESSWIRECan Jameis Winston add a BCS title to his Heisman Trophy?
Not as high scoring as we think?: Auburn has the dominant run offense, while Florida State has an incredibly balanced offense that just so happens to have the Heisman Trophy-winning quarterback tossing passes to big, athletic receivers Kelvin Benjamin, Rashad Greene and Kenny Shaw, who each have more than 900 receiving yards. But this game may not be filled with as many offensive fireworks as we think, possibly resembling the Auburn-Oregon title game a few years ago. I think Auburn's defense has a chance to hold its own. Sure, it's a unit that gives up a lot of yards. But that stat can be a bit overrated, especially because Ellis Johnson's unit only gives up about 24 points per game, is solid in the red zone and is very good on third down, ranking 21st in the FBS in that category. Johnson has done an incredible job in his first year back in the SEC, and I believe that players such as Dee Ford, Carl Lawson and Montravius Adams up front are key tonight. Can they get enough pressure on Winston without blitzing and exposing a porous secondary? Keep in mind that Florida's defenders up front gave FSU's offensive line some problems in the regular-season finale, especially the interior of the FSU O-Line. Expect Johnson to show Winston some new twists and wrinkles. Now, in a straight personnel against personnel comparison, FSU's offense has the edge. But I expect Auburn to play a lot of zone and hope that its defenders get enough pressure on Winston and make him throw the ball into tight windows. The question is how many big plays can FSU hit with Winston and those big, athletic receivers? Perhaps Johnson will take a risk and ask his smaller Auburn cornerbacks to jam and press and give them safety help when in man coverage.
Ground and pound: The Tigers have run the ball on over 70 percent of their plays, which is the highest percentage for an FBS offense that does not run the triple-option. Star tailback and Heisman Trophy finalist Tre Mason led the SEC in almost every major rushing category, as he recorded seven 100-yard rushing games against SEC defenses this year. But while Alabama and Missouri were top-flight defenses, Auburn has yet to face a defense that combines the physicality and athleticism of FSU. However, even though FSU is No. 13 in the country in rushing defense, I do have concerns about how linebackers Telvin Smith and Christian Jones will hold up in this one. Are they big enough to take on and shed blocks when the Auburn offensive linemen get to the second level? As a whole, this is a bit of an undersized FSU front seven. Although it does have the stout Timmy Jernigan at tackle. The Auburn O-Line has been so impressive all season, especially in its last two games against Alabama and Mizzou. Smith and Jones need to be smart and read things quickly so they don't get outmuscled by the big Auburn O-Linemen, who are quite the load when they find an offensive rhythm.
Odds and ends: Florida State is favored by 8.5 points ... Auburn leads the all-time series 13-4-1, with the Tigers winning the last meeting 20-17 in 1990 ... Florida State is 24-14-2 all-time in bowl games, while Auburn is 22-13-2 ... While the Auburn rushing attack is dominant, FSU's trio of Devonta Freeman, Karlos Williams and James Wilder Jr. help make FSU the only team in the country with three running backs who have at least eight rushing touchdowns ... Keep an eye on Tigers fullback Jay Prosch, a 258-pounder who is a big help for quarterback Nick Marshall on the read option because he often tries to clear out a defensive end or linebacker on those plays. He also can sneak out of the backfield and show his effectiveness as a pass-catcher ... If this game comes down to field goals, FSU's Roberto Aguayo has made 95 percent of his kicks in 2013, while Auburn's Cody Parkey has made 73.7 percent of his tries.
Dave Miller, the college football editor and writer for the National Football Post, is on Twitter @Miller_Dave.