December 20, 2010 -
Dave Miller
Bears-Vikes serves as recruiting tool for Gophers
When Minnesota hired Tim Brewster to replace Glen Mason, the Golden Gophers believed they were bringing in a recruiting master who would be able to help the team climb up the Big Ten standings.
Brewster may have brought talent to the Twin Cities, but they weren't coached all that well. The former tight ends coach of the San Diego Chargers finished his career with a 15-30 mark at Minnesota.
Enter Northern Illinois head coach Jerry Kill.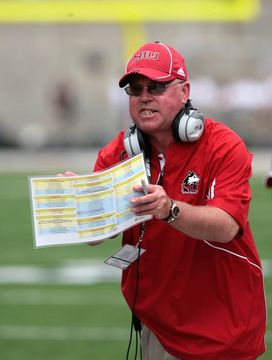 ICONJerry Kill has won at every stop in his coaching career.
Not only do the Gophers get one heck of a good coach, but Kill has proven at every coaching stop that he can bring in and develop good football players — no matter the amount of stars attached to a recruit's name.
At both Southern Illinois and NIU, Kill didn't have the resources to bring in the best talent, so good coaching was integral to the success of the two programs under his leadership.
At Minnesota, however, Kill will be in a BCS conference at a school that has a beautiful new stadium, upgraded facilities and an administration that is determined to build long-term success.
The entire Gophers program also gets free advertising on Monday night when the Chicago Bears visit the Vikings at TCF Bank Stadium on Monday Night Football. It's a great showcase for the Minnesota program — positive national exposure that has been in short supply since the Mason era when the Gophers at least made bowl games and played an exciting brand of football.
Everyone, including high school football players, tunes in for at least a few minutes to watch the NFL's Monday night game. Athletes unfamiliar with the Minnesota program will see that the facility is top-notch for major-college football — even if it's an NFL rental for an evening. A setting like this is just what the school needs after its 3-9 campaign.
Kill's first order of business is securing the players who previously committed to the 2011 class. Two three-star recruits have already left their verbal commitments and are now headed to Illinois and Connecticut, but players have second-thoughts all the time when a new staff is brought in. If Kill can hold this upcoming class together, for the most part, and sprinkle in a few more three-star players before National Signing Day, fans should feel good about the future.
Minnesota has enough returning talent to field a productive offense next season, as MarQueis Gray will direct the offense under center. But can the Gophers stop anyone defensively with this season's young starters having a year of experience?
There are some who wonder if Kill will be able to make the adjustment to recruiting at the highest level, but he stated when he took the job that he believes recruiting is recruiting no matter the level of football. And if he can get the Gophers to the six-win mark and a bowl game in his first season on campus, recruiting gets that much easier. After all, winning is the best recruiting tool of them all.
Kill is retaining two members from Brewster's staff: running backs coach Thomas Hammock and director of football operations Dan O'Brien. Keeping Hammock was of particular importance, as he is a strong recruiter who has experience at the Big Ten level trying to get players coveted by other powerhouses. He also gained experience calling plays when Jeff Horton was the interim coach. Coincidentally, Hammock was a Northern Illinois player and then assistant before Kill coached in DeKalb.
Offensive coordinator Matt Limegrover and defensive coordinator Tracy Claeys, who have been coaching with Kill for more than a decade, bring stability to the staff, as well.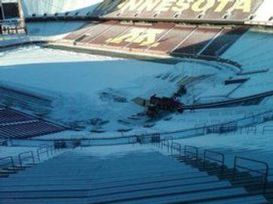 Even if the conditions are treacherous, the MNF game at TCF Bank Stadium can only help the Gophers gain more attention.
While NIU's recruiting classes were never the best in the MAC, the Huskies did jump from ranking last in 2008 to fourth in 2010, according to Rivals.com. And despite never landing a four-star prospect, Kill has recruited in Florida and Texas. And now that he is at a Big Ten school, he is positioned to land better players from those areas.
And there's also the simple fact that Kill develops players very well throughout their college careers. Five-star or one-star, you're going to become a good player if you're on a Kill-coached team.
You're also going to practice hard because he demands that his players perform to the best of their abilities — and that starts during the week on the practice field and culminates on Saturday afternoons.
For Minnesota fans worried that Kill wasn't a big-name hire, don't be too concerned. Paul Kowalczyk, who was Southern Illinois' athletic director when he hired Kill, remains amazed at Kill's accomplishments at the FCS school. The program was in such a state of disarray when Kill arrived that there were whispers the school might drop football.
The overwhelming opinion was that the program was dead. But within three years, SIU won a conference championship.
Kill then inherited a 10-loss team at NIU and transformed it into a 10-game winner in three seasons.
Based on Kill's pedigree, stability and success are on the horizon for the Gophers.
Email dave.miller@nationalfootballpost.com or follow me on Twitter at Miller_Dave