July 05, 2011 -
Barry Dorey
Bednarik Award watch list
In addition to announcing its Watch List today for the 2011 Maxwell Award, the Maxwell Football Club also released its Watch List for the Bednarik Award, given annually to the nation's best defensive player. LSU cornerback Patrick Peterson was the recipient of the award in 2010.
The 2011 list features 65 players, including five from Nick Saban's Alabama squad. Oddly enough, an Alabama player has never won the award.
The full Watch List is below.
PLAYER NAME, CLASS, POSITION, SCHOOL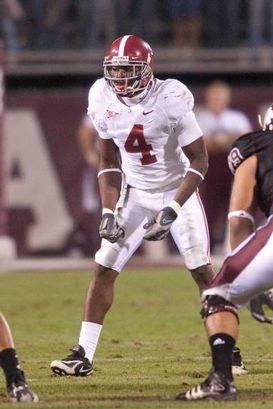 ICONSafety Mark Barron is one of five Alabama defenders on the Watch List for the Bednarik Award.
Ray Ray Armstong, Jr., S, Miami
Ryan Baker, Jr., LB, LSU
Mark Barron, Sr., S, Alabama
Jake Bequette, Sr., DE, Arkansas
Brandon Boykin, Sr., CB, Georgia
Nigel Bradham, Sr., LB, Florida State
Tanner Brock, Jr., LB, TCU
Vince Browne, Sr., DE, Northwestern
Vontaze Burfict, Jr., LB, Arizona State
Tank Carder, Sr., LB, TCU
Quinton Coples, Sr., DT, North Carolina
Jared Crick, Sr., DT, Nebraska
Vinny Curry, Sr., DE, Marshall
Lavonte David, Sr., LB, Nebraska
Alfonzo Dennard, Sr., CB, Nebraska
Tony Dye, Sr., S, UCLA
Donnie Fletcher, Sr., CB, Boston College
Jerry Franklin, Sr., LB, Arkansas
Stephon Gilmore, Jr., CB, South Carolina
Zaviar Gooden, Jr., LB, Missouri
Casey Hayward, Sr., CB, Vanderbilt
Dont'a Hightower, Jr., LB, Alabama
Jayron Hosley, Jr., CB, Virginia Tech
Jaye Howard, Jr. DT, Florida
Delano Howell, Sr., S, Stanford
Bruce Irvin, Jr., DE, West Virginia
Brandon Jenkins, Jr., DE, Florida State
Coryell Judie, Sr., CB, Texas A&M
Mychal Kendricks, Sr., LB, Cal
Dre Kirkpatrick, Jr., CB, Alabama
Jake Knott, Jr., LB, Iowa State
Luke Kuechly, Jr., LB, Boston College
Robert Lester, Jr., S, Alabama
Travis Lewis, Sr., LB, Oklahoma
Brandon Lindsey, Sr., DE, Pitt
Mike Martin, Sr., DT, Michigan
Chris Marve, Sr., LB, Vanderbilt
Jonathan Massaqoui, Jr., DE, Troy
Tyrann Mathieu, Soph., CB, LSU
T.J. McDonald, Jr., S, USC
Chase Minnifield, Sr., CB, Virginia
Roosevelt Nix, Soph., DT, Kent State
Donte Paige-Moss, Jr., DE, North Carolina
Shaun Prater, Sr., CB, Iowa
Kheeston Randall, Sr., DT, Texas
Kevin Reddick, Jr., LB, North Carolina
Greg Reid, Jr., CB, Florida State
Kendall Reyes, Sr., DT, Connecticut
Xavier Rhodes, Soph., CB, Florida State
Keenan Robinson, Sr., LB, Texas
Shayne Skov, Jr., LB, Stanford
Sean Spence, Sr., LB, Miami
Alameda Ta'amu, Sr. DT, Washington
Keith Tandy, Sr., CB, West Virginia
Kenny Tate, Sr., S, Maryland
Bruce Taylor, Jr., LB, Virginia Tech
Devin Taylor, Jr., DE, South Carolina
Manti Te'o, Jr., LB, Notre Dame
Danny Trevathan, Sr., LB, Kentucky
Courtney Upshaw, Sr., LB, Alabama
Prentiss Waggner, Jr., S, Tennessee
Korey Williams, Sr., LB, Southern Miss
Billy Winn, Sr., DT, Boise State
Jerel Worthy, Sr., DT, Michigan State
Email dave.miller@nationalfootballpost.com or follow me on Twitter at Miller_Dave