April 24, 2013 -
Dave Miller
Bench is leaving Penn State
Sophomore quarterback Steven Bench is leaving Penn State.
The Georgia native has been granted a release by second-year head coach Bill O'Brien to transfer from the football program. The signal-caller will first complete the spring semester, which ends May 3.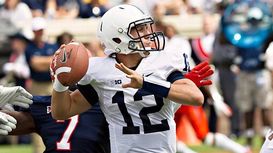 US PRESSWIREQB Steven Bench has decided to leave Penn State.
"I have been meeting with all the players this week with my evaluation of where they are at related to football and academics and to discuss what they need to work on this summer," O'Brien said. "After meeting with Steven, he informed me he wants to play elsewhere. We want what is best for Steven. I want to thank him for his contributions to the program. We wish Steven the best in the future and will assist him anyway we can."
Bench wrote the following on Twitter after the announcement: "I've decided to leave Penn State and go to a school that will give me the opportunity to compete for the QB spot and reach my full potential."
Because of last year's NCAA sanctions placed against Penn State, Bench will not have to sit out a year so he will be eligible to play at a new school immediately.
The 6-1, 205-pound signal-caller saw action against Virginia and Purdue as a true freshman in 2012 and was 2 of 8 passing for 12 yards with 18 yards rushing on three carries.
With Bench out of the picture, JUCO transfer Tyler Ferguson will battle freshmen Christian Hackenberg, D.J. Crook and Austin Whipple for the starting job under center. It is a job that is essentially Ferguson's to lose. The Nittany Lions open the 2013 season on August 31 against Syracuse at MetLife Stadium in East Rutherford, N.J.
Hackenberg was considered the gem of PSU's 2013 signing class, but the coaching staff would prefer to redshirt him in the fall, which is more unlikely now as Crook and Whipple are walk-ons.