July 16, 2010 -
Dave Miller
Beyond wins and losses
Bobby Johnson's decision to retire as head coach at Vanderbilt and leave the coaching profession came as quite the shock for many reasons.
Besides being less than two months from the start of the college football season, Johnson was a perfect fit at the SEC school from the day he arrived on campus from Furman.
But when news broke of a resignation, we couldn't help but at least wonder what drama was about to unfold on the Nashville campus.
Then we realized in a split second that Johnson was well-respected by his fellow SEC coaches — and most every coach he came across during his career — and that the track record of the Commodores' leader spoke for itself. Hot water, he was not in.
Johnson was generally considered a genuine and standup guy who did things the right way and recruited hard-working players with character — which is very unique in a bottom-line profession, where winning is the only thing that matters. So why the sudden departure from the school?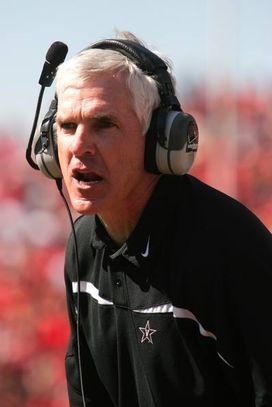 ICONBobby Johnson retired as Vanderbilt head coach this week.
In the end, the job simply became too much to bear.
Citing personal reasons for the decision — but thankfully a choice that was not spurred on by health concerns — Johnson chose retirement instead of working like hell to get Vandy to compete every year in the rugged SEC.
To his credit, he leaves behind for offensive line coach and interim head coach Robbie Caldwell a program that is much stronger than it was before his arrival.
When he was hired in December 2001 after leading Furman to the FCS (Division I-AA) national championship game, he inherited a program that was dead. In fact, it may never have even been alive.
But Johnson built up Vandy, and his teams competed hard every Saturday, even when the Commodores were only winning two games a year in his first three seasons. Steadily, the talent base improved and a few more wins per season followed.
He helped quarterback Jay Cutler and offensive tackle Chris Williams become first-round draft picks. He helped get the best out of every drop of talent a student-athlete had to offer. And he maintained the school's high academic standards by graduating his players.
Then, in 2008, Johnson put the Commodores on the map, leading the team to a 5-0 start and a spot in the national polls. For a team like Georgia, that's commonplace and expected. For Vandy, that was and is foreign territory.
That team ended up faltering down the stretch, losing six of its last seven regular-season contests before beating Boston College in the Music City Bowl, but upsets of No. 24 South Carolina and No. 14 Auburn and a finish of 4-4 in conference play made the season feel almost magical.
Again, expectations at Vanderbilt were rarely raised. But Johnson was able to do just that with Vandy's first non-losing season since 1982.
He finishes his career as just the third coach in the school's history to stay for at least eight years, joining Dan McGugin and Art Guepe. During his tenure, he helped his teams end losing skids to eight SEC teams, including a 22-game streak to Tennessee in 2005.
Vice Chancellor David Williams basically begged him to stay. That is how much he was respected by the school's administration.
But Johnson did his part. Now Caldwell and whoever follows will have to step in and live up to what he accomplished — something even more important than wins and losses.
Follow me on Twitter at Miller_Dave
Ready for fantasy football? Click here to purchase the 2010 Total Access Pass/Draft Guide from the NFP.