May 26, 2012 -
Dave Miller
Big 12 expansion is not imminent
The Big 12 Conference will eventually expand to 12 members — and possibly more. But the league will stand pat with 10 members for now.
Outgoing acting commissioner Chuck Neinas will soon turn the fate of the league over to new commish Bob Bowlsby, and the conference has never been stronger. And that's a miracle considering the league nearly imploded the past couple of offseasons. Despite losing Nebraska and Colorado as well as Missouri and Texas A&M, Texas and Oklahoma remained. And West Virginia and TCU were welcomed as new members.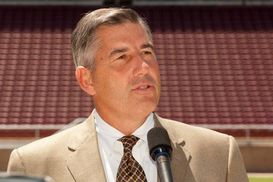 Bob Bowlsby and the Big 12 will take their time when it comes to conference expansion.
And just this month the Big 12 certified itself as a big boy again with its agreement with the SEC to stage a bowl game featuring their two champions.
This month when Florida State began to make its way into the conversation as a possible addition to the league, every other ACC member's name essentially was brought up as well — Miami, Clemson, Georgia Tech and Virginia Tech were the prominent institutions cited by some as possible partners in crime with the Seminoles.
While the Big 12 could add two — or possibly six — quicker than any other league outside of Mike Slive's SEC, I just don't see it happening any time soon. My feeling is that Neinas and Bowlsby will let the league marinate a bit and get comfortable in the league's new configuration before any quick decisions are made, especially because the conference finally is stable and slowly shedding its image as the Big Eight/Southwest Conference outsider.
Another reason that expansion isn't imminent, in regards to FSU or any other ACC member joining the Big 12, is that ESPN would essentially be negotiating against itself. The cable giant has deals with both leagues, so the Big 12 taking schools from the ACC would essentially be a wash for ESPN. The Big 12 would ask ESPN and FOX for more money if and when it adds new members because it would be worth more, which doesn't seem likely with a giant new deal recently agreed upon. ESPN, meanwhile, would feel as if it's not getting its money's worth out of an ACC without a Florida State or Virginia Tech — or whichever school possibly left with the Seminoles.
It just seems like well too much aggravation for the Big 12 and its television partners when so much has been going right for a league that finally is stable and in position to be a superconference whenever it feels like it's the right time to add.
In addition, league commissioners across the country are certainly waiting to do anything until they see what the new playoff model will look like, which should be agreed upon in late summer.
Email dave.miller@nationalfootballpost.com or follow me on Twitter at Miller_Dave