July 24, 2013 -
Dave Miller
Big 12 Media Days notebook
The Big 12 held its annual Media Days on Monday and Tuesday in Dallas, TX, continuing the road to the kickoff of preseason camps.
Here are some notes from the two-day event: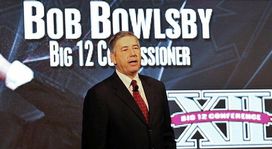 US PRESSWIREBob Bowlsby said that "transformative change" needs to happen within the NCAA.
- Bowlsby's address: Big 12 commissioner Bob Bowlsby made headlines at his press conference by calling for NCAA reform, making strong remarks despite being on the job for just over a year. Bowlsby said it is time to consider a new "federation" of schools with like resources with perhaps separation by sport. "It's probably unrealistic to think that we can manage football and field hockey by the same set of rules," Bowlsby said. "I think some kind of reconfiguration of how we govern is in order." The commish said that "transformative change is going to have to happen" within the governance, and he essentially echoed what Mike Slive and John Swofford said at SEC Media Days and ACC Media Days, respectively. Not only are proposed initiatives by larger schools not getting passed because schools with fewer resources don't vote them to pass, but the NCAA's governance structure also is just not in tune with reality. Strong words from Bowlsby as the future of the NCAA as we know it looks even murkier.
- Critical Weis: Second-year Kansas head coach Charlie Weis did not mince any words when he publicly criticized his team, saying that potential recruits should have no concern about getting playing time in Lawrence because of the type of players the Jayhawks have fielded over the years. "Have you looked at that pile of crap out there? Have you taken a look at that?," Weis asked reporters. "So if you don't think you can play here, where do you think you can play? It's a pretty simple approach." Was this the last Big 12 Media Days for the former Notre Dame head coach? At least he was honest in essentially reasoning why Kansas has a 21-game losing streak in Big 12 play.
- The old new Red Raider: Kliff Kingsbury experienced his first Big 12 Media Days as head coach at Texas Tech, where he returned after successful assistant stints at Houston and Texas A&M. While he didn't make any headlines with his comments, Kingsbury looked calm, cool and comfortable with the microphone and handled himself well in front of the large media gathering.
- Holgorsen on the attack: West Virginia head coach Dana Holgorsen certainly was not as low-key as Kingsbury, as the Mountaineers boss commented on Nick Saban's and Bret Bielema's criticism of the rise of the no-huddle offense. "Get over it, because it's not going to change," Holgorsen said. "It's going into the NFL, for crying out loud." Of course, Saban and Bielema have both made comments in the past about the fairness and safety, respectively, of the up-tempo style of offense.
- Controversy on the horizon?: Big 12 coordinator of officials Walt Anderson did not really do a great job in his explanations of rule changes for this year, which includes the targeting rule that now gives an automatic ejection to a player for targeting. In his press conference, a video of South Carolina defensive end Jadeveon Clowney's hit on Michigan running back Vincent Smith was shown, and Anderson said it was possible that Clowney could have been ejected based on the new rule. Referees are unquestionably going to have to deal with livid coaches and players at some point this year because of the subjectivity of the rule. The thought process in player safety is great, but the enforcement will be very difficult. Anderson said if a targeting penalty and ejection is overturned by replay, the player will be able to remain in the game but the penalty remains. Which doesn't make sense. At all.