July 26, 2011 -
Barry Dorey
Big 12 Media Days notes: Day 1
The Big 12 took college football's center stage on Monday as the 10-team conference kicked off its Media Days at the Westin Galleria in Dallas. With the latest drama involving the Longhorn Network and rumors of Texas A&M and Oklahoma revisiting the idea of moving to the SEC, the league is anything but stable.
However, for now, commissioner Dan Beebe still has a strong football conference. And the only question that matters is whether Oklahoma will once again earn a BCS bowl berth as the Big 12 champion. It wouldn't be a surprise, considering the Sooners took home seven of the 15 Big 12 titles that have been awarded in its history.
RG III to lose a top weapon?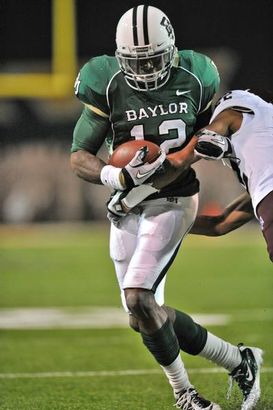 ICONWill Josh Gordon miss the opener against TCU?
We know how good Baylor quarterback Robert Griffin III has been during his career in Waco. But he may have to open the season without one of his top playmakers, as receiver Josh Gordon was suspended indefinitely for a violation of team rules on the eve of Big 12 media days. The 6-4, 215-pounder, who is one of the most talented but least heralded juniors in the country, has run into trouble in the past.
Last October, he was arrested at a Taco Bell after he was discovered passed out. Police then found marijuana in his car.
Head coach Art Briles did not comment on the suspension at his media days presser on Monday.
While Gordon was not suspended last season for his arrest, I can't see how Briles would let him suit up for the season opener against TCU. The Bears are expected to give the Horned Frogs a better game than they did last season, but any chance of an upset takes a huge hit if Gordon, who caught 42 passes for 714 yards and seven touchdowns in 2010, is not on the field — despite the team's deep receiver corps, led by Kendall Wright.
Brown defends the Longhorn Network
Mack Brown was the last head coach to take the stage on Monday, and he had no problem defending the much-maligned Longhorn Network. Of course, it wasn't too surprising.
"You have to give credit to the regents at Texas, to president Bill Powers, for pulling off a partnership with ESPN and college football," Brown said. "What an unbelievable thing they did…It was available to everybody. And they pulled it off.
"And I didn't think they could do it. I kept hearing about it for the last couple of years, and I never dreamed that it would happen. So that's a real positive for us…I'm glad we have that advantage."
Brown's assertion that creating one's own television network is possible for any school isn't exactly spot-on, considering Texas is blessed with one of the healthiest athletic departments in the country. But, the Longhorns don't have to apologize for being financially sound.
Brown didn't think televising high school games with Texas recruits was problematic, however, which remains every Big 12 conference member's biggest concern.
"We're going to sign 20 to 25 players a year…and those players will probably be committed to us before June in their junior year," he said. "So I don't think that part will have any effect on recruiting at all."
Brown said that high school coaches and players would be hurt by the games not being shown because "99 percent (of the players shown) will not even play college football."
While I'm not sure I agree with Brown's math, the fact remains that it's problematic — and other Big 12 schools don't have a problem voicing their concern and displeasure.
Other notes
Oklahoma State head coach Mike Gundy was asked if he thought his team could win the national championship this fall. "That's our goal, we think we can," Gundy said. "I know we have a chance to win every game on our schedule…I'm very comfortable with where we are (as a team and program)." There's no question that the Cowboys will be highly ranked to begin the season and should remain in the Big 12 race throughout the season. Even if their defense isn't a real force, they will continue to put up points under new coordinator Todd Monken because Brandon Weeden, Justin Blackmon and Co. are just too talented. But once again, their Big 12 fortunes will be decided in the Bedlam rivalry game against Oklahoma, and I still give the edge to the Sooners.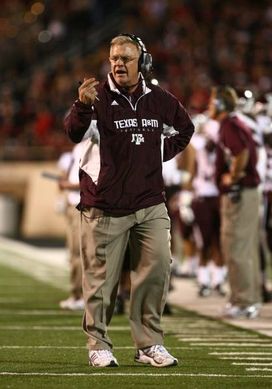 ICONMike Sherman and the Aggies are playing second fiddle to the Longhorns.
Texas A&M head coach Mike Sherman was the first head coach to take the stage, and not surprisingly the first question focused on the Longhorn Network. "I'm just focusing on what I've got to do," Sherman said. "I'm sure you all (reporters) can sort that one out yourselves." Of course, Sherman is well aware of the A&M administration's feelings on the subject.
With the league now comprised of just 10 members following the defections of Nebraska to the Big Ten and Colorado to the Pac-12, the Big 12 will utilize a round-robin conference schedule, which means every team will play each other once. This makes life a little more difficult for the former North division members such as Missouri and Kansas State because they won't have the ability to miss playing Oklahoma, Texas, Texas A&M and Oklahoma State once in awhile.
One of those former North division teams is Iowa State, and it's really difficult to see the Cyclones having a successful 2011 season. Head coach Paul Rhoads' squad knocked off Texas Tech and Texas in 2010, yet the team still finished 5-7. Now, the Cyclones will be playing all of the schools in Texas and Oklahoma, as well as Missouri and the annual tilt against in-state rival Iowa. That's a rough forecast.
Will Tommy Tuberville provide some more good sound bites? The Texas Tech head coach intimated last summer that the Big 12 did not have a strong future, and earlier this offseason he said that his 2004 Auburn squad deserved USC's vacated national title. With the recent Longhorn Network chaos and rumblings at A&M and OU about a possible move, I can't wait to see his presser on Tuesday. Oh, and maybe he'll even go on another rant about the recent rash of investigations on campuses across the country and what the NCAA can do about it.
Quote of the day: "There's a lack of common sense there for a university network to think they can televise a high school football game on their network. There's just no sense there." — Gary Pinkel, Missouri head coach, on Texas' Longhorn Network.
And in case you missed it, check out commissioner Beebe's recent interview on ESPN Radio Dallas, where he discusses all things Big 12.
Email dav e.miller@nationalfootballpost.com or follow me on Twitter at Miller_Dave