January 19, 2013 -
Dave Miller
Big 12 on the clock in conference realignment
By now, most college football fans realize that conference realignment/expansion chatter is here to stay.
When Notre Dame landed a partial agreement with the ACC, the majority of college football observers believed that a lot of the heavy lifting was done on conference realignment, at least until programs saw how the first few years of the impending playoff system affected them and their leagues.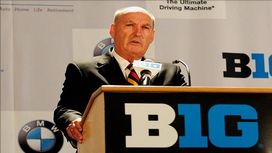 US PRESSWIREJim Delany added Maryland and Rutgers to the Big Ten. Is the league done with expansion?
But then Big Ten commissioner Jim Delany sent shockwaves through the collegiate landscape by taking his conference further eastward and landing Maryland and Rutgers. And we realized that things were far from finished.
The Big East became further decimated when Louisville decided to join the ACC, while Boise State and San Diego State decided to remain in the Mountain West when they realized that access to one of the six major bowls in the new postseason system would not change by switching leagues.
As we have seen over the last year or so, smaller conferences such as Conference USA, the Sun Belt, Mountain West (and, now, the Big East) will always be movers and shakers. But what does the future hold for the larger BCS conferences?
Well, the Big 12 seemingly holds the keys to further conference realignment as it did before it swung and missed on landing Notre Dame. While commissioner Bob Bowlsby had maintained that the league was happy at 10 members, being aware of dominoes falling elsewhere is imperative for any major conference.
"We could be proactive [in conference alignment], I think," Bowlsby told reporters at the NCAA Convention in Texas on Wednesday.
"We continue to watch the landscape. Until we're persuaded that larger is better, we feel pretty good about right where we are. If you get bigger, do you have to get to 16? Can you get all the benefits at 14? 12? I just think there is a real shortage of empirical evidence to guide our decisions."
The major issue for the league is determining whether adding schools would actually help the league financially, giving each member school at least equal to what the league receives now or even more money. But in this current landscape, being proactive rather than reactive is crucial even if it doesn't provide immediate financial benefits.
Despite already adding Maryland and Rutgers, the Big Ten could still add two more schools, while other major power leagues such as the SEC could look to add two more as well as I mentioned earlier here at the NFP.
For instance, if the Big Ten dipped back into the ACC and went after schools such as Duke and North Carolina or Georgia Tech and Virginia, the ACC's unstable environment would likely lead to Clemson and Florida State begging the Big 12 for a new home. And it would be difficult, in the current climate, for Bowlsby and Co. to say 'No' and not try to strike as long as more conference revenue is a possibility. At that point, the SEC may look at adding Virginia Tech and N.C. State.
A program such as Cincinnati is currently desperate to leave the Big East, and new head football coach Tommy Tuberville certainly doesn't envision a future in an unstable league. Could Tuberville be returning to the Big 12 if he doesn't land another SEC job?
The one real wild card program, however, remains BYU. While the Cougars' brand is certainly nowhere near to that of Notre Dame, it does provide nice value for the Big 12.
While the conference is enjoying stability following a season in which West Virginia and TCU made their debuts, its future may be dictated by the changing college landscape. With some intriguing programs potentially on the table, Bowlsby and Co. may want to get back to 12 league members — or more.