April 29, 2011 -
Dave Miller
Big 12's first-round draft picks
Here is how the first round unfolded for the top prospects from the Big 12.
2. Denver, Texas A&M LB Von Miller
I know there are concerns about how he fits into the 4-3 scheme, but new head coach John Fox will use multiple fronts and Miller will definitely produce in Denver. The Broncos likely will address the defensive line with one of their two second-round picks.
7. San Francisco, Missouri DE Aldon Smith
The majority of scouts and analysts love Smith. I think he's a little raw to go this high, and I thought the Niners had other needs. But Smith certainly has a high ceiling and could make a solid defense even better.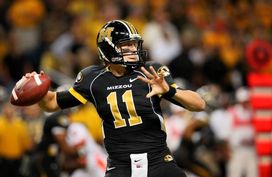 The Jaguars moved up to select former Missouri quarterback Blaine Gabbert.
10. Jacksonville, Missouri QB Blaine Gabbert
The Jaguars moved up to snag Gabbert, which was one of the surprises on the first night. He didn't have to make too many tough throws at Missouri because of the type of offense the Tigers run, and his third-down completion percentage leaves a lot to be desired. However, sitting behind David Garrard will help as he transitions to the next level.
17. New England, Colorado OT Nate Solder
The left tackle from Colorado, which is transitioning to the Pac-12 from the Big 12, still needs time to develop like Dallas Cowboys selection Tyron Smith. But New England is a great fit for the former tight end because the Pats know offensive linemen as well as any team in the league.
19. N.Y. Giants, Nebraska CB Prince Amukamara
Amukamara dropping to No. 19 was really surprising. Although many projections had the Giants grabbing help for the offensive line at this spot, the G-Men needed help in the secondary. The Nebraska product should adjust to the NFL game despite not having the greatest technique.
21. Cleveland, Baylor DT Phil Taylor
The Browns made a deal with the Chiefs to move up and select Taylor. New defensive coordinator Dick Jauron gets a real nice plug for the interior of the line.
23. Philadelphia, Baylor G Danny Watkins
The 26-year-old former Canadian hockey player really improved his draft stock during Senior Bowl practices. He will convert to the interior from left tackle, but the Eagles should get nice production from Watkins right away because his work ethic is second to none.
27. Baltimore, Colorado CB Jimmy Smith
I've maintained that Smith was the best cornerback in the draft. The Ravens really needed help in the secondary, and he will be able to make an impact right away in Baltimore. Don't worry about character concerns in that veteran Ravens locker room. Smith will be put in his place right away.
Email dave.miller@nationalfootballpost.com or follow me on Twitter at Miller_Dave