July 30, 2012 -
Dave Miller
Big East Media Days preview
Big East Media Days take place today and Tuesday in Newport, R.I. as we continue to get closer to the start of the 2012 season.
Pittsburgh running back Ray Graham, Rutgers linebacker Khaseem Greene and South Florida quarterback B.J. Daniels will be among the big names in attendance, but unfortunately stars such as Louisville quarterback Teddy Bridgewater and Cincinnati signal-caller Munchie Legaux will not be in Newport.
While not much major news is likely to come out of Media Days, let's take a look at some of the biggest storylines that we should watch as Big East teams prepare for their impending preseason camps.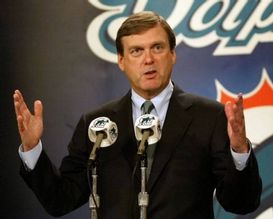 Joe Bailey will likely field questions about the league's impending TV deal at Media Days.
Commissioner Joe Bailey's address: If you have never heard of Bailey, you likely aren't alone. The commissioner is now the face of a beaten-down league, but he will put a positive spin on things despite the impending losses of Pittsburgh and Syracuse to the ACC next offseason. Keep in mind that neither the Panthers nor Orange had reps at the Big East spring meetings, so there could be some awkwardness in Newport. Bailey will pump up the conference's incoming members, including Boise State, SMU and Memphis. But with national media in town, Bailey has to sell the league, no matter how different it may look in 2013. The good news is that the league will begin television negotiations in September, so new money will be coming in. The question is how much the league can get after so much remodeling.
The impending new TV deal: Speaking of the television negotiations, reps from all of the major TV networks that want a piece of the Big East will be in town just as they were in 2011. But they will obviously be bidding on a new-look Big East this fall, and the league now is in a tough spot. How much more (or less) attractive is it compared to last year when it turned down a deal from ESPN?
Division alignment: League members are expected to decide on how they want to align the new divisions for 2013 when Boise State, Houston, Memphis, San Diego State, SMU and Central Florida enter the fold. There are currently three models under consideration: North/South, East/West or a non-geographic format that would be balanced, perhaps on past records.
Playoff talk: Of course, Bailey, senior associate commissioner Nick Carparelli and all of the head coaches will be asked about the impending four-team playoff, which is slated to begin in 2014. While most everyone is happy that the postseason format has been tweaked, keep in mind that the Big East is losing its guaranteed access point to a major bowl. Remember that 8-4 UConn team that went to the Fiesta Bowl two years ago? Or the West Virginia team that underachieved in the regular season but played in the Orange Bowl last year? Those instances will not occur moving forward with the new postseason format.
The media poll: It will be interesting to see how the preseason media poll plays out. Every season the Big East becomes tougher and tougher to project because no team really ever stands out, and that looks to be the case once again in 2012. USF seems to be the favorite based on most I have talked to, with Louisville in the mix as well. I am leaning toward Rutgers despite having a new head coach. But the Scarlet Knights' quarterback play concerns me.
Email dave.miller@nationalfootballpost.com or follow me on Twitter at Miller_Dave