September 28, 2010 -
Dave Miller
Big East Week 5 glance
Here are the scheduled matchups for the Big East this week.
Note: Conference records are not included because no one has played a conference game yet.
Vanderbilt (1-2) at Connecticut (2-2): Vanderbilt has already beaten Ole Miss in SEC play while UConn has lost at Michigan and on the road to Temple. Huskies quarterback Zach Frazer has already been benched in favor of Cody Endres, and the Huskies look too out of sync for a team returning 16 starters.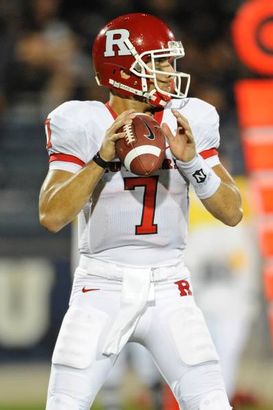 ICONQB Tom Savage is off to a slow start for Rutgers.
Tulane (1-2) at Rutgers (2-1): Rutgers quarterback Tom Savage said he will be able to go against Tulane despite dealing with injured ribs, but would it even matter for the Scarlet Knights if he was sidelined? The sophomore is completing only 52.4 percent of his passes and has tossed three interceptions compared to one touchdown. Meanwhile, Tulane doesn't pose much of a threat offensively.
Florida International (0-3) at Pittsburgh (1-2): In a battle of Panthers, FIU may actually be the best team on the field Saturday. The squad competed with Rutgers, Texas A&M and Maryland to begin the season. And Pitt's entire offense — starting with the line — is a disaster. Maybe there was a reason after all why Pitt head coach Dave Wannstedt tried to temper expectations for his team in the preseason.
Louisville (1-2) at Arkansas State (1-3): Lousiville will be without leading receiver Doug Beaumont indefinitely after the senior underwent knee surgery, so the Cardinals will lean more on Josh Bellamy and Andrell Smith. The Cards only lost to Oregon State by a touchdown, so taking care of the Red Wolves shouldn't be a problem this week.
Florida Atlantic (1-2) at South Florida (2-1): What has happened to South Florida quarterback B.J. Daniels? Well, Skip Holtz and his staff believe that Daniels relied more of his athletic ability than anything else last year and is still developing as a quarterback. He still hasn't learned that throwing the ball away is often the better play. Defensively, the Bulls have been surprisingly solid for losing so much NFL talent. Perhaps the Bulls could have a complete effort this week against Florida Atlantic.
West Virginia (3-1), Cincinnati (1-3) and Syracuse (3-1) are off this week.
Follow me on Twitter at Miller_Dave or send your college football questions to dave.miller@nationalfootballpost.com
Click here to win cash today playing fantasy football with the NFP and FanDuel.