March 11, 2011 -
Dave Miller
Big Red prepares for life in the Big Ten
Nebraska will kick off spring practice on Saturday trying to put behind brutal back-to-back losses to conclude the 2010 season — a loss to Oklahoma in the Big 12 title game in which it blew a 17-point lead and a lifeless season-ending defeat to Washington in the Holiday Bowl.
Let's take a closer look at Bo Pelini's Cornhuskers as they get a jump on preparing for the 2011 season — their first in the Big Ten.
Nebraska (10-4 6-2 Big 12 in 2010)
Reclaiming the (T-) Magic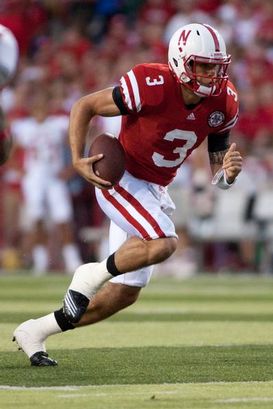 ICONTaylor Martinez hopes to avoid the injury bug in 2011.
There's no question that quarterback Taylor Martinez and head coach Bo Pelini didn't exactly see eye-to-eye at times last season. Add in the injury woes which slowed T-Magic down, and you have a player who was a shell of his former self. Can Martinez rediscover his early-season form and make the offense tough to contain in its new conference? Former running backs coach Tim Beck is the new coordinator after Shawn Watson was let go, so his first order of business is implementing a scheme that will best suit the skill set of his dual-threat signal-caller. No matter who wants to stir up a quarterback controversy in Lincoln, the job belongs to Martinez — if he stays healthy. And that's a big if considering he dealt with nagging injuries to his right ankle and left foot throughout the second half of the year. However, if healthy, Beck's spread passing attack will put Martinez in the best possible position to succeed.
As I stated above, Martinez will be the starter if he's healthy. It would take an incredible spring and fall camp for Cody Green to claim the gig. Now, if Bubba Starling decides to put off his baseball career…we'll cross that bridge if and when we come to it.
Beck must use his weapons
Last season we heard former OC Watson declare that he was excited to get the opportunity to use the variety of weapons the Huskers possessed on offense. But too often the unit was ordinary and vanilla. What will Beck have in store this spring? While he still may run a variation of the spread, your best players have to get the football. And too many times the Huskers failed to utilize their best weapons (minus Martinez when he was healthy) last season.
Rex Burkhead sits atop the depth chart at running back with Roy Helu, Jr. moving on, and Brandon Kinnie returns as the team's top receiver with Niles Paul off to the NFL.
"We want our kids to be physical and play tough and want to play fast, and we want to play with a lot of confidence," Beck told reporters earlier this week. "I think those are the underlying characteristics I'm going to look for and try to build in our guys. So however that takes shape or form, we'll kind of see how that develops."
Avoiding turnovers and penalties should also be of top priority for Beck, as well as getting his offensive line to play tougher in short-yardage situations.
Check out Beck speaking to reporters at Tuesday's media gathering. Video is courtesy of The Omaha World Herald.
There's always the defense
New secondary coach Corey Raymond inherits a lot of talent. However, the unit will be missing star cornerback Prince Amukamara, a likely first-round draft pick in April. Also departed is safety DeJon Gomes and linebacker-safety Eric Hagg. But coordinator Carl Pelini is excited about his defense, which will be led by cornerback Alfonzo Dennard and tackle Jared Crick, both of whom easily could have declared early for the draft. Linebacker Lavonte David also returns after setting a school record for tackles.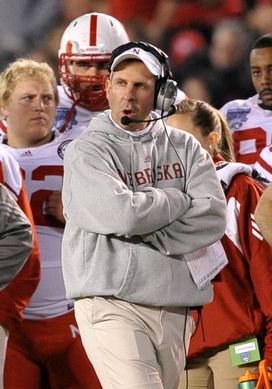 ICONBo Pelini was not pleased with the way the Cornhuskers ended the 2010 campaign.
The Huskers ranked No. 11 nationally in total defense last season but just No. 63 against the run. That number must improve in a league known for its rushing attacks. And looking at the Cornhuskers' schedule — Ohio State, Wisconsin, Michigan State, Penn State, Iowa, etc. — they're going to face plenty of downhill running.
Other notes
• The promotion of Beck wasn't the only coaching move Bo Pelini made this offseason. He also hired Raymond as the secondary coach, Ross Els to coach the linebackers and Rich Fisher to lead the receivers. Ron Brown moves from coaching the tight ends to running backs, while John Garrison goes from being an intern to coaching the tight ends.
Pelini also hired Brenden Stai, who was part of the "Pipeline" offensive line on the 1994 national championship team, to be an intern. Perhaps he could help toughen up that unit after its struggles last season.
• Offensive tackle Jeremiah Sirles and defensive end Cameron Meredith will miss spring drills because of shoulder injuries.
• Jake Cotton has moved from defensive line to offensive tackle.
The Cornhuskers will hold their spring game on April 16.
Email dave.miller@nationalfootballpost.com or follow me on Twitter at Miller_Dave